It's the most wonderful time of the year. Pitchers and catchers will soon officially be in Tampa strutting their stuff with the hopes and promises of a new season filling the air. Times like this make us wonder how we ever managed to dread the dog days of summer. Just like the big league squad, the minor league affiliates are full of optimism with the new season on the horizon.
Overall, the farm system is in pretty good shape. There's high end talent mixed with high probability talent, and the pitching crop at the upper levels is starting to be complimented by the position player crop at the lower levels. There's an alarming lack of lefthanded pitchers, ditto power hitting prospects. The Yanks have surplus from which to make trades, and a good amount of guys that could be cheap injury fill-ins at the Major League level this year. Gone are days of Aaron Small, Matt Childers, Donovan Osborne and Terrence Long. There's also a bright new crop of kids set to come up from Latin America this year, led by SS Jose Pirela and OF Kelvin DeLeon.
Unfortunately the Yanks didn't pull off any neat trades this winter like last year (unless you count that Tyler Clippard-Jon Albaladejo blockbuster), so this year's prospect list doesn't include any new and fancy names. As always, the delicate balance between ceiling and probability are the main criteria for the rankings, but other stuff like performance, track record, position and handedness (tie goes to the lefty) also play a role. I had some trouble trimming the fat at the end of the list, so I decided to write-up a few extra players that just missed the cut.
The real Top 30 comes out tomorrow, but for now here's five guys on the outside looking in. Fun starts after the jump.
35. Bradley Suttle, 3B, 22
Suttle makes the "just missed" list purely because he has a good amount of upside as a hitter. The Yanks have already revamped his hitting mechanics in an effort to shorten his stroke and get him to stop jumping out at plate, which is an obvious red flag. However, they didn't spend $1.3M to sign the kid (when he was only asking for $1M no less) because they had money burning a hole in their pocket, they see something in him and like his potential. It's almost imperative for Suttle to get off to a good start in 2008 to avoid even further scrutiny. That said, I'm still in the camp that thinks the instant Suttle gets hot and strings a few good months together the Yanks should look to trade him in a package for a impact big leaguer.
34. Marcos Vechionacci, 3B, 21
Vech's OPS the last three years has gone from .659 to .669 to .673, so that counts as improvement, right? I'll be here all week folks. Seriously though, Vech still has top 10 talent, but at some point he's got to start performing, or at least start to show signs of putting it together. If he doesn't, he'll be just another guy that has oodles of ability but never managed to put it to good use. Vech has been in the system for what seems like an eternity, making it hard to believe that he's still so young, which is why I'm not (and you shouldn't be) willing to completely write him off yet. There's still a shot the light bulb will go on, but now it's just a dinky little refrigerator light as opposed to bright florescent bulb. I wouldn't call 2008 a make-or-break year, but the kid's gotta up his game because time, once his greatest ally, is starting to run out. Trenton awaits him in 2008.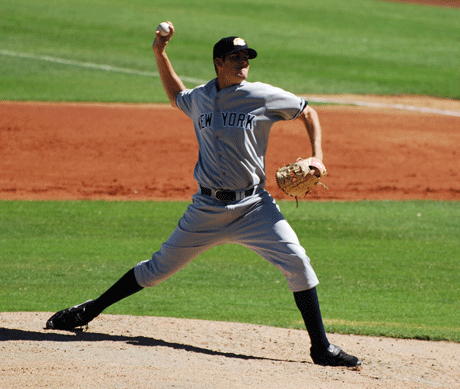 33. Steven White, RHP, 26
A forgotten man amongst the higher profile pitching prospects in the system, White could very well be the first arm called up whenever reinforcements are needed. Having steadily climbed the ladder during his four year career, White doesn't have great stuff or even a trusty go-to pitch, but he eats innings and generally keeps the ball in the park. He basically fills the role of the next Jeff Karstens or Darrell Rasner, a nice and experienced guy to have when he's cheap, and also capable of pitching in a variety of roles. Given the overall state of pitching in the game today, lots of teams will come calling for White if he has a strong camp.
32. Eric Duncan, 1B, 23
I'm not ready to completely give up on Duncan yet, but this is without a doubt his make-or-break year (heh, I'm pretty sure I've said that before). He still shows glimpses of the mammoth power that got him drafted ahead of Jarrod Saltalamacchia, Adam Jones and Jon Papelbon, and he's young enough that learning how to lay off breaking pitches is not completely out of the question. Duncan still murders mistakes and has always had a knack for picking up timely hits, so there's a glimmer of hope here. Are you ready for my boldly stupid prediction for 2008? Well here it is: Eric Duncan will be the Yankees starting first baseman the second half of the year. You heard it here first.
31. Scott Patterson, RHP, 28
The feel good story of the system, Patterson is on the cusp of the big leagues after years of post-game peanut butter & jelly sandwiches in the Independent Leagues. A monster at 6'7″, 230 lbs, Patterson ups the intimidation factor by coming right over the top in his delivery. The Yanks forked over a Major League deal this offseason, which speaks volumes to what they think of him. Patterson has an advantage over some of the other guys vying for a roster because a) he's already on the 40 man, and b) he's got a ton of experience, having pitched in every role imaginable in his career.
I recently had a chance to sit down with Scott and ask him some questions before he headed off for Spring Training; he gave nice and concise answers, and I appreciate him taking the time to talk with me.
RAB: How does life in the Minors differ from life in the Independent leagues?
SP: There really isn't much of a difference. All the competition was good.
What is the biggest difference you've noticed between the hitters in Indy ball and those in Minors?
In the minors, every team you face there are 2 or 3 batters you know that are going to make it to the big leagues. In independent ball there are only 2 or 3 guys in the whole league that will probably make the big leagues.
There are lots of teams out there looking for bullpen help. What make you pick the Yankees, where you'll have to battle for a roster spot, as opposed to another team without as much competition?
I have been here for 3 years, I like the organization and I know everyone. If you are going to play for a team why not play for the best team if they give you a shot?
How would you describe yourself as a pitcher? What would you say are your strengths and weaknesses?
I go right after the hitters and just throw strikes. Strengths: Good command in the strike zone. Weakness: working on the third pitch.
Finding comfortable mechanics is one of the biggest hurdles facing tall pitchers. How long did it take you to find a delivery that worked for you?
It did not take me long because I was always out throwing a baseball against my house. I have had that delivery most of my life.
Can you point to anyone who gave you a piece of criticism/advice that helped you become the pitcher you are today? What was it?
Cal Bailey my college coach at West Virginia State…Don't let the lead off guy get on, two out of three had to be strikes, and don't be afraid of anyone.
You recently returned from winter ball in Venezuela; what was that like? What was the talent like compared to the States? What about the facilities and fans?
It was a good thing to try out once. The talent is the same and it gets really good at playoffs because you see a lot more big leaguers. They were both good, the facility and fans are very passionate for the sport down there.
Since joining the Yanks, is there anything you've been working on in particular? I know the Yanks are fond of teaching guys curveballs.
I already have a good curve, but I've been working on the slider for them.
Where does winning the Eastern League Championship with Trenton in 2007 rank amongst your career highlights? You've won some titles in Indy ball, how did it compare to that?
Both the same, you get nice rings. But, you see a little better competition every level you move up.

What kind of plans and/or goals do you have for the upcoming season?
I will work as hard as I can, pitch as good as I can and let the coaches decide where to put me.