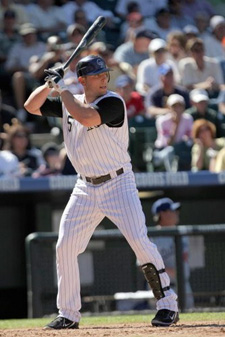 We're starting to hear the whispers now, but as we approach the end of the season and gear up for the Winter Meetings, Matt Holliday is a name we'll hear often. Perhaps there won't be a Santana-esque situation surrounding the left fielder, but it will certainly garner considerable attention. The Rockies might want to sell Holliday, who will make $13.5 million in 2009 before reaching free agency, while they can still get something for him, rather than just take the two draft picks.
Last year, we saw the Twins pretty desperate to unload Santana before the start of Spring Training. While he denied everything, rumors swirled that the lefty ace would deny any possible mid-season trade. Holliday has no such leverage. If the Rockies don't get a huge offer in the off-season, they could hold onto Holliday in hopes of dealing him in July. We saw some decent bounties for mid-season trades this year, and the Rockies surely know that. Plus, hanging onto Holliday gives them their best chance of competing in 2009.
Troy E. Renck of the Denver Post comments on the situation today. He leads with the Boston-Anaheim series, noting that both might be contenders for Holliday. Why the Sox would be mentioned, I don't know, since they have their corner outfielders in place for 2009: Jason Bay and J.D. Drew. Renck notes that if Bay flops in the playoffs they could look to trade him for Holliday, but that's something I just don't envision. Plus, with his bomb of a homer last night, it might be a moot point anyway. Yet even if he flops, I'm 99.9 percent sure that Theo wouldn't go trading Bay, due $7.5 million next year before reaching free agency, and someone like Clay Buchholz for Holliday. Doesn't make much sense at all.
Renck brings the Yankees into the fold, mentioning speculation of a Hughes/Cano for Holliday swap. We've heard this before, and again I'll note that it doesn't make much sense. If Cano returns to even his 2006 levels he could be more valuable than Holliday. This is considering his position, which is at more of a premium than Holliday's, his age, and his contract. To add Hughes to that deal, who will be under team control for quite some time to come, doesn't make sense at all. Why trade two cost-controlled players for a guy with one year to go until free agency?
What troubles me about Holliday is that many are basing their desire for him on his stellar 2007 campaign, when he put up a line of .340/.405/.607. Anyone would want that kind of production, of course. Yet his home/road splits that year were quite pronounced: 1.157 OPS at home vs. .860 on the road. He improved his road OPS in 2008, .896, but as expected fell off at home, .963. So it's not that he can't hit on the road. Rather, it's that his home numbers have been the cause of much of the hype surrounding him.
While I wouldn't be opposed to adding Holliday, it doesn't seem the price will be right this winter. By adding him, you're subtracting your starting second baseman and a potential part of your rotation. You're also adding a ton of payroll, both by presumably signing Holliday to an extension (which is no guarantee with Boras at the helm) and by going after Orlando Hudson to replace Cano. As down as some are on Cano and Hughes, I just can't see anyone really justifying such a swap.