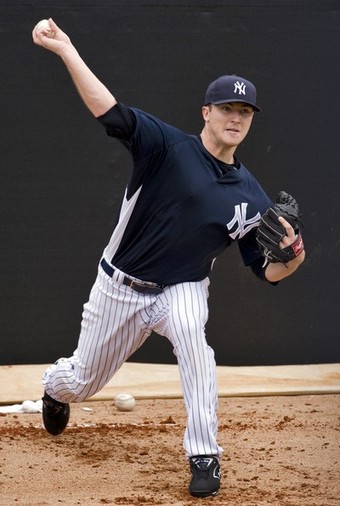 Ah, the first game thread of the year. We've been waiting for this day ever since Jon VanEvery hit that walk-off single at Fenway Park off Jose Veras in the Yanks' final game of 2008. Who cares if today's game doesn't count, it'll be great just to see the boys in action again.
But wait, it gets better! We've got ourselves a primo pitching matchup this afternoon: Phil Hughes vs Rays' phenom Wade Davis (#32 on BA's Top 100). The last time these two met was Game Four of the International League Championship Series last season, when Hughes thoroughly outpitched Davis and clinched the league title for Triple-A Scranton. It really doesn't get any better than this, does it?
The game is on YES, with first pitch is scheduled for 1:15. If you miss the live broadcast, don't worry, they're going to replay it at 7pm. Here's the starting nine:
Damon, LF
Jeter, SS
Teixeira, 1B
A-Rod, 3B
Cano, 2B
Nady, RF
Posada, DH
Molina, C
Melky, CF
Scheduled Pitchers: Phil Hughes, Phil Coke, Brian Bruney, Damaso Marte, Jon Albaldejo, Mark Melancon
Looks like we'll get multiple innings each out of the Phils, maybe Albie too. Anyone know anything about this Melancon kid?
Photo Credit: Steve Nesius, Reuters Pictures