This week, tens of thousands of people who work in the wireless industry got together in Las Vegas for CTIA 2009. Hundreds of vendors have their products and solutions on display in a ginormous convention floor room — seriously, it takes five minutes to wade through the sea of people from one side of the floor to the other.
Over in the media room, press releases and media kits flood the walls and tables. Normally I just walk by without looking twice — perhaps taking a flash drive if they're sitting out. One release in particular caught my eye. Why? The Yankees logo, of course. Apparently, a company called Quantum Telecom has partnered with MLB to issue licensed phones. Whoop dee freakin' doo.
The only good thing about these puppies is the price: $49.99. The phone is unlocked, meaning you can use it with any GSM carrier in the country. Bad news: that means only AT&T or T-Mobile. Further bad news: The price tag, given that these are unlocked phones, makes it seem like they're not the most functional devices. Check 'em out for yourself: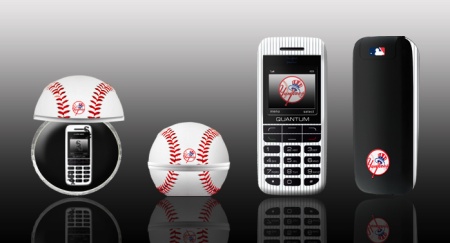 Is anyone really going to buy one of these?