This is the second in our final series on what the Yankees might do with left field. Check out the original left field post for a quick primer on what we're looking for. Yesterday we examined Reed Johnson. Today will be the final discussion for Marlon Byrd.
Did Marlon Byrd mature as a hitter during his years in Texas, or did he just take advantage of a hitter friendly ballpark? That's the question any interested team will have to answer. It's also one we cannot answer with certainty until we see Byrd in new digs. This is the main reason I want to see the Yankees stay away from him.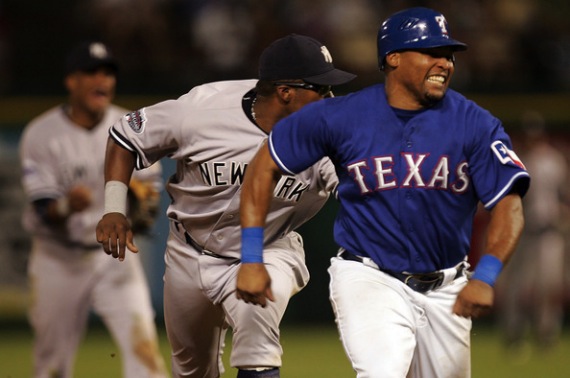 It is uncommon for a player to suddenly start hitting for power at age 29. It certainly can happen, and it has happened, but when it does it's unexpected. While power is said to be the last tool to develop, it usually doesn't take eight professional seasons to do so. But that's the case for Byrd, who was drafted in 1999 and who first broke a .450 SLG in 2007. Since that power surge coincided with his move to Texas, we can view it with a skeptical eye. Rangers Ballpark at Arlington is, after all, one of the most hitter friendly parks in the majors.
Byrd spent his first full major league season, 2003, with the Phillies, hitting .303/.366/.418 over 553 plate appearances. That's an excellent line, especially for a 25-year-old center fielder. The next year, however, wouldn't be nearly as good. Byrd could not sustain his .363 BABIP, and saw his numbers fall to .228/.287/.321in 378 plate appearances. The Phillies optioned him to AAA Scranton in mid-June, but he didn't show much improvement. From August 1, his recall date, through the end of the season he basically remained the same.
In 2005 the Nationals traded Endy Chavez for Byrd, and saw middling results: a .318 OBP and .380 SLG in 244 PA in 2005, and a .317 OBP and .350 SLG in 228 PA in 2006. The Nats released him after the season, and he signed on with Texas. That's when his numbers started to surge.
At first it seemed like a 2003 repeat. Byrd hit .307/.355/.459 in 454 PA for the Rangers in 2007, but had a .370 BABIP. But instead of crashing down to earth, as he did in 2004, Byrd followed up his 2007 campaign with a career year in 2008. He hit .298/.380/.462 in 462 PA, increasing his ISO from .152 to .164, and raising his walk rate from 6.5 to 10.2 percent. At the same time, his BABIP fell to .332. That earned him a more regular playing time in 2009.
While his BABIP fell yet again, this time to .315, Byrd again turned in a quality season. His OBP was a bit low, .329, mostly because he nearly halved his walk rate. But his ISO once again jumped, this time to .196, by far a career high. He hit 20 home runs, doubling his previous career high, and hit 43 doubles, also a career high by 15. That he did it over 599 PA makes it even more impressive.
All the while, Byrd has seemingly played good defense. As with most players his UZR fluctuates, but over his career he's a 0.0 UZR center fielder and a positive in the corners. That's a major consideration for the Yankees. They might also like his platoon splits, which are almost nonexistent. Over his career he's about even against lefties and righties — though in 2009 he actually had a reverse split.
Still, that his power surge came in Texas should raise concern in his ability to do it in other ballparks. Yankee Stadium typically suppresses right handed power, which would offset Byrd's greatest strength, his rising power numbers. Byrd also isn't the first center fielder who saw a power surge in Texas. Gary Matthews Jr. posted an ISO of over .180 in each of his three years in Texas, a mark he hadn't come close to previously, and one which he hasn't approached in Los Angeles. Unsurprisingly, he played the same seasons — age 29, 30, and 31 — in Texas as Byrd.
In his mailbag yesterday ESPN's Buster Olney described Byrd as "the pre-eminent outfield target" on the free agent market. He won't get a Matthews type deal, but there could be a team — say, the Cubs — who will pay him more than other teams are willing. That's why I don't expect the Yankees to get involved. At this point there is no reason to give a player like Byrd more than one year, and if really is the "preeminent" outfielder still available, he'll probably get at least two. That just doesn't fit with what the Yanks have done so far this off-season.
So now, whenever a rumor surfaces involving Byrd and the Yankees, we can refer back to this post and its comments. Have your final say now.
Photo credit: Ronald Martinez/Getty Images North America