About a month before the Yankees signed Mark Teixeira to the fourth largest contract in baseball history, GM Brian Cashman fooled White Sox GM Kenny Williams into giving him outfielder/first baseman Nick Swisher in exchange for three of the sparest of spare parts. Swisher was slated to begin the season as the every day first baseman, but once Teixeira signed on the dotted line, Swish was moved into an outfield platoon role with Xavier Nady. He was a man without a position, but he ultimately became a very important part of the 2009 Yankees.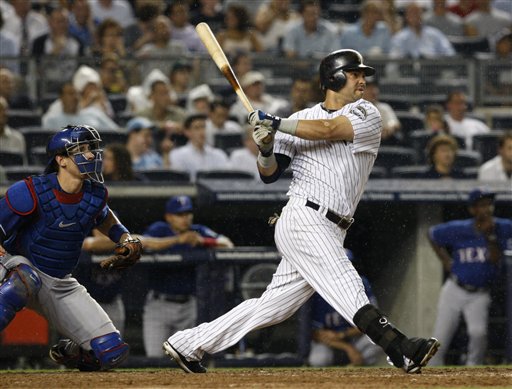 Swisher took over rightfield on an every day basis after Nady tore an elbow ligament barely more than a week into the season, and went on to enjoy his finest season in the big leagues. He hit .249-.371-.498 with a career high .375 wOBA while batting mostly out of the six-seven-eight spots in the lineup. His 29 homers were the third most on the team behind Teixeira and Alex Rodriguez, and his 97 walks were second in the league. A weak postseason performance (.128-.255-.234, .282 wOBA) left a bad taste in everyone's mouth, but he basically carried the offense in April (.312-.430-.714, .473 wOBA) while Tex slumped and A-Rod was on the DL.
We know Swish is a valuable offensive player, but most fans are in disagreement about his defense. He makes the occasional goofy play in the outfield for sure, but his three-year UZR of +3.0 is rock solid. The components that make up UZR (range, errors, arm) tell us that Swisher has no problem getting to balls (+11.7 range runs), but that his arm (-6.6 arm runs) dragged him down. His 2009 UZR (+3.5 range, -1.1 arm) bears out that relationship as well. This is completely subjective on my part, but Swisher's throwing appeared to improve considerably after working with pitching coach Dave Eiland and the since departed Phil Coke last summer, so I'm hopefully he continues that progress and the defensive metrics are a little kinder to the Yanks' rightfielder in 2010. Either way, Jeff Zimmerman's age-adjusted UZR projections have Swish as perfectly average defensively at right next season (meaning a UZR of zero), so let's roll with that.
Baserunning is another aspect of the game that Swisher can make interesting. He's not a basestealer, just seven successful steals in 15 attempts during his career, and EqBRR says he was worth -0.9 runs on the bases last year. Believe it or not, that's the first time Swisher has been below average on the bases since 2006, though even in a best case scenario, we should be happy if he's just league average. Brett Gardner, he is not.
So now let's turn to offense, and the question is can he repeat what he did last season? The quick answer is yes because his 2009 performance was in line with his 2005-2007 performance, and also because he's in the prime of his career at 29-years-old. However, there's evidence out there that suggests Swisher might be in for a bit of a step back offensively.
Greg Rybarczyk's great site Hit Tracker Online keeps track of every homerun hit in the big leagues going back to 2006, and sticks each one into one of three categories. "Just Enough" homers are those that cleared the fence by less than ten feet vertically or that landed past the wall by less than the fence height (so if it's an eight foot wall, it landed no more than eight feet deep). "No Doubters" are those that cleared the fence by at least 20 feet vertically and landed at least 50 feet deep, the true monster shots. Everything else goes in the "Plenty" category.
As you can imagine, Just Enough homers are the most volatile year-to-year because they're so close to the fence. As Rybarczyk chronicled at ESPN's TMI blog, players who've hit 30 total homers in a season with at least 40% of them qualifying as Just Enoughs have seen their homer totals fall 23% on average the next season. That's a problem for Swisher and the Yankees, because he led the American League with 14 Just Enough homers, 48.3% of his total big flies.
This isn't the first time Swisher has been in the Just Enough danger zone either. His 14 Just Enoughs were second in the league back in 2006, exactly 40% of the career-high 35 homers he hit for the A's. What happened in 2007? Swish regressed back to just six Just Enoughs and 22 total homers, a 37.1% drop. This isn't to say Swisher is guaranteed to see a drop off in his homerun – and thus overall offensive – production in 2010, but it's not looking good. Let's see what the various projection systems say…


So yeah, the five freely available projection systems do see a slight regression for Swish, back basically to his career average with a .358 wOBA. The homer total is plenty respectable, and represents just a 13.8% decline from his 2009 total. If Swisher were to suffer the average 23% drop, he'd instead hit just 22 homers, which would further reduce his projected batting line to .236-.355-.430 with a .349 wOBA assuming those three missing homers became outs. A .349 wOBA hitter is still above average, but a far cry from what Swisher provided the Yanks with in 2009.
Okay, so combining that projected .358 wOBA with +0.0 runs defensively and say -1.0 runs on the bases, and Swisher would be a 2.6 WAR player next season, a decline of exactly one win. If we use the further reduced .349 wOBA projection, he would be a 2.1 WAR player. Those three extra homers are worth half-a-win to the Yanks.
In a way, Swisher's 2009 season was the best case scenario for the Yankees. He provided a ton of pop and on-base skills near the bottom of the lineup, and he played basically every single day. He's likely to improve after famously struggling at home last year (.226-.382-.394, .349 wOBA), though chances are his road performance (.268-.361-.585, .399 wOBA) will come back down to Earth as well. I like Swisher as much as the next guy, but I'm not going to be surprised if his performance declines a bit next season. You'll see lots of people play it off as Swisher getting complacent or whatever, but now you know there's a real baseball reason for it. Dude straight up got lucky with some homers last season.
Photo Credit: Kathy Willens, AP