Nearly four years ago, a series of rule changes sucked all the fun out of the Rule 5 Draft by giving teams an extra year to evaluate their players before having to add them to the 40-man roster. After watching players like Shane Victorino, Dan Uggla, Josh Hamilton, and Joakim Soria get selected from 2004 to 2006, the only two players drafted since 2007 that have stuck with their new team while even just approaching a one WAR season are Brian Barton (Cardinals, 2007) and Everth Cabrera (Padres, 2008).
The Yankees haven't acquired a player in the Rule 5 Draft and kept him on their 25-man roster for a full season since who knows when. Josh Phelps stuck around until late June in 2007, which is longer than most Rule 5 guys last. It's not exactly an avenue most big market teams use to acquire talent. Jamie Hoffmann, the player the Yanks' took in the latest version of the Rule 5, couldn't even make it through Spring Training and was returned to the Dodgers earlier this week.
Last year the Yankees had four players selected in the Rule 5 Draft, though three were eventually returned. They worked out a small trade with the Twins to allow them to keep the fourth player, righty Jason Jones. Of course that was after he trashed the organization on his way out. I'm not sure the Yanks were waiting for him with open arms, if you know what I mean. This year, the Yanks lost a pair of relievers in this year's Rule 5 Draft, righty Kanekoa Texeira and lefty Zach Kroenke.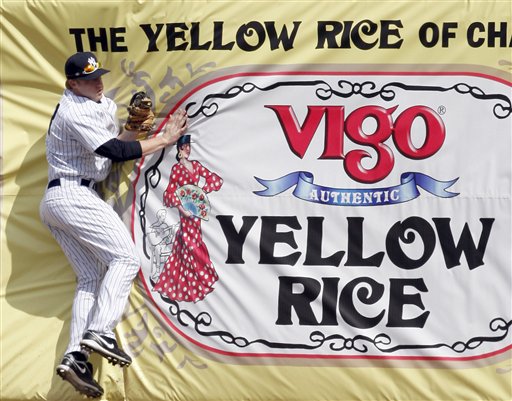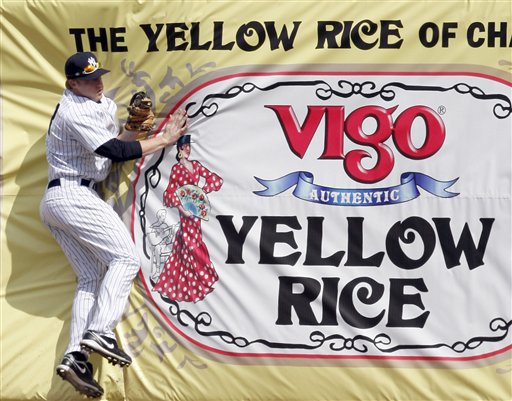 Jamie Hoffmann crashes into the outfield wall after catching a fly ball hit by Ryan Church in the fifth inning of a spring training baseball game at Steinbrenner Field in Tampa, Fla. (AP Photo/Kathy Willens)
Texeira, acquired from the White Sox in the Nick Swisher heist and Victorino's cousin, was selected by Seattle in the Rule 5 after posting a 2.84 ERA (3.69 FIP) and a 7.8 K/9 in 101.1 IP for Double-A Trenton last year. Baseball America rated him the Mariners' 26th best prospect coming into the season thanks to his high-80's sinker, sharp high-70's slider, and occasional low-80's changeup, however they mentioned that he's too homer prone (0.6 HR/9 last year) for high leverage work in the big leagues.
The Hawaiian born righty has appeared in eight games for Seattle so far, allowing five hits, three walks, one hit batsman, and one earned run in 8.2 innings, striking out five. Obviously it's a very small sample in very meaningless games, however it's apparently enough that the Mariners plan on holding onto him when the season starts, and have even explored other ways to keep him in the organization (i.e. a trade with the Yanks). GM Jack Zduriencik drafted Texeira out of high school when he was the Brewers' scouting director, so he certainly has a bit of a soft spot for him. Cliff Lee's injury will force the team to carry twelve pitchers early on, and one of those spots will go to Texeira.
Kroenke, on the other hand, isn't enjoying the same kind of success with his new organization. The 25-year-old lefty was lights out for Triple-A Scranton last year (72.1 IP, 1.99 ERA, 3.64 FIP), and Baseball America rated him Arizona's 30th best prospect after they Rule 5'd him on the strength of his 89-91 mph heater, average slider, and fringy changeup. He's allowed ten hits, two walks, and six runs in 5.2 innings this spring, and got his brains beat in during one particularly horrific outing against the Dodgers two weeks ago.
The Diamondbacks currently have two other lefty relievers on their 40-man roster, Clay Zavada and Jordan Norberto. Zavada's guaranteed a spot in the bullpen after posting a 3.92 FIP in 51 innings last year, when he starting his career with 19 consecutive earned run-less appearances. And besides, he's got a plus-plus mustache tool. The other lefty, the 24-year-old Norberto, has thrown just 23.2 innings above A-ball and Baseball America says he has plenty to work on, namely finding a second pitch. He's unlikely to start the year in Arizona's pen, so there's a definite opening for Kroenke. Even with his crummy camp, they could decide to take him anyway because of all the lefty mashers (Adrian Gonzalez, Todd Helton, Brad Hawpe, Andre Ethier, etc.) in their division.
Kroenke is in a different spot than most other Rule 5 guys, because he was Rule 5'd last year as well. The Marlins' gave him a whirl last spring, and when he didn't stick he went through the process of being outrighted off the 40-man roster and returned to the Yanks. Because of that prior outright, Kroenke can elect to become a free agent if Diamondbacks decide they don't want him at any point in2010. Any lefty reliever Kroenke's age and with his pedigree would surely try his hand on the open market rather than return to an organization with no fewer than two, and possibly three, lefty relievers ahead of him on the depth chart.
The Yankees are unlikely to welcome back either of the players they lost in the Rule 5 Draft this year, but for entirely different reasons. Texeira's effectiveness has all but earned him a spot in Seattle's bullpen, while Kroenke's unique situation means he'll likely head elsewhere even if he doesn't stick with the Diamondbacks. Thankfully the team has enough bullpen depth to absorb the losses, but losing a pair of serviceable arms is never ideal. Such is life in the Rule 5 game.