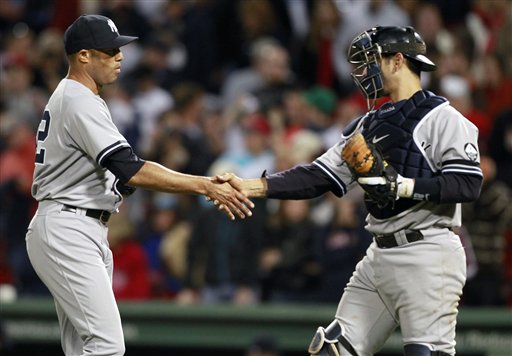 Six short months ago, the 2010 regular season started in this very same place, Fenway Park. The Yankees dropped that first game because of a bullpen meltdown, something that was so frequent in the first few months of the season. A lot has changed since then – players, roles, the standings – and this afternoon's season finale is just the way we like it: stress free. The Yanks are in the postseason, so it's just a final tune-up before the ALDS begins on Wednesday.
That said, if Joe Girardi decides to go for the division crown, they're going to need some help. A win against the Sox is just half the battle, they also need the Royals to beat Tampa, anything else gives the Rays the AL East. I'd like to see the Yanks win the division just as a pride and bragging rights thing, but at the same time I think they're probably better off taking the Wild Card and the date with Minnesota. I guess it's a no lose situation.
Here's the lineup…
Gardner, CF
Jeter, SS
Teixeira, 1B
A-Rod, 3B
Cano, DH
Swisher, RF
Posada, C
Thames, LF
Pena, 2B
And on the bump, it's Dustin Moseley.
The game starts at 1:35pm ET, and can be seen on YES locally or TBS nationally. Sit back and enjoy folks, it's the last stress-free game for five months.