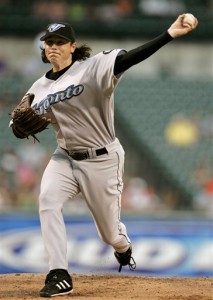 If we've learned anything about the free agent market in the past few years, it's that buying relief pitchers often leads to disappointment. Even Damaso Marte, who had been a solid pitcher throughout his career, crumbled after signing what was essentially a free agent contract. Chan Ho Park, who shined in the Phillies pen during the 2009 season, flopped horribly in 2010. The stories go on seemingly forever, extending back to the days of Paul Quantrill. Yet there's always the temptation with at least one reliever on the market. This year it's Scott Downs.
I'll put this bluntly: I want Scott Downs in the Yankees bullpen. The guy is simply a beast. He strikes out his share of guys, he avoids walking too many batters, he keeps the ball on the ground, and he limits balls that leave the park. During the last three seasons he has produced a 2.83 ERA and 3.16 FIP, placing him easily within the top 20 relief pitchers of that period. What's even better is that he's a lefty who can hold his own against righties. But is he worth the cost to the Yankees?
Again, I'll be blunt: No. It pains me to type those two letters. Downs is such a perfect fit for the 2011 bullpen. The Yankees need another lefty. Downs can fill that role, as well as a late-innings setup role. But the downsides to signing him outweigh the potential benefits he'd have over a replacement.
1. He's a Type A free agent. The Blue Jays will undoubtedly offer him arbitration. He made $4 million in 2010, so even a $1 million raise makes him an affordable relief pitcher. If he declines, he'll cost an acquiring team a first round draft pick. Chances are that will be a second rounder for the Yankees, but that might be even worse. Because the Yankees will almost certainly decline, for the third straight year, to offer any of their own free agents arbitration, they'll receive no supplemental draft picks. That would push their first pick in the draft into the triple digits. That's no way to build a strong farm system.
2. He'll turn 35 before Opening Day. Even handing Downs a deal in the mold of Marte's would be a risk, since it would mean he'd be on the team through his age-37 season.
3. His performance brings no guarantees. You can say this to varying degrees with any player, really, but especially with relief pitchers. Downs has been tremendous in the last four years. In fact, in the last three years only four relief pitchers have a better ERA than Downs: Joakim Soria, Mike Adams, Hong-Chih Kuo, and Mo. Only five relievers have a higher ground ball percentage, and Downs has a very low HR/FB ratio to go along with that. But that means nothing heading into next year. One bad year can make this a bad deal overall, especially when it involves a pitcher of Downs's age.
On a one-year deal, Scott Downs would be the perfect addition to the Yankees' bullpen. But as a Type A free agent he just doesn't fit. Maybe, just maybe, the Yankees and Jays can pull off something similar to what the Braves and the Rays did last year after Rafael Soriano accepted arbitration. But considering the intra-division implications, I'm not sure that happens. Scott Downs could make a very nice setup man for a contending club next year. I'm sad it won't be the Yanks.