Other than winning the World Series, there's perhaps nothing more enjoyable in baseball than watching a young player come into his own. At least for me, anyway. The Yankees and their fans witnessed just that in 2010, when Phil Hughes made the jump from being a prospect to a bonafide big leaguer.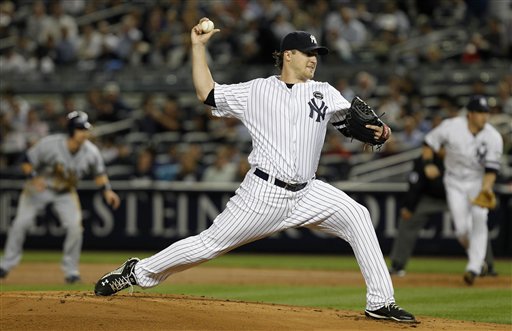 It all started back in 2009 really, when the team shifted Hughes to the bullpen because at the time they had six starters for five rotation spots. It was either the minors or the bullpen, and unsurprisingly Phil chose the bullpen. He dominated the rest of the season and emerged as Mariano Rivera's primary setup man, showing confidence in his stuff and attacking hitters, a welcome change for the young kid that got himself into trouble by nibbling in years past. That confidence and mindset carried over as a starter, and Hughes was given the fifth starter's job out of Spring Training this year, winning a competition that was for all intents and purposes rigged. It was Phil's job to lose.
Because of the early season schedule, the Yankees didn't need Hughes until the ninth games of the season, a home game against the Angels. It was a somewhat rocky start to the season, as he walked five and allowed a pair of runs in five innings, but it only got better from there. Hughes took a no-hitter into the eighth inning against the Athletics next time out, striking out ten and walking just two. Oakland scored one run, and it came when Joba Chamberlain let the inherited runner score. From there, the then 23-year-old Hughes held the Orioles to one run in 5.2 innings, then came seven scoreless against the White Sox, then seven innings and two runs against the Red Sox in Fenway, then seven more scoreless against the Tigers. Through his first six starts, Phil was sporting a 1.38 ERA and a .214 wOBA against.
Unsurprisingly, there was a regression to normalcy. Sustaining that kind of pace in AL East is near impossible. Hughes started to give up more homeruns, especially at home, and batters started to lock in on his fastball and foul off more pitches than before. As Joe explained yesterday, Phil's season can be broken down into three distinct periods…
Thankfully for him, the home run problem is a new development. It might not even be a big concern going forward. For starters, seven of his 25 homers came against the Blue Jays, and six of those came in just two games. Furthermore, 12 of those 25 game during an eight game stretch during which Hughes struggled mightily. It's the kind of stretch that many pitchers his age experience.

Before: 11 GS, 69.2 IP, 56 H, 21 R, 21 ER, 20 BB, 68 K, 4 HR

During: 8 GS, 47.2 IP, 53 H, 33 R, 32 ER, 14 BB, 34 K, 12 HR

After: 10 GS, 59 IP, 53 H, 29 R, 29 ER, 24 BB, 44 K, 9 HR
Hughes tossed up a gem in his ALDS start against the Twins (video), limiting them to four hits and one walk in seven shutout innings. He stunk in the ALCS like everyone else on the team, but the overall 2010 result for Phil Hughes was an overwhelming positive. First and foremost he stayed healthy, something that had been a bit of problem in the past. He soared past his previous career high of 146 innings (set in 2006) and threw 192 innings this year, playoffs included. The Yankees had him skip a few starts throughout the season to keep the workload down, and by and large it worked.
As for performance, Hughes' ERA (4.19), FIP (4.25), xFIP (4.33), and tRA (4.25) all lined up, so there was little-to-no luck involved. He struck out 7.45 batters and unintentionally walked 2.91 for every nine innings pitched. Batters mustered just a .307 wOBA off Hughes (basically what Austin Kearns did as a Yankee), and his overall value was 2.4 fWAR and 2.7 bWAR. That puts his performance on par with guys like Tim Hudson (2.7 fWAR), Ted Lilly (2.3 fWAR), Zack Greinke (2.4 bWAR), and Tommy Hanson (2.5 bWAR), who are certainly among the league's better hurlers.
Hughes is far from a finished product, and there's a lot he has to work on both this offseason and going forward to take that next step towards being an elite starter. He needs to be more efficient and put batters away earlier, although going 0-2 on everyone and struggling to get the out is better than falling behind everyone 2-0 like he had been in the past. Hughes also needs to improve his changeup to better combat left-handed batters, who tagged him for a .320 wOBA this year (.292 vs. RHB). There's more work to be done for sure, but the emergence of Phil Hughes as a legitimate big league starter was undeniably one of the best developments for the Yankees this year, and also one of the most enjoyable to watch as a fan.