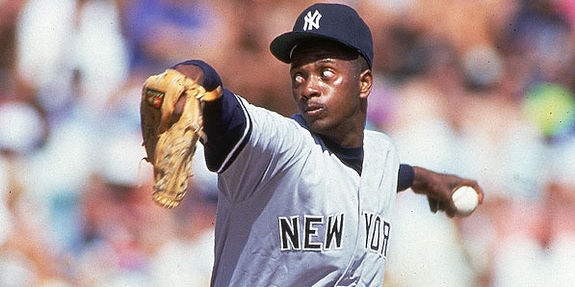 The term "bust" gets thrown around quite a bit these days. It's short, simple, easy to spell, and vague enough that it can be used it describe a variety of things without much basis or room for debate. It epitomizes the knee-jerk nature of the internet, just ask Andrew Brackman after the 2009 season. Of course not all busts are created equal, so why do we lump them all together under one umbrella term?
Although busts can happen at any level in any sport, we're going to focus on the term as it related to minor leaguers and prospects. This is where it gets used most often anyway. Players who flame out will typically fall into one of four categories, though we should probably acknowledge that a fifth exists and covers all the miscellaneous stuff that happens. Let's take a look…
1. Injury Busts
This is probably the most common kind of bust, especially when it comes to pitchers. Players get hurt and it can irreparably change their careers, it's just part of life. Sometimes it's a fluke thing, sometimes it's the result of flawed mechanics or poor form. Unless the team consciously puts a player in harm's way or the player deliberately injuries himself, there's no sense in assigning blame here. Shit happens man, usually there's nothing you can do about it.
Brien Taylor is worth a mention here because he certainly qualifies as an injury bust, but that doesn't mean taking him first overall in 1991 was a poor decision. He was the best prospect in the draft class and is arguably the best high school pitching prospect of the last 25 years. He killed the minors in his first season (161 IP, 121 H, 187 K, 2.57 ERA), but he blew out his shoulder in an off-the-field incident. Calling Taylor a bad pick because of the injury is revisionist history at it's finest.
2. Talent/Skills Busts
Sometimes a player just doesn't have it. They're lacking a key baseball skill to become a successful player, or maybe they simply don't have enough talent as everyone else. Tim Battle is a perfect example of the former; the kid had all the talent in the world but simply couldn't recognize pitches that broke and was unable to get the bat on the ball consistently. Those two flaws proved to be fatal, and he was done before his 23rd birthday.
These kinds of busts fall at the feet of both the player and team. Although it takes a certain amount of God-given ability to play the game at a high level, it's up to the player to put in the work needed to improve and advance. Some guys just don't do that. It's also up to the team to recognize who has "it" and who doesn't. Trust me, this is much, much easier said than done. When someone learns how to perfect scouting to even a 50% success rate, they'll become very, very rich.
3. Development Path Busts
P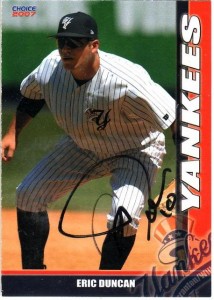 layers that bust because of a poor development path/plan are hard to define, but they do exist. Eric Duncan jumps to mind. He was the best power hitting high school prospect in the country when the Yankees drafted him in 2003, and a year later he posted a .358 wOBA with 43 doubles and 16 homers in 538 plate appearances split between Low-A Charleston and High-A Tampa as a 19-year-old. Given the state of their big league team and the need for prospects to use in trades, the Yanks rushed Duncan up the ladder in an effort to make him more desirable in a trade. First overall pick Delmon Young was the only 2003 high school draftee to beat Duncan to Triple-A, a level he reached at age 21. The aggressive promotions hurt his development because he simply wasn't ready to face that caliber of competition.
Who knows, maybe Duncan wasn't going to cut it out no matter how much time he was given, but the team certainly did him no favors. Fernando Martinez of the Mets is another example of this, that kid was in the big leagues at age 20 with less than a season's worth of playing time at either Double-A or Triple-A. Every prospect has a unique development path, and it's not often that being rushed helps them out. Development busts are on the team.
4. Expectation Busts
This one is tricky because these players aren't really busts, but we consider them to be because they didn't meet our expectations. Look at Joba Chamberlain. He's a fine reliever and a productive big leaguer (already the fourth best 41st overall pick in draft history), but a legion of fans consider him a bust because he did not/has not yet reached his ceiling. Then you have people throwing the bust tag on Brackman after one pro season (his first off major elbow surgery, mind you), which was silly and short-sighted, as he showed in 2010. Expectation busts fall on the fans because they're the ones that aren't satisfied and are usually being unreasonable. We're all guilty of it, don't try to hide.
* * *
Regardless of what you want to call it, busts are an unavoidable evil. There's something like 5,000 players in the various levels of the minor leagues and only 750 big league jobs up for grabs. That's a 15% success rate, and even that seems high when you consider a) all the kids playing around the globe in hopes of securing a contract, and b) that some big leaguers aren't even qualified to be in the show. That won't stop everyone from breaking out the term with little to no context when a prospect goes bad or a trade doesn't work out, but that doesn't mean we shouldn't acknowledge that different kinds of busts exist.
Trust me, I'm well aware of how much it sucks when one of our favorite prospects doesn't make it for whatever reason, but prospects are like buses in the city. The next one will be along in five minutes.