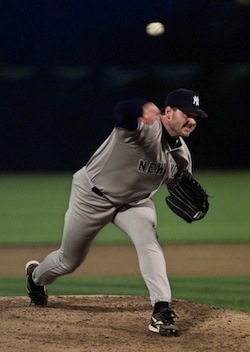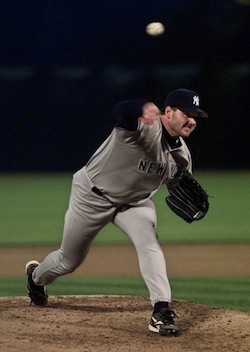 These days, Yankee fans have a relationship with Roger Clemens that could be described as tenuous at best. Our final memories of the Rocket include his early departure in Game 3 of the 2007 ALDS, a mediocre half season in the Bronx and Suzyn Waldman's infamous histrionics on the day of his return to pinstripes. Today, Clemens' pending perjury case may be pushing Andy Pettitte away from the Yanks, and no one wants to dwell on that sad state of affairs.
But Clemens' first tenure in pinstripes was cause for celebration. He won an undeserved Cy Young Award and two World Series rings. He went 77-36 and was a key cog in the last years of the great Yankee Dynasty of the 1990s and early 2000s. To top it off, the Yanks didn't land Clemens until February 18, 1999, two days before pitchers and catchers were due in Tampa. How did it all go down?
The Yankees' love for Roger Clemens started long before the winter after their 114-win season. After a 10-13 season in which he sported a 3.63 ERA and a 9.5 K/9 IP, Clemens was a free agent bound for greener pastures. The Red Sox didn't want to pony up, and George Steinbrenner had his sights set on the Rocket. The Boss offered four years and $32 million while Clemens instead signed with Toronto for three years and $24.75 million (with an $8.1 million option). He received a higher average annual salary but signed for fewer guaranteed years to go to Toronto, and the Yanks signed David Wells instead.
After two seasons of spinning his wheels in Toronto, Clemens was tired of Canada. He won two Cy Young Awards and went 41-13 with a 2.40 ERA, but the Blue Jays finished in last in 1997 and in third, nearly 30 games behind the Yanks , in 1998. So he asked for a trade, and the Blue Jays were willing to oblige. Although the Rocket eventually rescinded that request, Toronto found a market and an opportunity to free up $9.85 million.
As with any big trade, this one did not come easy, and in fact, it dragged on for months. The Yankees were interested from the get-go; in fact, they were eyeing Clemens at the 1998 trade deadline. The price to land Clemens, however, was steep. In early December, as the Yanks were competing with the Rangers, the Rockies, the Tigers, the Indians and the Astros, the club seemed willing to trade Andy Pettitte to Toronto. The Blue Jays, though, wanted some package including some or all of Orlando Hernandez, Ramiro Mendoza, Homer Bush, Mike Lowell and top prospect Alfonso Soriano.
In January, after Clemens withdrew his trade request — a request deemed to be against MLB rules anyway — talks stalled. The Yankees tried and failed to pry Curt Schilling away from the Phillies, but the Blue Jays kept lingering. And then, on the precipice of Spring Training, it all clicked. Toronto asked for David Wells, Homer Bush and Graeme Lloyd, and the Yanks pulled the trigger. New York and David Wells mourned David Wells' exile from the Bronx, and up in Boston, Red Sox fans were quite blue as the Yanks landed their ace.
Today, we're waiting for the Yanks to fill their holes. They're not coming off a historic season or a World Series win. They fell two games short of the Fall Classic this past year and failed to land Cliff Lee last month. But the off-season isn't over until Opening Day, and we've seen big trades happen on literally the last day of baseball's winter. Until then, the 2011 Yankees are still just a work in progress.