The following post was written by weekend writer Brock Cohen.
All teams have a mixed record of success in drafting and then developing young talent into adept major leaguers. But it's widely assumed that the Yankees have taken prospect mismanagement to new heights, that they are the bulls in the China shop of player development. Sadly, this reputation isn't entirely unjustified. A sometimes necessary byproduct of life as a perennial juggernaut is that young players within the organization are often rushed or marginalized for the sake of feeding the machine. Some of us have mixed feelings about this, and I'd argue that being exposed to this M.O.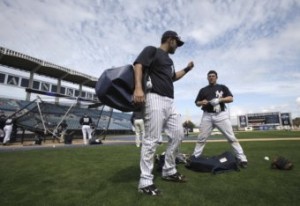 over time turns us all, to some degree, into mini-Steinbrenner shopaholics who pine for a rush that only acquiring the shiniest new toy on the market can satisfy. And yet, considering the team's current circumstances, the reasons for cutting ties with such a spectacular young player like Jesus Montero aren't as rash as some might think.
The Yankees have already shown their willingness to part with Montero on multiple occasions, and will do so again given what the club deems to be a suitable scenario. As fans, we can only hope that "suitable" doesn't also mean trading away Jesus for yet another lockdown long reliever or a pack of miscellaneous B-prospects. But he shouldn't be considered untouchable, not right now. Because, while it's astonishing to think the planet's most successful sports franchise could be so flip about its most coveted position player prospect in generations, there are four main reasons why the Yankees view him as expendable.
A Decimated Pitching Staff
The current tired narrative of the week is that the Yankees have a code-red short-term urgency for starting pitching, and it's all that diva Andy Pettitte's fault. This, of course, is only partially true. Assuming they insist on finishing ahead of Toronto in 2011, acquiring a reliable, if unsexy, starting arm will far outweigh all other concerns going forward. But don't blame A.P. Pettitte's waffling notwithstanding, there's nothing new or astounding about the Yankees' shortage of quality starting pitching. In fact, in retrospect, it was delusional to think the Yankees could win a World Series championship last year with a hobbled Andy Pettitte, an overtaxed Phil Hughes, and a perpetually beleaguered A.J. Burnett taking turns behind the Big Stoppa'.
And here's the thing: the starting pitching situation may have actually gotten worse since then, and that's not even accounting for the probable loss of Pettitte and the failed courtship of Cliff Lee. While he remains a bona fide rock, the 2,127+ innings on Sabathia's arm will eventually begin to take their toll. Hughes will be freed from a strict innings count but, per the Verducci Effect, he's not out of the woods yet. And despite the incontrovertible fact that Ivan Nova is, along with Mo, King Felix and Tim Lincecum, on a short list of the coolest-looking pitchers in the game, his unflappable mound persona comes along with an eye-gouging 1.452 WHIP and a limited arsenal. And then, of course, there's the endlessly maligned Sergio Mitre, slotted in at No. 5. While Yankee fans have been saddled with the reputation for being spoiled, supercilious brats (because apparently most sportswriters have never been to Fenway Park), followers of any team would have a legitimate reason to revolt if any one of their starting pitchers came with a career WAR of -1.6.
That an already toilet paper-thin free agent market for starting pitching is now in its one-ply stage makes pursuing a deal for a reliable arm even more crucial, providing the search doesn't begin and end with plucking Freddie Garcia from the island of reconstructed labrums. And because even the most doltish of G.M.s are aware of the Yankees' current dilemma, Brian Cashman and Co. will indeed be gouged for the privilage of acquiring the likes of Joe Saunders or Kyle Lohse. With that said, if the Yankees do decide to go big, Joba alone won't make it happen. But a package centered around Chamberlain and Montero could net a front-line starter. Either way, hold fast to your Joba memories (grainy YouTube alert).
The Closing Window Theory
We hear different variations of the same trite maxim every year: "There is no next year," The window's closing," "This team is built to win now." Normally, I dismiss these defeatist clichés, not just because Michael Kay admonishingly wedges them into YES telecasts during lopsided losses, but because being constructed to win one year doesn't necessarily preclude a team from winning the next – or three years down the road, for that matter. But as the Yankees' roster is currently assembled, the "window of opportunity" claim may have a bit more validity than usual. For one thing, the average age of Yankees hitters last year was 30.4, which should remain fairly steady for this year as well. Compare that with the age of the position players from the 2009 championship team (30.5) and, in case you were wondering, the famed Shredding My Soul Into 1,000 Pieces squad of 2004 (32.2) and there should be little-to-no cause for alarm, at least for the time being.
The problem arises when we consider how few of the elder position players will be leaving anytime soon. In 2013, for instance, A-Rod will be 38, Jeter 39, Teixeira 33, and Cano (assuming he re-signs) 30. The Yankees' continual difficulty in developing viable position prospects, combined with a fetish for relinquishing first-round draft picks means that the team's overall age, at least for the next several years, will slowly, methodically, diabolically continue to rise. Of course, this further fuels the argument that 2011 might be an optimal time to go all-in for a starter.
Outrageous Expectations
When Montero falters, the career trajectories of countless other stars whose initial mediocrity belied their lofty scouting reports will be ignored. Barry Larkin and Pudge Rodriguez both struggled to make their own beds during their rookie campaigns; the best hitter since Babe Ruth was merely adequate during his. More recently, uber-prospect Jay Bruce finished his rookie season in 2008 with a .317 OBP and a 97 OPS+. And after 887 major league at-bats, the monstrously can't-miss talent that is Matt Wieters has yet to exceed 97 OPS+. I bring up Bruce and Wieters not because their rookie seasons were such catastrophic failures but because they really weren't. Sure, they fell short of projections; in fact, they were both downright mediocre. On a team with a more patient front office and a less fervent fan base, being just sort of okay during one's first full season in the majors is actually a cause for sober optimism. On the Yankees, either player would've been packaged by now for Carlos Marmol. When expectations are high in the Bronx, mediocrity doesn't play, rookie or not. But then, we already knew this. Poor guy.
So, other than OPS-ing at .850 or being packaged with Hector Noesi for Felix Hernandez, what will it take from Montero to satisfy skeptical Yankees fans and a trigger-happy ownership group? Will he need to eclipse a caught-stealing of 34 percent, an OPS+ of 86, and an OBP of .299? If he does, he'll have yielded better performance in these categories than Sandy Alomar, Lance Parrish, and Javy Lopez, respectively.
Jesus Warts
As great as Montero is projected to be, right now he's a trunk filled with gold on a desert island. That nearly all of his scouting reports come attached with cautions of defensive shortcomings that make his value as a long-term Yankee backstop a major point of uncertainty. The problem is, as of this moment, catcher is the only position that even remotely makes sense for both Jesus and the Yankees. Moreover, Montero's purported lack of athleticism would preclude a transfer to either of the outfield corners. A move to first base is also a non-starter, with Mark Teixerra locked up through eternity with an infinity player option. And with the DH rotation set to be occupied by Posada, Jeter, and Rodriguez for at least the next half-decade, stashing Montero there for any significant amount of time is also out of the question.
So if the organization doesn't view Montero as a long-term solution at catcher, and if his short-term utility will be limited due to inexperience and the vagaries of youth, it could be argued that the moment to package him is now, while the hype machine is turned to 11. Hank or Levine or Newman will propose it, and Cashman will balk. Making his stand to the Yankees' brass, he'll detail the folly of trading away young, cheap, premium position players who might one day flourish into young, cheap superstars. But judging from the new top-down decision-making process that seems to have taken hold of the current regime, his case will likely fall upon deaf ears.