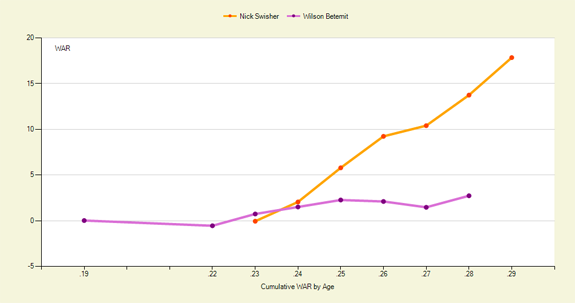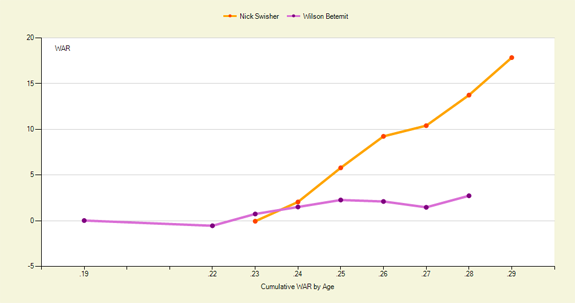 Like most GMs, Brian Cashman knows a little bit about making a smart trade. And while he's certainly caused us to sigh in absolutely hopeless exasperation (sometimes followed by 'We'll never win a World Series again!'), he's definitely struck gold a few times in recent history. Lately, right field has been patrolled by players brought over as a result of Cashman successes, and not only have they done well, but the trades themselves have been absolute steals. Works of art, even.
In 2006, a 38-year-old Bernie Williams was patrolling right field due to badly timed injuries to Hideki Matsui and Gary Sheffield, and new call-up Melky Cabrera was in left. Williams was on his way to a .281/.332/.436 season, but Cashman was interested in more. He had his eye on Bobby Abreu, who was currently batting a career-low .277 and flitting with his career-low OPS of .871 in Philadelphia. Cashman refused to send Phil Hughes to the Phillies, but a deal was struck just before the deadline in 2006, sending Abreu to the Bronx with Cory Lidle for four minor leaguers. At that point, only one of them, Matt Smith, had logged any major league innings at all: a grand total of 12 IP, with four hits, eight walks, and nine strikeouts. The other three players — Carlos Monasterios, CJ Henry, and Jesus Sanchez — hadn't played a single inning above A ball. Henry was a first round pick signed for $1.5M, so while the possibility was there, it was not exactly a sure thing. Sanchez and Monasterios were international free agents from Venezuela.
Abreu went on to hit .330/.419/.507 with seven home runs and 42 RBIs in his first 60 games in pinstripes and capped it off with four RBIs and a double in the postseason. It was a good start to his tenure, and his success would continue throughout 2007, where he hit posted an 117 OPS+, 16 homers, and five triples. The Yankees exercised his option for $16M for 2008, where he just kept getting better. He struck out less, hit more homers, and tacked twenty points onto his batting average. Meanwhile, the four minor leaguers pitched and hit in a grand total of 24 IP – all Matt Smith. There's no question who got the better end of the deal. Abreu was worth a total of 7.3 WAR, while Smith clocked in at exactly replacement level.
Abreu would not return in 2009, though, due to the increase in his salary he was predicted to ask for. The Yankees had already picked up Xavier Nady (and Damaso Marte) near the 2008 trade deadline from the Pirates and were perfectly equipped to start him in right. They had traded Ross Ohlendorf (6.43 ERA in 40 IP), and three minor leaguers: Jose Tabata (AA), Jeff Karstens (AAA), Daniel McCutchen (AAA). Even better, Nady's salary was a mere $6.5M in comparison to the +$16M Abreu was expected to ask for.
But Cashman wasn't finished for 2009. He struck up talks with the White Sox for their first baseman/outfielder hybrid Nick Swisher, who had managed to hit career-worsts basically across the board, posting a pathetic .219/.332/.410. Cashman saw beyond the numbers, though; he saw a decent reserve outfielder who he could buy low and maybe even sell high on in the future. All Chicago asked for was Wilson Betemit, and minor leaguers Jeff Marquez and Jhonny Nunez. Betemit had played in 87 games in 2008 and hit a decent .265/.289/.429. Sold.
Then, only seven games into the 2009 season, Nady went down with elbow trouble and required Tommy John surgery. Swisher, picked up as a reserve player, was pushed into the starting right fielder's spot. The rest was history: Swish turned into a clubhouse asset, a semi-decent right fielder, and a power slugger. While he hit only .249, he also took nearly 100 walks and slugged thirty home runs in hitter-friendly Yankee Stadium. He posted a then-career high .869 OPS, fueled by his .371 OPB, and all for the low, low price of $5.4M. Swisher and Nady together cost less than Abreu had in 2008, too. Swisher's only problem was his dismal October numbers: 7-for-54 with 15 Ks. Ouch. Regardless, Swisher's numbers were far, far better than the .200/.280/.311 Betemit posted in 50 plate appearances in Chicago. Nunez made seven appearances and posted a 9.53 ERA, giving up 10 hits and 6 ER.
2010 only made the deal sweeter. Betemit signed with the Royals and went .297/.378./511 in 315 plate appearances, which wasn't half bad, but Swisher outdid him. Not only did he play in 150 games, even when we all thought he should sit due to a busted knee and a September slide for the team, but he completed his transformation to slugger by posting career-high numbers. He traded in his walks for hits, improving on his .249 in 2009 to .288 in 2010, hitting the same amount of homers and completing the transformation to 4 WAR player. He destroyed the Twins in the 2010 ALDS with a home run and two doubles. He's even super clutch.
While Swisher isn't guaranteed to maintain his career-high numbers, he's definitely in line for another great year in pinstripes. Betemit, meanwhile, has signed a 2011 contract with the Royals, and while a modest improvement might happen, it'll certainly be nothing in comparison to Swisher. The man's already posted the 3rd and 4th best Yankee right fielder performances (Sheffield is #1 and #2) since Paul O'Neil.  Meanwhile, Marquez and Nunez stew in AAA, with the first posting a 4.48 ERA, and the latter a 5.48.
I think it's safe to say that Cashman has a pretty decent head on his shoulders. Like all GMs, he's going to make a few mistakes, and things are going to happen that are out of his control. But even when taking away the free agent power that Cashman wields, he still proves to be pretty good at picking out a right fielder when he sees one he wants. Go Cash.