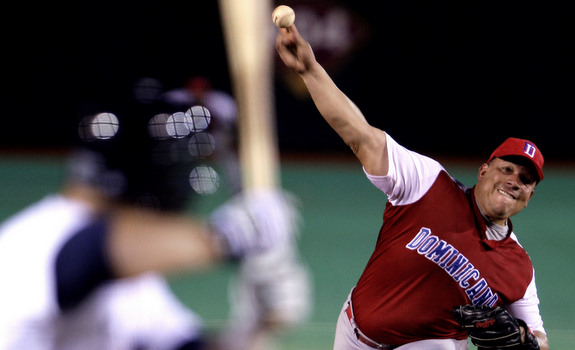 Update by Mike (1:13pm): Joel Sherman says Colon can become a free agent if he doesn't make the team out of Spring Training. It's a zero risk move, and if nothing else it'll light a little fire under the asses of Sergio Mitre and whatever kids audition for a rotation spot in camp. Minor league deal with an opt out before the season … who cares? No complaints.
In seven winter ball starts, Colon struck out 28 and walked just six, posting a 1.93 ERA in 37.1 IP. Yankee bench coach Tony Pena was his manager, so you figure he had some input before they signed him.
Original Post (11:49am): FoxSports.com's Jon Morosi reports that the Yankees have signed Bartolo Colon to a minor league contract with an invite to spring training. Buster Olney notes that Colon will earn $900,000 plus incentives if he makes the team. The two parties had been connected previously this winter, but I honestly didn't think there was anything to it. There is little indication that Colon can handle a starting job in the majors at this point.
Colon last pitched more than 100 innings in 2005, the year he somehow won the Cy Young award. In the following four years he threw just 257 innings, with his high, 99.1, coming in 2007. His contract expired after that season and he found his way to the Red Sox in 2008. After starting the season in the minors he got the call in late May and pitched decently well in six starts. Then he hit the DL with a lower back injury and sat out until late September, when he returned to make one start. In 2009 he caught on with the White Sox, but again injuries derailed his season. He missed 44 days with knee troubles, returned for one start in July, and then missed the rest of the season with elbow troubles. His 4.19 ERA doesn't quite reflect how badly he pitched: his FIP was 5.70, thanks mostly to a homer rate of 1.88 per nine.
Given Colon's recent health history, which probably played into his complete absence in 2010, I don't think the Yanks expect much from this. He wanted to make a comeback, and is — get this — in the best shape of his life. Since this is a minor league deal, it means little risk for the Yankees. The only downside is that they need to give him innings in the spring, which means that someone else will move to the minor league complex a bit earlier. (Or, I suppose, that Colon gets cut early.) It's nice to see the Yankees going after reclamation projects as back of the rotation possibilities, but I find it nearly impossible to envision a scenario in which Colon can help the team.