As we count down the days and weeks leading up to the season, we're going to preview the 2011 Yankees by looking at each of their core players and many, many more. A new preview will go up every day, Monday through Friday, from now until Opening Day.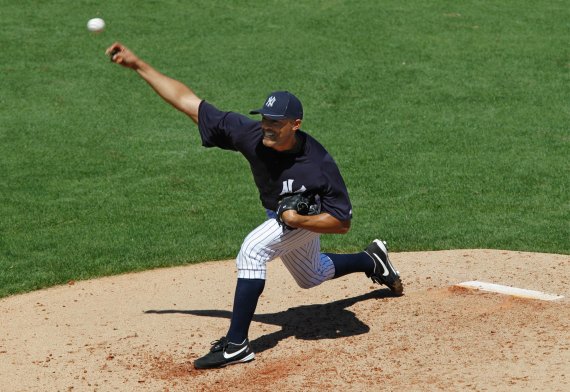 One day Mariano will grow old. Years ago writers tried to predict his decline. A blip on the radar would inspire articles questioning whether he could continue dominating hitters. It still hasn't happened. In fact, there have been fewer articles predicting his decline in recent years than there were wen he was in his mid-30s. He's been that dominant in the past few years. 
In some ways, Mo's 2010 was better than his 2009. His strikeout rate dipped, but so did his WHIP and home run rate. His numbers won't stay this way forever, but he's given no indication that he's ready to slow down. 
Best Case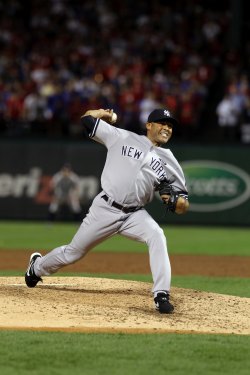 Is there really a ceiling for Mo? Sure, he won't pitch 80 innings and allow two earned runs, but his ceiling isn't too far off from that. In an absolute best case, he's probably good for 70 innings and a 1.50 ERA. That's around his performance from 2008, when, at age 38, he produced the best ERA+ of his career. If anyone can repeat that task three years later, at age 41, it's Mariano.
To hammer home the best case scenario, we can put Mariano's performance at age 40 into context. Since 1980 there have been only 34 instances of a relief pitcher aged 40 or higher throwing 50 or more innings. Of those, only 19 have produced an ERA+ of 120 or higher. Mariano's 238 ERA+ from last year ranks first on the list. That he could top that at age 41 boggles the mind.
Worst Case
Even the worst case scenario for Mariano this year isn't devastating. Sure, there's the minute possibility that he falls off a cliff, but that's the case with every player. It's the same thing with injuries. Any player at any time can suddenly decline in production or get hurt. But we're looking for a more realistic worst case, rather than one that has Mo giving up homers and then getting hurt.
Mo's worst case involves a few more blips than he's had in the past few years. That is, maybe three weeks where his cutter isn't cutting and he blows a few saves. Think 2007, but with a small blip mid-season and then another one later on, rather than him just starting slowly. The worst case also involves a few injuries. We know Mo is prone to soreness and spasms that keep him out for a few games. If things go wrong that could happen a few more times than it has in the recent past.
What's Likely To Happen
The most likely scenario for Mo is far closer to his best case than his worst case. He's been incredibly consistent in the past eight seasons, keeping his ERA under 2.00 in all of them except 2007. Even then he regained his dominant form after a rough April. Even at age 41, his most likely scenario has him pitching around 65 innings to a 2.00 ERA. Few closers will ever match that kind of production, never mind doing it year after year.
If this preview seems a bit lacking, it's because there's no need to dive into the case of Mariano Rivera. Since 1996 he has been the most beloved Yankee, and his folk hero status has only grown with time. What I find most striking is that while he is at an age where pitchers are watching games on TV, Mariano remains dominant. We've been lucky to watch him for the past 15 years, and I don't think we can be reminded of that too frequently.