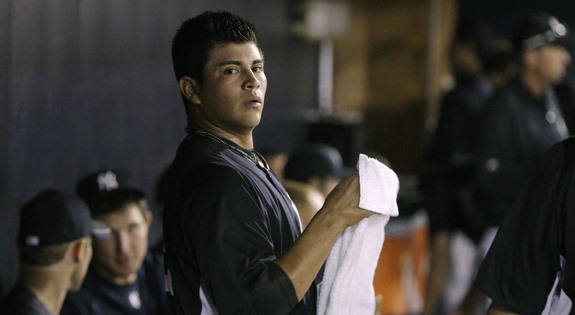 With Sergio Mitre on the shelf due to an oblique issue, Manny Banuelos gets the start this evening, taking on the Red Sox in a nationally televised game. The bean-towers are trotting out their A-ish lineup, so it'll be a fine test for the young left-hander just a day after his 20th birthday. Here's the starting nine…
Brett Gardner, LF
Ramiro Pena, SS
Curtis Granderson, CF
Nick Swisher, RF
Eric Chavez, 1B
Eduardo Nunez, 2B
Ronnie Belliard, 3B
Jorge Vazquez, DH
Jesus Montero, C
Available Pitchers: Manny Banuelos, Dellin Betances, Romulo Sanchez, Mark Prior, Luis Ayala, Ryan Pope, Steve Garrison, and D.J. Mitchell.
Available Position Players: Austin Romine (C), Jose Gil (1B), Kevin Russo (2B), Doug Bernier (SS), Brandon Laird (3B), Justin Maxwell (LF), Melky Mesa (CF), Jordan Parraz (RF), and Gustavo Molina (DH).
The game can be seen on ESPN2 at 7:05pm ET. Enjoy.
Update: Looks like the game is blacked out in the Tri-State Area. Lovely. Use this as your open thread then.