More links as we anxiously await tonight's game…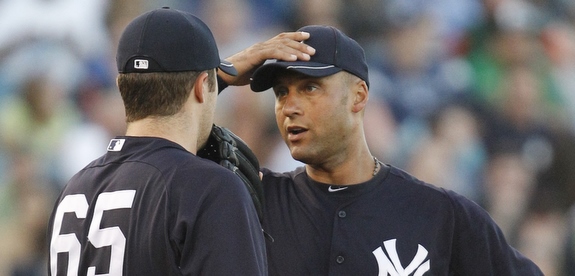 Phil Hughes' Velocity Location
We've heard more than we care to hear about Hughes' missing velocity this season/month, but what's going on with his location? A pitcher could survive throwing 88-90 if he locates properly, but Phil hasn't been doing that either. Jonathan Scippa at Baseball Analytics looked at Hughes pitches this year and shows that the right-hander is a) leaving everything up (I do mean mean everything), and b) is coming right in on left-handed batters. Last season he went after lefties away, away, away. A lot of that has to do with the cutter, which he's relied on heavily without his normal heater in his two starts. The velocity is obviously the biggest concern, but damn kid, get that ball down.
Baseball America's Updated Top 50 Draft Prospects
The college baseball season is halfway over and the draft is now less than two full months away, so Baseball America posted their updated rankings of the top 50 prospects. This one's free for all, no subscription is required. They still have Rice 3B Anthony Rendon in the top spot, though they can be pretty stubborn about their rankings at times (see: Alvarez, Pedro). UCLA RHP Gerrit Cole is almost certainly the best talent in the draft class right now, especially since Rendon's shoulder problems have gotten so bad that he'll only be able to DH the rest of the season.
There's a number of interesting players falling down the board, particularly TCU RHP Matt Purke and Indiana OF Alex Dickerson. I'm still a sucker for big high school arms, but the Yankees have shied away from that demographic early in the draft in recent years (Cole being a big exception).
Today's Competing GM Idea
Anonymous quotes are the backbone of the MSM. You can't name a source because then they won't give you the information they're not supposed to be giving you in the first place. That's cool, it's part of the business, but that doesn't mean we don't get to make fun of them from time to time. From Jon Heyman today, a "competing GM" said "if he were in charge in Seattle he'd take young pitchers Ivan Nova, Dellin Betances and Manuel Banuelos plus catching prospect Jesus Montero from the Yankees for reigning AL Cy Young winner Felix Hernandez." Oh, is that all? I thought they'd ask for Robinson Cano too.
In all seriousness, it would take a frickin' ton to acquire Felix, and the Mariners wouldn't be crazy to ask for that. Would it hurt to deal two of the three Killer B's plus Montero in the same package? Of course, but if you're going to do it for someone, F-Her is the guy. I'd try to swap out Banuelos for Andrew Brackman, or at least Nova for D.J. Mitchell or something, but I think I would pull the trigger on that one. You?