Some random linkage on a rainy afternoon in the Tri-State…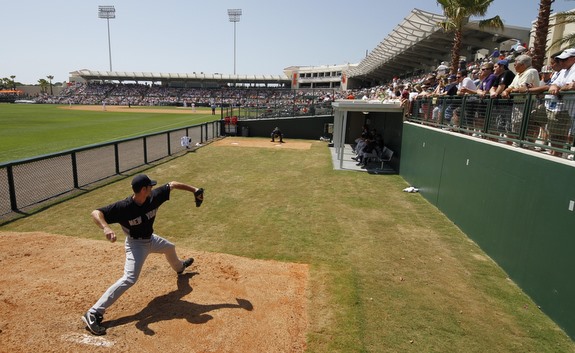 A brief Mark Prior scouting report
Right-hander Mark Prior was the feel good story of Spring Training this year, striking out a dozen batters and allowing just one run in 8.2 innings. He was clearly a shell of his former self, but his stuff was good enough to get guys out. Baseball America's Jim Callis passed along an updated scouting report on the former phenom in this week's Ask BA: "Prior's fastball usually ran from 87-91 mph, his breaking ball and changeup were nothing special, and neither was his control (five walks) … Prior will need more fastball and a quality second pitch if he's going to help New York in a relief role later in the year. I'm rooting for him, but I'll believe it when I see it."
The Yankees have until mid-June before Prior's opt-out clause becomes an issue, so there's no rush to make a decision. He recently appeared in back-to-back games for High-A Tampa and came out of that okay, but he's obviously got a long, long way to go.
Even more on oblique issues
We've heard quite a bit about oblique injuries early in the season, as a number of Yankees missed time in Spring Training because of them. They're not alone though, oblique issues have become an epidemic around the league. Fourteen players have already hit the disabled list with oblique injuries this season, and Michael Schmidt of The New York Times is trying to figure out why. We've heard about imbalanced training already, and another theory is that players are going from offseason training to game conditions too quickly. The Yankees were playing Grapefruit League games less than a week after position players reported. It could also be a classification issue since a lot of these injuries were just called abdominal or ribcage strains in the past. Whatever it is, there's a lot of money being wasted on the disabled list, and you can be sure teams will get to the bottom of it.
Update projected standings
Before the season, Dan Szymborski's ZiPS system projected the Yankees to finish third in the AL East with an 87-75 record. The Red Sox occupied the top spot at 93-69 while the Rays trailed at 88-74, but because of their 2-8 starts, the playoff odds for Boston and Tampa Bay have taken a significant hit. In an ESPN Insider piece, Szymborski shows that updated ZiPS projections call for the Sox to finish 86-76 now, one game back of the Yankees in the division. The Rays are now projected to finish third at 85-77. A 2-8 start certainly isn't the end of the world, but that's ten games each team won't get back, and that absolutely takes a bite out of their playoff hopes.
If nothing else, look at it this way: the Sox came into the season as the favorite in the division and understandably so, but the tangible benefit of being four wins better than New York in terms of roster construction is gone, if it ever existed in the first place.
The wannabe lefty
Earlier today we learned what makes David Robertson so effective: his extension. But did you know he's ambidextrous? No, he's not Pat Venditte, who will throw with both hands in game, but as Dan Barbarisi explains, Robertson shags fly balls every day using a glove on his right hand, firing balls back to the infield with his left. He's even worked out an arrangement with Brett Gardner, who gives D-Rob his gloves to break in during batting practice. No, Robertson isn't close to throwing left-handed in a game, he's just working on it as a hobby. "If I can do it with my right hand, I can do it with my left hand. Why not?" said David. "I'm pretty ambidextrous. I just can't write left-handed. That's my only problem."