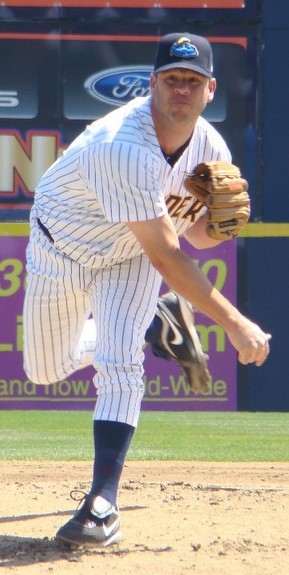 Sixteen games into the 2011 season, two things are very clear about the Yankees: they have a great offense, and boy does their starting pitching stink. They're second in the majors with a .357 wOBA but first with a 126 wRC+, hitting at least six more homers than every other team. Just wait until their .260 BABIP (third lowest in baseball) starts to correct. At the same time, the Yankees' rotation has the worst ERA (5.06) and third worst FIP (4.38) in the American League, and their average of 5.32 innings per start is the worst in baseball.
Obviously that has to change, we've known that since the last September. Even if the Yankees had landed Cliff Lee, they'd still be in need of starting pitching right now, that's how bad it's been. That's another post for another time, I suppose. The offense and some timely bullpen work have helped the team overcome its starting pitching problems during the first 16 games of the season, but obviously this isn't a sustainable approach to securing a playoff berth. Some pitching help is on the way though, just not the kind of help a contender wants to rely on.
At the moment, both Freddy Garcia and Bartolo Colon have done a bang up job of turning the clock back, at least temporarily. Who knows how long it'll last. Kevin Millwood will make a second minor league start for Triple-A Scranton this weekend, and there's ten days until his opt-out clause kicks in. The Yankees will have two more looks at him before deciding what do, though you'd have to imagine that if he shows anything that looks like it could get big league batters out, he'll be called to join the team. Millwood represents the next wave of pitching help, as unappealing as it sounds.
Behind him lies Carlos Silva, who apparently showed up to Extended Spring Training slightly less fat than the Yankees expected. He isn't doing anything more than conditioning drills last we heard, but you have to figure he's not far off from climbing on a mound. He did pitch with the Cubs in camp just a few weeks ago. If he goes on the Millwood plan, meaning some starts in ExST and two or three appearances with the full season minor league affiliates, then we have to figure he's about four weeks away, at the very least. Silva, as unspectacular as he is, is the second wave of pitching help.
By the time he comes up, if he does at all, we're talking early-June or so, which is the start of trading season. The Yankees are surely mining the pitching market at the moment, but it's not often that teams will commit to selling off valuable pieces this early in the season. If the Twins keep tanking, maybe Francisco Liriano becomes available sooner than expected. Maybe the struggling Astros make someone available, maybe MLB's takeover of the Dodgers put someone on the market, who knows. A lot will change over the next few weeks and the Yankees are simply going to have to bide their time until it does. For all intents and purposes, the trade market is the third wave of pitching help.
Although Millwood and Silva are the obvious guys on the way, there is also one constant: the farm system. If the Yankees need to plug hole in-between some of these veteran scrap heapers, there's always a Hector Noesi or an Adam Warren a phone call away. Best of all, those guys are already in game shape, there's no need to wait. The first round of pitching help, essentially Garcia and Colon, has worked out well so far, but it's just been one turn through the rotation for both of those guys. How long it will last is anyone's guess. Millwood and Silva will offer some alternatives (not necessarily help, but at least alternatives) in the coming weeks before the trade market heats up, plus there's always the farm system. Until the rotation gets settled, the offense is really going to have to carry to load, and it's certainly good enough to do that.