Six questions today, half of which have to do with players not even on the Yankees. Remember to the use the Submit A Tip box in the sidebar whenever you want to send in some questions.

Keane asks: If Hanley went on the block would you be interested?
Of course, players like Hanley Ramirez are rare. He's having an absolutely brutal year, coming into today at almost exactly replacement level (0.1 fWAR) thanks to a .280 wOBA and a -3.5 UZR, but that kind of talent at that age (28 after the season) are almost never available in trades. There's something like three and a half years and $60M left on his contract, so he's making big boy money and any teams that pursues him would have to really investigate him to figure out why he's fallen off so much. He's hitting a lot more ground balls than he used to, which explains the power drop off, and he's swinging at more pitches out of the zone as well.
Buster Olney talked to various executives about Ramirez and posted the results yesterday (Insider req'd), and it wasn't pretty. MLBTR has a nice little recap, but the general idea is that Hanley needs an attitude adjustment and has to take his conditioning more seriously. It's pretty generic and stereotypical stuff, the kind of stuff you don't hear when a white player struggles. It's just the way it is. Is anyone questioning Jason Bay's attitude and work ethic? Adam Dunn? Dan Uggla? Nope, nope, and nope. Anyway, I would certainly be interested in Hanley even though I'm not 100% sure where he'd play (he's never been much of a shortstop), but talent and production like that is hard to pass up. Obviously he requires a thorough evaluation first just to see if he's fixable.
Ryan asks: The Vazquez/Logan for Vizcaino/Dunn trade we know is terrible (although defensible at the time), but I am curious how Vizcaino is doing? Where would he rank in the system had he not been traded. (Would be nice to have Dunn instead of Logan right now)
Arodys Vizcaino is having a very nice year in the Atlanta's system, and in fact he was just named to the World Team for the Futures Game. He's struck out 64 and walked just 18 in 66 innings mostly with their High-A affiliate, but he was recently promoted to Double-A. Vizcaino also missed some time in April with back trouble, which is not the first time he had that (back issues limited him to just ten starts for Short Season Staten Island in 2009). If he was still Yankees' property and had progressed the same way, I probably would have had him third on my pre-draft top 30 prospects list.
Tommy asks: What ever happened with Juan Paniagua? News reports stated that the Yankees signed him to a $1.1 MM contract in the beginning of March, but I haven't heard anything since.
He and Rafael DePaula are waiting on visas, that's all. Both guys had been investigated and suspended for age and identify fraud reasons, and the people at immigration don't appreciate that. It's entirely possible they never actually get visas.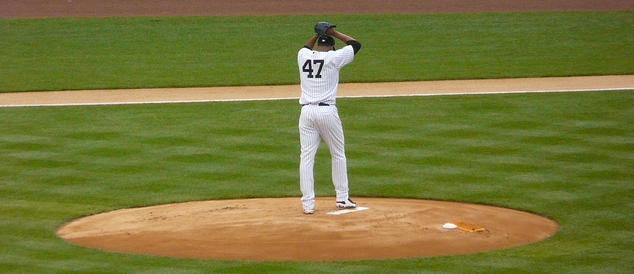 Ryan asks: Seems like every time Nova's rotation spot is in jeopardy, he runs off a few good starts in a row. I know a big problem coming into the year was turning a lineup over 2 and 3 times. He seems to be going deeper and deeper into games lately, so how is he faring against lineups the 2nd and 3rd time through?
From B-Ref…
First Time: 1.45 K/BB, 96 sOPS+
Second Time: 1.44 K/BB, 112 sOPS+
Third Time: 1.09 K/BB, 88 sOPS+
Fourth Time: 3.00 K/BB, 120 sOPS (just eight batters faced)
sOPS+ is the opposing batters' OPS relative to league average in that situation. Although his K/BB ratio is the same the first and second times through the order, opponents are hitting Nova more the second time around due in part to a .327 BABIP (.253 the first time through). The K/BB is the big number for me the third time around, and it's worth noting that batters have drawn more more total walks against him the third time through in fewer plate appearances. Once they've seen him twice already, the element of surprise is gone.
Nova's done a much, much better job of pitching deep into games this year (though we didn't have a huge sample of starts last year), and last time out against the Reds we saw him complete eight full innings for the first time in his career. It's not a coincidence that Ivan was mixing four pitches in that start compared to his usual fastball-curveball heavy approach. He's not going to have all four pitches working every time out, but hopefully he continues with that approach just to keep hitters guessing.
Lou asks: In reading the DOTFs it appears that Brackman has been shifted to the bull pen. Is this the case? Have the Yankees decided he could possibly help the bull pen in 2011, or is this more of a change to try and get him back on track?
Yep, he's in the bullpen, and at this point I'm pretty sure it's just an attempt to get him back to pitching effectively. Andrew Brackman's been absolutely brutal this year and it hasn't been much better since the demotion to the bullpen, almost like he's back at square one. The control has completely deteriorated, back to 2009 levels. I can't imagine his confidence is all that high, and they just had to try something to get him going. He still has one more minor league option for next season, but the clock is ticking.
John asks: David Ortiz is a free agent at the end of the year and the Yankees could use an upgrade at DH. His bat would look great in the middle of the Yankees order, especially in Yankee Stadium. Perhaps it's an unlikely marriage, but do you think the Yankees may/should pursue Big Papi for 2012?
Man, I sure hope not. There's no doubt he's killing the ball this year (.421 wOBA), but he's going to want a multi-year contract and he'll be 36 this winter. That has bad news written all over it. Ortiz and his agent could point to Adam Dunn as a starting point for negotiations or perhaps Jorge Posada's contract, since he was the same age at the time of the signing and was coming off a similarly huge year. Signing him would strike me as a classic George Steinbrenner move, locking up an old, nonathletic player with no defensive value through his decline years just because he's got a clutch reputation and is coming off a great year. Ortiz is having a huge dead cat bounce year, but I'd rather let the Red Sox be on the hook for his age 36, 37, and 38 seasons.