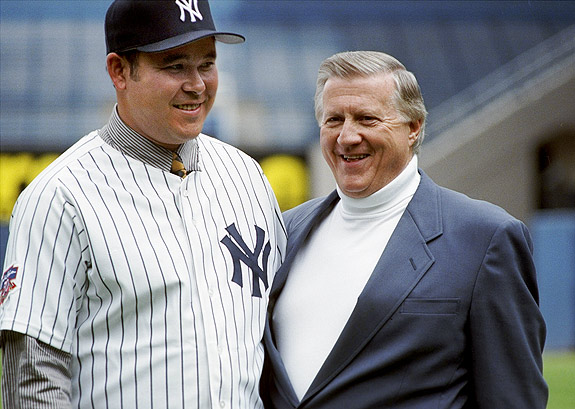 Via The Kyoto News, former Yankee Hideki Irabu was found dead at his Los Angeles home today. He was 42. TMZ reports that he committed suicide by hanging himself. Irabu lived in LA with his wife and two children, where he had investments in various Japanese restaurants.
The Yankees originally acquired Irabu from Padres in April of 1997, after San Diego purchased his contract from the Chiba Lotte Mariners. Irabu said he would only play for New York, forcing the trade. Ruben Rivera, Homer Bush, Rafael Medina, and $3M went to the Padres in the transaction. Irabu pitched for the Yankees from 1997-1999, posting a 4.80 ERA in 64 starts and ten relief appearances. His best season was 1998, when he pitched to a 4.08 ERA in 173 IP. The Yankees traded Irabu to the Expos for Ted Lilly, Jake Westbrook, and Christian Parker before the 2000 season. He is perhaps most remembered for being called a "fat pussy toad" (as in "full of pus") by George Steinbrenner after failing to cover first base in Spring Training one year.
After two seasons in Montreal and one as the Rangers' closer, Irabu was out of Major League Baseball at age 33. He returned to Japan and pitched another year with the Hanshin Tigers, and made a comeback with the Long Beach Armada of the independent Golden Baseball League in 2009. He spoke of attempting another comeback in Japan after that. Irabu ran into some trouble with the law after retirement, getting arrested for assaulting a bar manager in 2008 and for DUI in 2010.