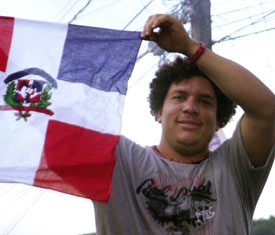 One game after he returned to the lineup, Alex Rodriguez is again out of it. He suffered a jammed thumb while making a play on Sunday. After cutting short his BP session he went for an x-ray. It doesn't sound like anything serious.
That means the lineup resembles the ones we've seen for the past month or so. It's also Bartday, which we hope moves the Bartolo Colon O Meter clockwise.
Lineup
1. Brett Gardner, LF
2. Derek Jeter, SS
3. Curtis Granderson, CF
4. Mark Teixeira, 1B
5. Robinson Cano, 2B
6. Nick Swisher, RF
7. Eric Chavez, 3B
8. Jorge Posada, DH
9. Russell Martin, C
And on the mound, number forty, Bartolo Colon.