Just four questions this week, but they're good ones. We'll look at where the money for Yu Darvish would be coming from, bad blood between the Yankees and Mariners, an Ivan Nova-Chien-Ming Wang comparison, and comps for Manny Banuelos. Remember to use the Submit A Tip box in the sidebar whenever you send a question in.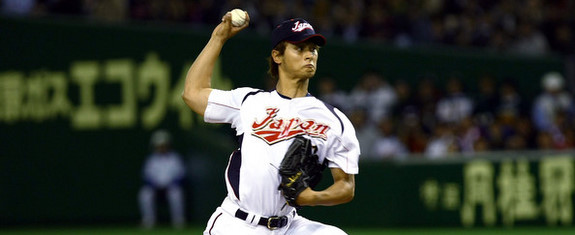 Mark asks: In regards to your recent post on Yu Darvish, can you explain how any team, let along the Yankees, can afford to pay a one-time posting fee of $40 million in these current economic times? I always thought the Steinbrenners ran the Yanks at break-even or at a slight loss. Unless MLB allows them to borrow from their YES broadcast subsidiary, I cannot imagine any owner, even the Steinbrenners, having that kind of cash lying around in a liquid investment, but I could be wrong. Or are posting fees paid out over the life of the contract? If not, I wonder why it doesn't make more sense financially for the Yankees to boost their payroll by say $10-15 million as a way of spreading the wealth around to more players versus just one.
The posting fee is a one-time payment that has to be made when the player signs his contract, so the Red Sox had to cut the Seibu Lions a $51.1M check for Daisuke Matsuzaka back in December of 2006. If the team and the player don't agree to a deal, like what happened with the A's and Hisashi Iwakuma this past offseason, then the team doesn't have to pay the posting fee.
I have no idea what the Yankees' finances look like, but I'm certain they have $40M+ lying around somewhere to make a payment like that. With a $200M payroll, they're making ~$17M payments for player salaries twice a month (just salaries, doesn't not include benefits and non-player personnel), so I'm sure the cash is somewhere in Yankee Global Enterprises. I hear the New Stadium comes equipped with a cash printing press in the basement*, actually. I know I kinda danced around the question but like I said, I haven't seen their books, but I have to think there's $40M on reserve somewhere, likely much more than that.
* This may or may not be true.
Elliot asks: While this is very speculative, do you think that Jack Zduriencik getting a two-year extension with the Mariners hurts the Yankees ability to trade for King Felix? Do you think there is still bad blood between Cashman and him because of the failed Cliff Lee Negotiations? 
Felix Hernandez is not getting traded anytime soon, with or without Zduriencik's extension. He's only 25 and is under contract for four more years (three more after this season), he's absolutely going to be part of the next winning Mariners team. They're not some small-market outfit, they have tons of cash to throw around and a pretty strong young core with Felix, Michael Pineda, Justin Smoak, and Dustin Ackley. They could turn that team around in a year.
As for possible bad blood, yeah I do think there is some, but I don't think it's enough to get in the way of a potential Felix trade. He's a very special case. When it comes to bit pieces though, a spare reliever or a bench bat, then forget it, you can find that stuff anywhere. Zduriencik did what he felt was best for his team, but I have to believe he burned some bridges with that maneuver. I'm sure other teams noticed too.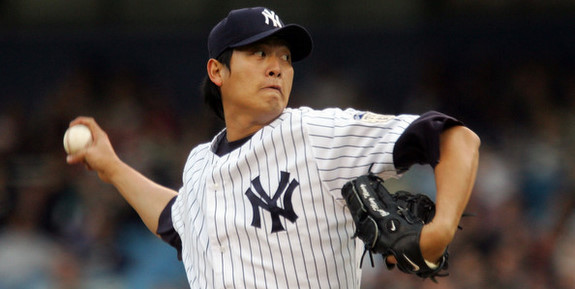 Mark asks: Do you think Ivan Nova compares favorably to Chien-Ming Wang at this point of his career?
Yes, I do think Nova now is better than Wang then, but they are different pitchers. Yeah, both rely on ground balls, but Wang relied on them to the extreme, I mean he never struck anyone out (3.3 K/9 from 2005-2006) and was regularly over 60% grounders before his foot and shoulder gave out. Nova is more of a 50-55% ground ball guy with 5.5 K/9 or so, and I'd happily trade about ten percentage points of ground balls for one extra strikeout every four innings. Wang was also a year older than Nova is now when he debuted, and although it doesn't sound like much, but it's not insignificant.
I will say this, Wang generated more consistently weak contact than I can remember ever seeing out of one pitcher. The history of baseball says it should not have worked for a guy allowing that many balls to be put into play (especially for a team as defensively awful as the 2005-2007 Yankees, man were they terrible with the glove), but it did because he never seemed to let the ball out of the infield. Wang was a 3.60-4.00 ERA guy before getting hurt, and that's pretty much what I think Nova can be most years, with a little more at his peak.
Patrick asks: Who's a good comparison for Manny Banuelos? I'd love to say Johan Santana but that's unfair. What about Ricky Romero?
This question was sent in just a few minutes after Sweeny Murti said a scout dropped a Romero comp on Banuelos, and I'm guessing that's not an accident. Looking strictly at the whole low-to-mid-90's fastball/knockout changeup/third pitch curveball thing, then Romero's a very good comp. The Blue Jays ace uses a two-seamer as well, plus he's an inch or two taller than the Yankees young southpaw, but otherwise it fits. Of course when Romero was Banuelos' age, he was a sophomore at Cal State Fullerton, a year away from being drafted (sixth overall in 2005), and four years away from making his big league debut. The two have had very, very different development paths.
Johan's third pitch was always a slider, and plus his changeup was one of the best we'll ever see. That's an unfair comparison to slap on anyone, nevermind just Banuelos. Cole Hamels, Jaime Garcia, and John Danks are also fastball-change-curve, but all three of those guys have added cutters in recent years and are a few inches taller as well. They're better comps than Santana, but still not perfect. Jeff Francis, Jason Vargas, and Mark Buehrle have the same repertoire, but none of them throw as hard as Banuelos.
That Romero/Hamels/Garcia/Danks group is pretty damn good, and I'm sure the Yankees would be absolutely thrilled if Banuelos develops into any one of them. They're all well-above-average starters with strikeout stuff, and with the exception of Garcia (who's in just his second full year as a big leaguer), they've shown the ability to stay healthy and eat up innings year after year. Getting that kind of value from Banuelos would be a major player development win.