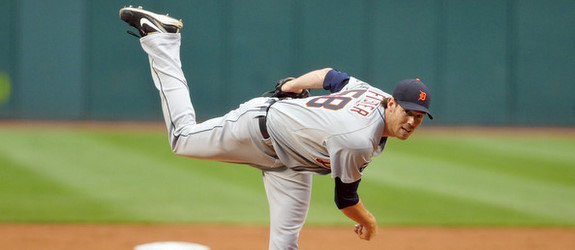 Five of the Yankees' first eight picks in the 2005 draft have reached the big leagues, and one of those picks was Doug Fister. Taken in the sixth round out of Fresno State, Fister did not sign with New York and instead went back to school for his senior year. The Mariners took him in the seventh round the next year, and put him in their rotation three years later. Two years after that, they traded him to the Tigers. Two months after that, he's starting Game Two One of the ALDS against the team that first drafted him.
Fister will inherit a somewhat unique situation following last night's suspension, entering the second inning of a 1-1 game. The Tigers still have 24 defensive outs to get, the Yankees just 21. Let's get to know the former Yankees' draft pick…
Performance
A command and control monster, Fister posted a 57-5 K/BB ratio in 70.1 IP across ten starts (and one relief appearance) after the trade to Detroit. His 1.79 ERA with the Tigers is stellar, and his overall season numbers were very good: a 6.07 K/9 with a 1.54 BB/9 and a 47.5% ground ball rate. Fister doesn't have much of a platoon split.
Pitch Selection

(via Texas Leaguers and FanGraphs)
A five-pitch pitcher with two different fastballs, the name of Fister's game is contact and quick outs. Linear weights indicate that his two breaking balls are just a touch below-average, less than one-third of a run below-average for every 100 thrown. FanGraphs lumps the two fastballs together, but collectively they're almost a full run better than average over the course of 100 pitches. The change is his most effective and also least used pitch, leading me to believe the linear weights data might be falling victim to some sample size noise.
The usage patterns indicate that Fister attacks all hitters generally the same way, just with a few more fastballs to righties and a few more changeups to lefties. The overall lack of swings and misses isn't surprising considering how around the plate he is. Fister's a huge dude (6-foot-8), and he gets good downhill plane on everything judging by the strong grounder rate.
Pitching Pattern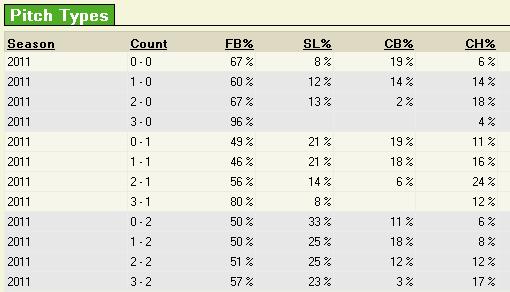 (via FanGraphs)
Another straight forward guy, Fister doesn't pitch backwards as much as you might expect someone with his stuff to. He will get ahead with the fastball, but is just as likely to throw his slider as he is his curveball and changeup with one strike. The slider seems to be his go-to pitch with two strikes.
Extreme strike-throwers like Fister always throw a wrench into things because the Yankees can't sit back and wait for him to paint himself into a corner. Well, they can do that, but they'll be behind in the count before you know it, and that leads to defensive at-bats rather than aggressive attempts to do damage. Luckily, Fister will allow the Yankees to put the ball in play, and Detroit's defense is nothing to write home about (especially in the outfield corners and at both short and first).