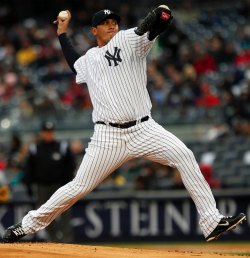 To set up the expectations placed on Freddy Garcia this season, I point you to the comments on the post that announced his signing. They weren't all bad, but it was clear that most fans did not expect much out of Garcia. His spring training performance did not change anyone's mind, and in fact it might have detracted from his case. The Yankees clearly weren't too enamored, either, as they continually pushed back Garcia's first start until they could push no further.
When Garcia did finally get a start, things went well. He shut out Texas through six innings and followed that up with another six shutout frames against Baltimore. In May he ran into some hard times, allowing 17 18 runs in 38.2 innings, but even that didn't amount to a poor overall performance. Even after Boston knocked him out in the second inning of his start on June 7th, he still held a sub-4.00 ERA. It just so happens that he caught fire right after that.
From his start on June 12th against Cleveland through his start on August 7th against Boston Garcia threw 64 innings in 10 games, allowing just 21 runs, 18 earned, and striking out 39 to 15 walks. The strikeout total was in no way impressive, but the results were undeniably good: 2.53 ERA and a 6-4 record that included a couple of tough-luck losses. That's when he sliced open his finger and missed three weeks, after which he wasn't quite the same.
Despite a rough September in which his ERA rose from 3.09 to 3.62, Garcia exceeded expectations for the season. The Yankees signed him for peanuts — a $1.5 million minor league contract with up to $3.6 million in bonuses (he didn't quite reach the maximum) — and got a guy who, for two months, played a sterling No. 2 to Sabathia's No. 1. It came at the perfect time, too, since it was right around the time of Bartolo Colon's injury. When Colon went down Garcia stepped up, and the two of them combined to save the Yankees' rotation for the first four months of the season.
For their minimal risk investment the Yankees got a 3.62 ERA out of Garcia, which is no small consideration. That's his lowest ERA since 2001. His 4.12 FIP is also fairly in line with his prime seasons, and is actually a tick below his career numbers. A low HR/FB ratio led to a 4.36 xFIP, which mode bode poorly for next season. But then again he had a 4.41 xFIP last season and it didn't spell disaster for 2011. Some veterans just figure these things out, and it appears Garcia has done just that.
The only remaining question is of whether they bring him back for 2012. Mike scratched the surface of this question earlier, and we'll surely dive a bit deeper as the deadline to offer arbitration approaches. If they bring him back he can perhaps provide some value at the back of the rotation. If they let him walk he'll have produced at a level far above his 2011 salary. Either way the Yankees come out winners. It didn't seem like much at the time, but the Freddy Garcia signing ended up playing a large role in the 2011 Yankees' success.