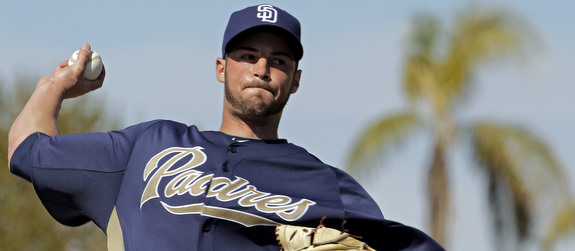 George Kontos | RHP
Background
A Chicago-area kid from Lincolnwood, Illinois, Kontos was a three-sport star at Niles West High School. He played varsity baseball and golf for three years, and also lettered in basketball. Kontos pitched to a 1.02 ERA and hit .480 as a senior, earning him Central Suburban Player of the Year, Team MVP, and First-Team Illinois Coaches Association honors. He was also named the Gatorade Player of the Year for the state. Despite his success, Kontos was not considered much of a pro prospect at the time, so he went undrafted out of high school in 2003 and followed through on his commitment to Northwestern.
As a freshman, Kontos emerged as the team's fourth starter midway through the season, finishing the year with a 5.16 ERA in 52.1 IP. He threw 17 wild pitches to go along with his 38 walks and 39 strikeouts. He finished second on the team with a 5.43 ERA as a sophomore, improving his K/BB numbers to 55/31 with ten wild pitches in 68 IP. Kontos was the team's best starter as a junior in 2006, leading the staff in starts (16), innings (95.1), strikeouts (84, second in the Big Ten), and complete games (nine). He did walk 53 and uncork 23 wild pitches, though.
Despite the control issues, Baseball America (subs. req'd) ranked Kontos as the third best prospect in Illinois and 132nd best draft prospect overall because of a dominant showing with the Harwich Mariners of the Cape Cod League in 2005. The Yankees selected him with their fifth round pick, the 164th overall selection, and signed him quickly to a slightly above-slot $158k bonus.
Pro Career
Kontos was assigned to the Short Season Staten Island Yankees after signing, where he and fellow 2006 draft Tim Norton developed into a devastating one-two punch atop the rotation. The duo led the Baby Bombers to the league title, with Kontos pitching to a 2.41 FIP in 78.1 IP. After struggling with his control in school, he struck out 9.42 men per nine innings while walking just 2.18 per nine with Staten Island. He only threw three wild pitches as well.
The Yankees bumped Kontos up to High-A Tampa to start the 2007 season, but after three solid starts to open the year, he was arrested  for his part in an altercation outside a Tampa bar. A minor shoulder problem kept him on the shelf a little longer than expected, but Kontos did return to the mound in mid-June and was able to finish the season without incident (4.08 FIP in 94 IP). In order to makeup for the lost innings, he was assigned to the Honolulu Sharks of the now defunct Hawaii Winter Baseball League, where he struck out 42 against ten walks in 34 IP.
Sent to Double-A Trenton the next year, Kontos stayed on the mound all season and was able to post a 3.60 FIP in 151.2 IP. He was originally part of the Xavier Nady-Damaso Marte trade package (along with Phil Coke), but the Pirates opted for Dan McCutchen and Jeff Karstens instead. The Yankees sent Kontos back to Trenton to start 2009, in part due to overcrowding at the Triple-A level. He made just four starts (2.46 FIP) for the Thunder before being promoted to Scranton, with whom he managed to make nine starts (4.55 FIP) before his elbow gave out. Kontos had Tommy John surgery in mid-June, which effectively ended his career as a starting pitcher.
After a pair of rehab starts in the low minors in the middle of the 2010 campaign, Kontos moved to the bullpen and threw 45 IP across three levels in the second half of the season. He added another 12.2 IP on top of that with the Phoenix Desert Dogs of the Arizona Fall League. The Yankees declined to add Kontos to the 40-man roster after the season, leaving him exposed in the Rule 5 Draft. The Padres took a shot at him, but returned him to New York in the middle of Spring Training after three ugly outings.
Kontos opened this season in the Triple-A bullpen, quickly establishing himself as the team's top relief arm. He pitched to a 3.85 FIP in 89.1 IP, striking out 9.17 batters per nine while walking just 2.62 per nine. That earned Kontos his first call-up in September. In six innings for the big league team, he allowed a pair of runs on four hits and three walks. He struck out six.
Scouting Report
The move to the bullpen allowed Kontos to scrap his weak changeup and attack hitters with his two best pitches: a fastball with some arm-side run in the 91-93 mph range, and a swing-and-miss slider in the mid-80's. There's a chance the 26-year-old, 6-foot-3, 215 pounder will add some velocity as he gets further away from surgery and gets more experience in the bullpen. His control has improved since college, but it's still not stellar.
Kontos profiles as a middle reliever in the long-term because of two glaring flaws. For one, he's always had trouble against left-handed batters because he lacks a changeup. The tagged him for a .281/.345/.484 batting line with six homers in 142 plate appearances in Triple-A this year, and he's shown a similar split throughout his minor league career. On the bright side, he does crush righties. Secondly, Kontos is homer prone, giving up a dozen dingers in 89.1 IP for Scranton this year (career 1.0 HR/9 in full season minor leagues). First Inning has his minor league ground ball rates consistently below the 45-47% range, which is pretty low. Fifty percent and above is the norm for most pitching prospects.
2012 Outlook
Kontos won't have to worry about the Rule 5 Draft this season, he's on the 40-man roster and figures to get a long look in Spring Training. He could open the year as the last guy in the big league bullpen, or he could open the year back in Scranton, neither would really surprise me. Either way, he figures to be one of the first in line for call-up whenever bullpen reinforcements are needed.
My Take
I was never much of a Kontos fan, mostly because I just didn't see it working out for him as a starter without a better changeup and/or improved control. He's much more interesting in a relief role, where he could air it out for an inning at a time and not have to worry about the lineup turning over. I was impressed with his brief September showing, mostly because his fastball was running all over the place, and I'm curious to see more next season. If nothing else, he's a player development success story; a guy with big time control problems in college that improved as a pro and was able to reach the big leagues.