Seven questions this week, but the answers are pretty short so it's kinda like a rapid fire mailbag. Remember to use the Submit A Tip box in the sidebar to send in your questions throughout the week.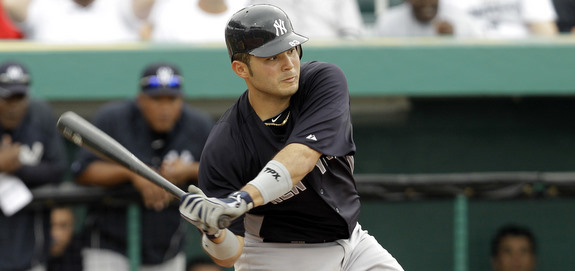 Larry asks: If the plan is to use the Montero as a DH a good amount of the time, should/will the Yankees carry three catchers? If they do, do they carry Cervelli or Romine? Does it make more sense to carry Cervelli since he can play second or third in an emergency?
This situation really is no different that last year, when Jorge Posada was the regular DH. Russell Martin is the starting catcher, Montero is the starting DH, Frankie Cervelli is the backup catcher, and Austin Romine is in Triple-A. They can still let Montero catch say, 25-30 games with that roster, they'll just have two catcher on the bench that day. Not ideal, but it's not the end of the world if they do it once or twice a week.
Tucker asks: What's the real danger in locking up Martin for a 2 or 3-year deal? If one of their catching prospects develops, couldn't they always just trade him?
There is no real risk, at least not in terms of additional risk compared to the usual risk associated with multi-year contracts. Yeah, he is a catcher, so he is theoretically more of an injury risk than other position players, but nothing insane. It should be relatively ease to move him unless he completely craters, and even if he does, Martin's unlikely to get paid so much that eating the contract (by designated him for assignment) is out of the question. I wouldn't go anymore than three years though, his offense is still a question even if his defense is as good as advertised.
Patrick asks: Rich Hill. Second lefty and possibly the long man out of the pen?
Yes as a second lefty but no as a long man. Hill remade himself as a sidearmer this past season in hopes of becoming an effectively left specialist, and he was pretty good for the Red Sox until he blew out his elbow and needed Tommy John surgery last summer. He was non-tendered and will be out until sometime midseason. He's a minor league contract guy, obviously, but not the worst candidate for a roll of the dice.
Arad asks:  If baseball were to have an amnesty clause where each team could get rid of one player without paying the contract, like basketball has, who would you do it to? I can't see myself getting rid of Arod. I guess Burnett would be my choice.
Easily Alex Rodriguez, it's not even a question in my mind. The final two years of A.J. Burnett's contract will be a walk in the park compared to the final six of A-Rod's deal. Alex is one of my all-time favorite players, but good gravy is that contract ugly. Amnesty the hell out of thing and never look back.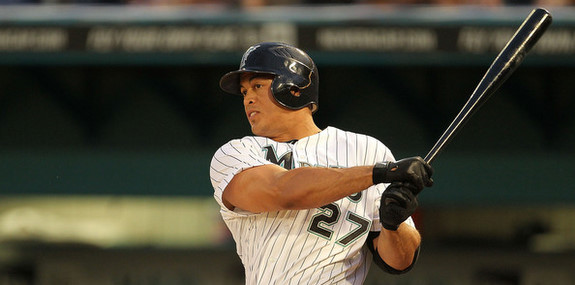 Daniel asks: If the Marlins have a hypothetical fire sale at this time next year, and gave each team the opportunity to make ONE offer for Mike Stanton, what would you offer?
Man, I'd offer pretty much everything. Jesus Montero, Brett Gardner, and Ivan Nova? Maybe substitute in Manny Banuelos for Nova, but the point is I'd offer a lot. The kid's a star, a homer mashing star. Dude just turned 22 years old, and he's got 56 homers and a .264 ISO in 250 games while playing half his games in a huge park in Florida. We can only dream that Montero turns into that guy that quickly.
Travis asks: Is there any chance Jorge Vazquez gets a shot at being a righty off the bench for the Yankees or is he stuck in AAA until they trade him?
There was an unconfirmed rumor floating around a few days ago that JoVa was headed to Japan, which would be a good move for him. He'd definitely make more money there than he would sitting in Triple-A. And no, he won't get a chance to be a bench player for the Yankees. The guy has big power but also big holes in his swing, hence the 220 strikeouts in 700 plate appearances between the regular season and winter ball this year. He also doesn't offer much on defense. Don't worry, someone else just like him will be along in a year or two.
Chip asks: In light of the Matt Moore contract, would you offer the same contract to Banuelos if he put up something like 9 K/9, 2.8 BB/9, 0.6 HR/9 in AAA and forces himself into the major league rotation? Maybe even Montero would take something like that.
I'd offer it to Montero before I offered it to Banuelos (position players are safer than pitchers, yadda yadda yadda), but the Yankees have no reason to rush into a long-term deal with either player. Tampa has to do it because they won't be able to afford these guys in three or four years, but the Yankees don't have that problem. They can be patient, see how these guys develop, then make an offer if one is warranted. Just imagine if they'd signed Phil Hughes long-term in 2007, or Nick Johnson in 2003. It's very risky business when you're talking about guy with less than two years of service time, just look back at how many Rookie of the Year Award winners were total duds a few seasons later.