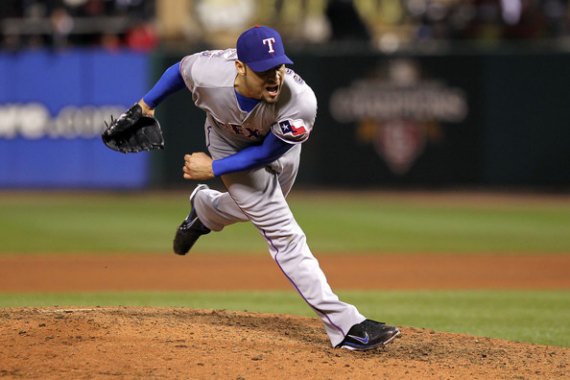 From most accounts, the Yankees are about to trim a bit from the payroll. Whether the Yankees ship A.J. Burnett to the Pirates or to a mystery team, it appears that he's headed somewhere. Their main reward will come in the form of salary relief; Jon Heyman's latest has the Yankees saving $13 million between this year and next, effectively netting them an extra $6.5 million this season.
Chances are they'll put that money to use quickly. With the Burnett deal behind them they could snap up Raul Ibanez or Johnny Damon (or even Vlad Guerrero), and then perhaps Eric Chavez. That will probably cost them in the neighborhood of $3 million. The smart best is that they save the rest of the money for a mid-season acquisition. It might not seem like a lot, but $3 million gets you a $6 to $7 million per-year player in July.
Still, the Yankees could look to make one more move with that saved money. For years they've pursued lefty relievers on the free agent market. That has left them with some sub-optimal contracts. Damaso Marte threw just 21 regular season innings during his three-year, $12 million deal. The Yankees will pay Pedro Feliciano $4 million this year to throw zero pitches, after doing the same last year. That leaves Boone Logan as their only left option in the pen. Might the Yankees use those freshly available dollars to ink the one prominent lefty still available?
The Yankees having interest in Mike Gonzalez would be nothing new. Five years ago they were interested in the then-Pirates closer, and were rumored to be offering Melky Cabrera in exchange for him. That never materialized, though, and the Pirates sent Gonzalez to the Braves. After just 17 innings Gonzalez tore his UCL and missed the rest of the 2007 season, followed by a good portion of the 2008 season. He came back strong in 2009, sharing closer duties with Rafael Soriano, before both hit free agency.
Gonzalez's deal with the Orioles didn't go as smoothly as either party planned. Gonzalez got hurt in 2010 and was limited to just 24.2 innings, in which he produced a 4.01 ERA. His peripherals were a bit better, particularly his 11.31 K/9. But he walked far, far too many batters, which has been a problem for him his entire career. Last year he managed to stay healthy, but was downright terrible at times. That came mostly at the beginning, however. As the season rolled along he did show signs of improvement — he walked zero of the 33 batters he faced in August, while striking out nearly half of them. His playoff run, the first of his career, was also halfway decent, excepting the lone home run he surrendered.
There is a chance that Gonzalez, 34, can still be an effective reliever. He's done it throughout his career, and he did round into shape as the 2011 season wore on. That he did his best work when pitching for a contender could also bode well for his performance as a Yankee. Furthermore, he could fit in the bullpen as mostly a LOOGY. While he walked 21 of the 230 batters he faced last year, only six of those were lefties. Overall he walked only 5.5 percent of lefties, while striking out nearly a quarter of them. A quick look at his splits page shows that he still has something in the tank when facing same-handed pitchers. His continued ability to strike out righties furthers his value, since he can conceivably face two lefties with a righty sandwiched in the middle.
Still, it's tough to imagine that signing Gonzalez constitutes the best use of the Yankees' saved dollars. They already have five of seven bullpen spots filed: Mariano Rivera, David Robertson, Rafael Soriano, Boone Logan, and Cory Wade. They also have minor league invitee Hideki Okajima, who probably has an inside track to that second lefty spot. Beyond him, there are a couple of players on the 40-man who could win a bullpen spot: George Kontos and D.J. Mitchell. Using one of these guys might be a necessity, since the team needs to retain some level of flexibility; Joba Chamberlain returns in June and will need a bullpen spot as well.
Given the Yankees' M.O. in recent years, it's in some ways easy to see them signing Gonzalez. He's still there for the taking, with little serious interest in his services. He throws with his left hand, can handle same-handed pitchers well, and isn't a total disaster against righties. But given the Yankees' current roster structure, which includes hosting two Rule 5 picks on the 40-man, they might be better off pocketing those Burnett dollars with an eye towards the deadline. Right now $3 mil might not buy a lot, but at the deadline dollars stretch a little further.