Got five questions this week; a nice mix of hypotheticals, prospect talk, and future targets. Remember to use the Submit A Tip box in the sidebar to send in anything, including mailbag questions.

Matt asks: Let's say this Montero trade had happened a couple months ago, and the Yankees had been looking for a DH from the beginning of the offseason — would you have wanted the Yankees to go after David Ortiz for DH? I know he accepted arbitration, but couldn't he have become a free agent if he had declined his option with the Sox? If that had been the case, and he had become a free agent, wouldn't you have loved to sign Ortiz for a one or two year deal? I would have supported that completely, personally. Not only would we have taken him from the Sox, but I think Ortiz would kill it in Yankee stadium. Let me know what you guys think.
I've thought about this over the last few weeks and I keep going back and forth. Part of me says absolutely, that big left-handed bat sure would look wonderful in the lineup while simultaneously taking it away from the Red Sox, but another part of me thinks that 2011 was Ortiz's dead cat bounce, his last hurrah. The Yankees would have also surrendered their first round pick to Boston, and that just feels yucky. Ultimately, yeah I would have been for it on a one-year deal. Two years would have been pushing it. I doubt it would have happened though, the Yankees don't seem to like the idea of spending upwards of $15M for a DH, and I can't say I blame them. I don't think that would have been any different earlier in the offseason.
Mark asks: Now that we know that Edwin Jackson signed a one-year deal with the Nationals, in retrospect and assuming they could be bought for their current contracts, who would you have rather had the Yankees sign: Kuroda or Jackson?
I'd rather have Jackson because he's ten years younger and more likely to repeat (and improve upon) his previous performance. That said, this wasn't an either/or situation. The Hiroki Kuroda deal set the market for workhorse starters on one-year contracts, and we have no idea what Jackson would have signed for prior to the Yankees landing Kuroda. It changed everything. I'm pretty thrilled about getting Hiroki on that contract, so I have no complaints about how things turned out.
Nick asks: Make sense to try for Shin-Soo Choo?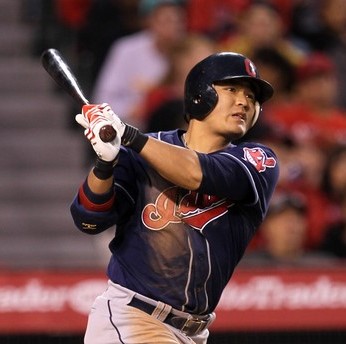 Sure, he'd step right into the lineup this year before taking over in right field next year. It'll buy the Yankees time to sort out the position long-term, which could very well mean re-signing Choo when he becomes a free agent after 2013. I don't have many concerns about his down year at age 29; I think he's got a number of .290/.390/.480, 20+ HR, 20+ steal seasons left in him. The only problem is how are they supposed to get him? The Indians fancy themselves a contender at the moment, so I doubt they'll trade their second best offensive player. The Yankees have the pitching to get a deal done, but it would really thin out their upper level depth. So yeah, it's not going to happen, but definitely a guy worth pursuing in a trade.
Charlie asks: Hey guys, what about Anibal Sanchez? If Hamels and Cain sign extensions and the Yankees feel Greinke is too risky, is Anibal Sanchez a strong option on the free agent market next season?
Yes, definitely. Joe was touting him as a trade target last offseason, and the great year he had — 3.35 ERA in 196.1 IP, a mirror image of his 2010 season — only makes him that much more desirable. Sanchez is turning 28 this month, so he still has a number of peak years remaining, which is what you hope to get with every big money free agent. And make no mistake, if he has another year like the last two, he'll command huge bucks. I think the Marlins will find a way to sign him long-term, maybe even before the season starts, but he's definitely a worthy target.
Ross asks: If you guys have time, I would like to learn more about Jorge Soler. It seems like signing him wouldn't cost an arm and a leg and he would provide the minor league outfield depth the Yankees currently lack … a perfect Cashmaneuver™.
Here's a snippet of what Ben Badler wrote about the 19-year-old Soler earlier this week (subs. req'd)…
Listed at 6-foot-3, 205 pounds … Power is Soler's best tool, as he shows great bat speed, the ability to hit balls out to all fields and the potential to hit 25 home runs per year. While scouts like his power and some like his swing, he bars his front arm and the stiffness in his stroke is a concern for some scouts. Scouts have offered differing opinions on his ability to hit breaking balls, but he has a history of laying off pitches outside the strike zone in international competition and has more on-base potential than Cespedes.

Soler is athletic for his size and there are reports of him running the 60-yard dash in 6.5 seconds—a time that grades out as well above-average speed—but several scouts have said he's really an average runner at best … Depending on how much bigger he gets, there's a chance he could end up at first base down the road, but he should be able to handle right field for the near future. Scouts are mixed on his outfield instincts but he does have an above-average arm.
I prefer Soler to Yoenis Cespedes based on the little we know, and I get the sense that the Yankees do as well. He'll obviously need to spend a few years in the minors, but that's to be expected with a teenager. I have no idea what it'll take to sign him, but if the Gerardo Concepcion contract is any indication of the market, it'll cost eight figures. Unlike Cespedes, Soler has not yet been declared a free agent and the new Collective Bargaining Agreement-mandated spending limits will apply to him come July 2nd. He'll feel some pressure to sign for whatever he can get before the deadline.