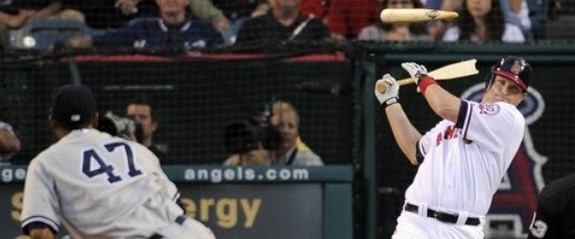 The Yankees are looking for a left-handed DH on the cheap, and they may have found one today. Dan Martin reports that they've signed Russell Branyan to a minor league contract with an invite to Spring Training, where he'll get a chance to make the team. Joel Sherman says he'll earn $750k plus incentives while on the active roster. Since it's a non-guaranteed contract, the signing doesn't necessarily preclude the Yankees from signing someone like Raul Ibanez or Johnny Damon.
Branyan, 36, spent last season with the Diamondbacks and Angels and was pretty awful. He posted a .300 wOBA with five homers in 146 plate appearances, his worst season in about eleven years. He is just a year removed from 25 homers and a .350 wOBA, however. Branyan does three things really, really well. He strikes out a ton (29.7 K% last three years), draws lots of walks (11.3 BB%), and hits for ungodly power (.248 ISO). He has eight homers in 14 career games at the New Yankee Stadium, including some of the longest blasts in the ballpark's history (like this one off Javy Vazquez and this one off Al Aceves).
Over the last three seasons, Branyan has hit .250/.347/.507 against right-handed pitchers but only .208/.290/.435 against southpaws, so he's strictly a platoon bat. Although he has some third base and left field experience under his belt, it's been a while since he's played anywhere other than first. Frankly, his best position is DH. Coincidentally, he was part of that 2008 Brewers team with CC Sabathia and the recently signed Bill Hall. If nothing else, Branyan should put on a show in Spring Training.