Got five questions this week but only four answers because I lumped two of them together. Remember to use the Submit A Tip box in the sidebar whenever you want to send us anything, mailbag questions or otherwise.

Steve asks: With the news that Michael Pineda is gone for the season and the way Phil Hughes and Freddy Garcia are performing, can Roy Oswalt be an option for the rotation?
Sure, I definitely think he's option. You have to be careful not to fall in love with the name though, because Oswalt is not the guy he used to be with the Astros. He has two degenerative discs in his back and has openly talked about retirement, plus he's expressed a preference to play close to his Mississippi home. Oswalt has never pitched in the DH league full-time and has always been a guy that relied more on limiting walks (2.09 BB/9 and 5.6 BB%) and getting ground balls (47.3%) thank missing bats (7.35 K/9 and 19.8 K%).
I think Andy Pettitte's return has set the market price for Oswalt, a quality older pitcher voluntarily spending time away from the game. If the Yankees could get him on a low-risk minor league deal that pays him $2-3M if he makes the team, by all means do it. Heck, I'm sure he and Pettitte are pals after their time in Houston together, maybe that gives him more of a reason to join the Yankees. I just can't see guaranteeing the guy anything without getting him in camp and having him throw to batters in the minors, proving that he still has something to offer.
Potter asks: If the Twins were willing to do it, would the Yankees think about a Francisco Liriano for Hughes trade? They both seemed to be going down the same path with their respective ball clubs and maybe a change of scenery would help. It can't be much worse then what's happening now.
Liriano's been very bad this year — 22 runs and 39 baserunners in 16.1 IP with more walks (13) than strikeouts (12) — and the Twins took advantage of yesterday's off-day to skip his turn in the rotation. I have zero confidence that Hughes can be an effective starter but I do think he can be a pretty good reliever because he is still able to blow his fastball by hitters in hitter's counts. I have no faith in Liriano's ability to be competent in any role, plus his salary is substantially higher ($5.5M vs. $3.2M). I'll keep the "maybe he won't suck as a reliever" guy rather than trade him for the "he's awful at everything he does on a baseball field" guy. It's been too long since Liriano was effective.
Grant asks: With Hughes pitching so far below expectations, Pineda out with an uncertain future, and Garcia, Pettitte, and Hiroki Kuroda all likely gone after 2012, what do you think the odds are the front office abandons the austerity plan and goes after Zack Greinke or Cole Hamels? As they get as close as they are to free agency, you have to think they'll at least test it. Is it possibly contingent on Manny Banuelos' development?
Tyler asks: In your perfectly ideal situation, what do you picture as the Yankees roster these next few years to get under the luxury tax? Along the same lines, which prospects do you think are most important to develop in big leaguers to fit the 2014 and beyond Yankees?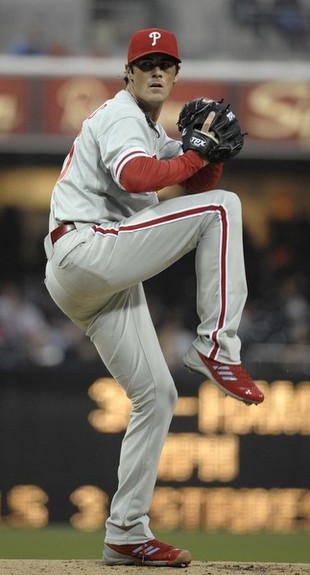 I don't expect the 2014 payroll plans to change after Pineda's injury but I would not be surprised if they still pursued Hamels*. There's a lot of money coming off the books both this offseason and next, and he is by far the best hope to add an elite hurler to the rotation. The Dodgers will definitely provide some stiff competition, but it's doable. The problem is that the Yankees would have to skimp elsewhere, particularly in at least one corner outfield spot, the bullpen, and basically the remaining three-fifths of the rotation.
Unless you're talking about a true cornerstone player, someone like Troy Tulowitzki or Evan Longoria or Matt Kemp, one injury should not throw a team completely off the rails. Especially an injury to a one-in-five starting pitcher and especially not the Yankees. Guys like Banuelos, David Phelps, Jose Campos, and Adam Warren are that much more important following Pineda's injury because they are going to have to contribute something as starters, relievers, or trade bait. Same deal with Mason Williams and Tyler Austin as outfielders. The 2014 plan was going to take some creativity even before Pineda's injury, now it's just that much more difficult.
* Forget about Greinke, they've already declared him unfit to pitch in our fine city.
Alan asks: I just wanted to know your opinions on what you think realistic expectations are for Derek Jeter's numbers for the rest of the year. I admit, before the season started, I said I would be happy if he hit .280 this year. Now, do you guys think he could actually hit .310 this year? I can't believe I'm saying this, but can he really approach his 2009 numbers at the ripe old age of 38? Thanks!
Well, I know for sure that he will not maintain his .420/.442/.642 batting line all season. Derek's good, but he ain't that good. I was thinking the same thing before the season, that a .280 average a .350-ish OBP would be fantastic. Now? He looks so good and is driving the ball so well that you can't help but be optimistic. It's not like he's beating out infield singles and just slapping some ground balls through holes, the Cap'n is flat out raking. Line drives all over the field.
Jeter hit .334/.406/.465 in 634 at-bats back in 2009. He's at 81 at-bats now, so to finish the season with a .334 average, he'll still have to hit .322 the rest of the season. A .465 SLG would require a .439 SLG the rest of the way. I have a hard time expecting anyone to hit .320+ over any prolonged period of time, but can Jeter hit .300/.360/.430-ish from here on out? I definitely think that's possible. Without questions, Derek's resurgence as been the most exciting development over the last 12 months or so.