The Yankees have won 11 of 19 games against the Mariners over the last two seasons, though I don't think any club has caused New York as much off-the-field grief as Seattle. A series of trades and non-trades have left a bad taste in everyone's mouth, and it's not anything that will be easily forgotten. A sweep of this three-game weekend series would be a nice first step, however.
What Have They Done Lately?
The Mariners wrapped up a seven-game losing streak about a week ago and have since gone on to win four of their last five games, including two of three against the Tigers earlier this week. They're 15-18 with a -4 run differential this year and the massively underachieving Angels are the only thing keeping Seattle out of the AL West cellar.
Offense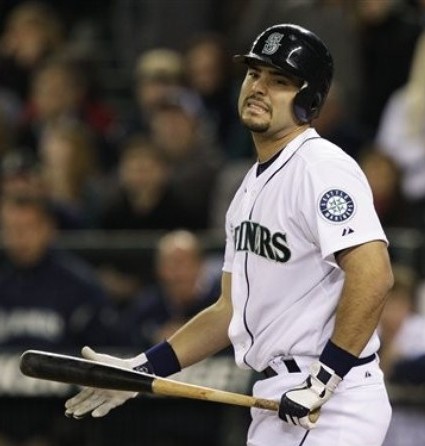 Unsurprisingly, the Mariners are bad offensively. They average just 3.79 runs per game and are a bottom five club in batting average (.234), OBP (.289), and SLG (.368). They don't hit many homers (27) or steal many bases (16), so they need a sustained rally and a total team effort to score runs. Their 85 wRC+ is ahead of only the Athletics among the 14 AL clubs.
Seattle has just three hitters with 100+ plate appearances who qualify as better than league average. Third baseman Kyle Seager (137 wRC+) hits for power (.212 ISO) but doesn't reach base (2.8 BB%), so there's a good chance his performance will come back to Earth as the season progresses. Like Derek Jeter, Ichiro (115 wRC+) is enjoying a bounceback season after being declared done a year ago, and now he's hitting third rather than leadoff. Michael Saunders (116 wRC+) has changed his approach and is hitting for power now (.214), so the improvement may be real. He can still swing and miss with the best of them though (30.0 K%).
Dustin Ackley (81 wRC+) has been pretty awful to start the season, ditto Justin Smoak (39 wRC+), Brendan Ryan (48 wRC+), and Chone Figgins (61 wRC+). Figgins is going to get released at some point this summer, it's inevitable. Part-timers John Jason (139 wRC+ in 44 PA), Munenori Kawasaki (38 wRC+ in 32 PA), Alex Liddi (108 wRC+ in 55 PA), and Casper Wells (84 wRC+ in 31 PA) have produced mix results as part-time players tend to do. Mike Carp (40 wRC+ in 25 PA) spent some time on the DL with a shoulder problem and was just re-added to the roster.
And then there's Jesus Montero. The former Yankees wunderkind is hitting .268/.282/.420 (91 wRC+) in 117 plate appearances, which really isn't what I expected when I predicted he'd win the Rookie of the Year award. Lots of season left though. Montero has been batting cleanup lately and he's hit four homers so far, tied with Seager and Saunders for the team lead. He's only drawn three walks (2.6 BB%) but isn't striking out a ton either (20.5 K%). Miguel Olivo's injury has Montero catching almost everyday at the moment, though he spent most of his time at DH earlier this season. I hope he hits about five homers this series and the Yankees win all three games. Can that be arranged?
Starting Pitching Matchups
Friday: RHP Hiroki Kuroda vs. RHP Felix Hernandez
The Yankees just can't escape Felix. They managed to hit him pretty hard last September, but otherwise he's completely shut them down over the years. There's actually been some concern in Seattle because his fastball velocity is down noticeably, but it hasn't mattered. Hernandez is still amazing. He strikes people out (8.77 K/9 and 25.0 K%), doesn't walk anyone (2.41 BB/9 and 6.9 BB%), and gets ground balls (47.7%) with a diminished fastball or otherwise. Felix now sits in the low-90s with his heat, but his array of offspeed pitches is unmatched: high-80s changeup, mid-80s slider, low-80s curveball. He carves hitters up when ahead in the count, and unfortunately his 66.2% first pitch strike rate is one of the best marks in baseball. With all due respect to Justin Verlander, I don't think there's a tougher assignment in the AL than King Felix.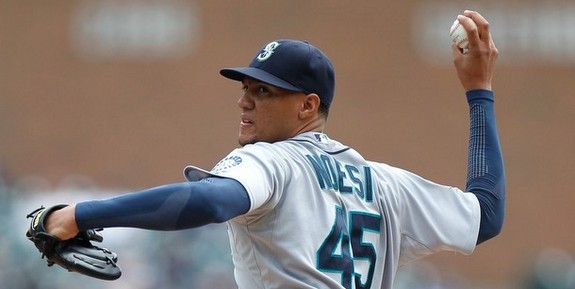 Saturday: RHP Phil Hughes vs. RHP Hector Noesi
The other guy in the Montero-Michael Pineda trade, Noesi's career a full-time starting pitcher in the big leagues is off to a rocky start. His ERA (6.30) and FIP (5.65) are both unsightly and they'd be worse if it wasn't for a pair of gems against the lowly Athletics (8 IP, 0 R) and Twins (7 IP, 1 R). Noesi hasn't missed bats (5.40 K/9 and 14.0 K%), hasn't limited walks (3.90 BB/9 and 10.1 BB%), and hasn't gotten ground balls (33.0% and 1.90 HR/9). Just as he did in New York, Hector uses five pitches — low-90s two and four-seamers, mid-80s slider, mid-80s changeup, upper-70s curve — but will rely most heavily on the two-seamer and changeup.
Sunday: LHP Andy Pettitte vs. RHP Blake Beavan
This has trap game written all over it. Everything about Beavan says the Yankees should pound him. He doesn't miss bats (3.78 K/9 and 9.8 K%) and doesn't get ground balls (33.3%), two traits that are very problematic despite a fantastic walk rate (1.08 BB/9 and 2.8 BB%). Beavan's two and four-seamers sit right at 90, and he backs them up with a mid-70s curveball. His upper-70s slider and low-80s changeup are rarely used third and fourth pitches, so think of him as an approximation of 2011 Hughes. If someone is going to allow the Yankees to put the ball in the air that often, they shouldn't make it out of the third inning. But like I said, trap game.
Part of the Cliff Lee trade, Beavan is actually a little questionable for this start after getting hit by a Miguel Cabrera line drive in his pitching elbow last time out. If he's unable to pitch, the start will likely go to Japanese import Hisashi Iwakuma (6.75 ERA and 4.70 FIP). This one promises to be a blast with Andy returning.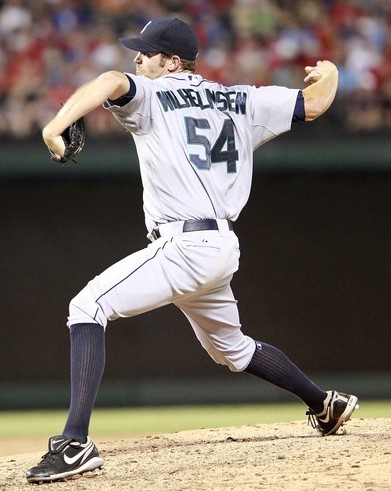 Bullpen Status
The Mariners were off on Thursday for travel, so their bullpen is fresh. Michael Kay will surely drool over closer Brandon League's power sinker-splitter combination, and he's performed quite well this season (3.14 FIP). Setup man Tom Wilhelmsen (3.63 FIP) is one of the best keep secrets in baseball, a great back story will dominant power stuff. Lefty specialist and Rule 5 Draft pick Lucas Luetge has pitched well overall (2.73 FIP) and has manhandled lefties, holding them to two singles in 25 plate appearances. The six walks (one intentional) kinda stinks though.
The hard-throwing right-hander Shawn Kelley (9.85 FIP in 3 IP) is just getting back in the swing of things after having what amounts to his second Tommy John surgery in 2010. He originally had it back in 2003, but the latest procedure technically "re-secured the Tommy John graft to the bone," whatever that means. Righty Steve Delabar (4.64 FIP) has some serious strikeout (11.25 K/9 and 31.8 K%) and walk (1.13 BB/9 and 3.2 BB%) rates, but he's surrendered four homers in 16 IP. Iwakuma and the left-handed Charlie Furbush (4.05 FIP) both serve as multi-inning/long man types.
The Yankees did not have the luxury of an off day yesterday, but CC Sabathia gave them eight innings. Rafael Soriano will definitely be unavailable tonight after appearing in each of the last three games, but check out our Bullpen Workload page to see how the rest of the relief corps is holding up. There are quite a few good Mariners blogs out there, but make sure you check out USS Mariner and Lookout Landing.