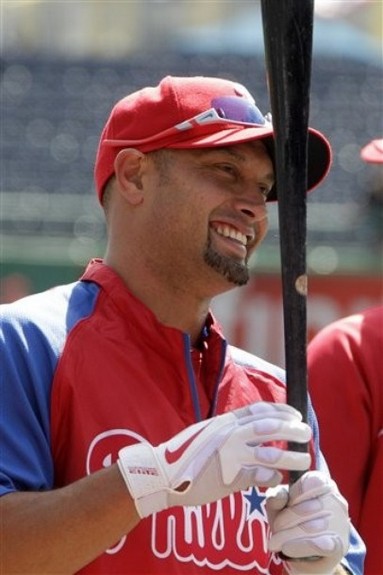 The Yankees have been without Brett Gardner for all but nine games this season and they still have some concerns about his elbow injury according to Jon Heyman. He adds that they're exploring the outfield trade market — moreso than the pitching market — and have spoken to the Diamondbacks about Justin Upton (yay!) and the Phillies about Shane Victorino (meh). Gardner will be back no earlier than July 27th.
I've written about Upton a few times in the past, including in last week's mailbag. As I said when we first learned he was on the block, he's the rare player you gut the farm system to acquire. Young (24!), right-handed power, speed, favorable contract … Upton offers it all. Unfortunately the Yankees are on his no-trade list and Heyman calls it a "major long shot." Victorino, on the other hand, is a pure rental. The 31-year-old is having the worst offensive season of his career (93 wRC+) but is still a switch-hitter with speed (19 steals in 21 chances) and very good defense. Victorino is owed roughly $4.5M the rest of the season and will become a free agent this winter.
The Bombers have gotten by with Raul Ibanez and Andruw Jones in left field during Gardner's absence, but Heyman says they are concerned about wear-and-tear as the veteran duo spend more time in the field than anticipated. Victorino would be a fine fill-in if Gardner suffers a third setback, but as Brian Cashman said yesterday, the trade costs for even marginal upgrades are prohibitive at the moment. I doubt the Phillies will take a pair of Grade-B prospects for their center fielder when they can just recoup a pair of high draft pick after the season.
Heyman says the Yankees will monitor the Cole Hamels situation, but we've already heard that they have "no intention" of getting involved in a bidding war. They've also scouted Francisco Liriano recently, presumably since he's returned to the rotation and has pitched exceptionally well. With CC Sabathia due back tomorrow, David Phelps stashed away in Triple-A, and Andy Pettitte scheduled to return in September, New York shouldn't be desperate to add a starter. Frankly they need another quality reliever more than anything.