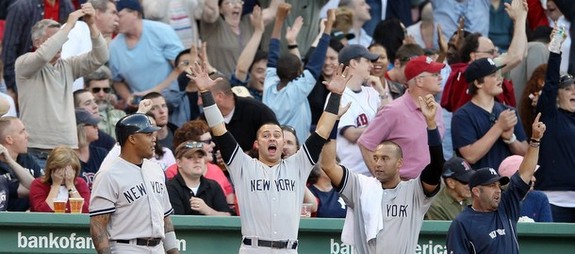 The Yankees are in first place and as always, the first half featured a ton of memorable moments. Some were good were some were bad, but that's the way it works baseball. With some help from my cohorts, we picked out five of most memorable moments of the last three moments and want you to decide which one was the best. Or the most memorable, whatever. The criteria isn't strict, go off your personal preference. Here are those five moments in chronological order.
April 21st: The Comeback at Fenway Park (box score) (video)
When you're down 7-0 after three innings and 9-0 after five innings, you just accept defeat. The Yankees are going to lose that day, so whatever. Shake it off and come back tomorrow. The Yankees didn't accept defeat on this Saturday afternoon in Fenway Park, however. They rallied for eight runs in the sixth and seventh innings thanks to a pair of Mark Teixeira homers (solo shot and a three-run job) and a grand slam from Nick Swisher, a rally that most of America didn't get to see because FOX cut away to show the end of Phil Humber's perfect game. Swisher tied the game and gave the Yankees the lead with one swing, a two-run double to dead center off Al Aceves in the eight. Teixeira followed with a two-run double later in the inning and the rout was on. The Bombers scored 15 (!) unanswered runs in the span of three innings to turn a blowout loss into a blowout win.
May 13th: The Return of Andy Pettitte (box score) (video)
I remember doing a double take when I first heard the news. Andy was coming back, really? It seemed too good to be true. Sure enough, Pettitte signed a minor league deal with the Yankees in Spring Training, worked his way back through the minors, and then returned to the big league team against the Mariners in mid-May. His retirement was over. Andy didn't pitch particularly well in his return — four runs on a pair of two-run homers with more walks (three) than strikeouts (two) in 6.1 innings — but that really didn't matter. He was back and everyone was thrilled. That he went on to have a dominant two months before suffering a fluke injury was just icing on the cake.
May 22nd: Dewayne Wise turns the season around (box score) (.gif)
It's subtle, but it happened. The Yankees were struggling to score runs thanks to a never-ending stretch of RISPFAIL and they were down 2-1 to the Royals on this particular Tuesday night. Teixeira started a fifth inning rally with a weak ground ball single but hustled to second when Jeff Francoeur took his sweet time fielding the ball. Russell Martin took a pitch to the ribs to put men on first and second with no outs, and everyone was waiting to see how the Yankees would blow it. Wise took matters into his own hands, laying down a perfect bunt (in a 2-0 count!) for a hit to load the bases with no outs. Derek Jeter singled in the tying run and Curtis Granderson plated the go-ahead and eventual game-winning run with a ground ball. The win sent the Yankees on a five-game winning streak and they've since gone 31-12 to claim the best record in baseball. Wise's bunt turned the season around, people.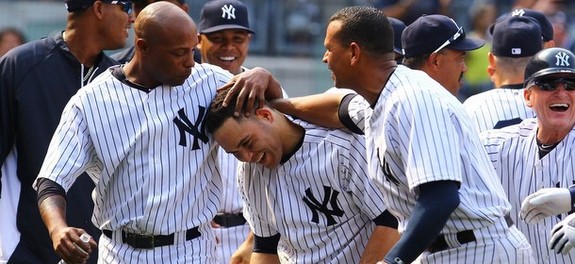 June 10th: Russell Martin walks off against the Mets (box score) (video)
There's always something a little extra special about beating the Mets. Maybe it's just me because I grew up in a family of Mets fans and the bragging rights are a big deal here, but taking a game — nevermind the season series — from that team in Flushing is always appreciated. The Yankees were down three-zip in the second inning on this Sunday afternoon after taking the first two games of the series, but they fought back to tie thanks to Martin's two-run homer off the top of the walk and Teixeira's single to center. Alex Rodriguez gave the Yankees a 4-3 lead with a bloop single in the eighth, but Rafael Soriano needed just seven pitches to give up two doubles and blow the lead in the top of the ninth. Thankfully, the game did not go on much longer. Jon Rauch hung a 3-2 slider to Martin leading off the bottom half of the inning, which the Yankees catcher whacked out to left field for a walk-off solo homer. It is their only walk-off hit of the season so far.
June 12th: A-Rod ties it up against Jonny Venters (box score) (video)
We don't get a glimpse of the old A-Rod very often these days, but when we do, man is it glorious. The Yankees were getting completely manhandled by Mike Minor just two days after Martin's walk-off, and they carried a 4-0 deficit into the eighth inning. Minor got a quick out but was lifted for setup man extraordinaire Jonny Venters after Jeter singled. Venters allowed a single to Granderson before walking Teixeira on five pitches to load the bases and bring the tying run to the plate with one out. Alex took three straight balls and it seemed inevitable that he would draw a walk to force in a run, but he took a called strike before fouling off two more pitches. Venters' seventh pitch of the at-bat was a slider that didn't slide, and A-Rod hit a line drive just over the left field fence for a game-tying grand slam. Swisher gave the Yankees the lead two batters later with a two-run homer, but that grand slam is what we'll all remember about this win.
* * *
Obvious there are other memorable moments — Wise's non-catch, the ten-game winning streak — but these five really stood out. Vote in our poll below and if you think something else stood out in the first half, let us know in the comments.
What was the most memorable moment of the first half?