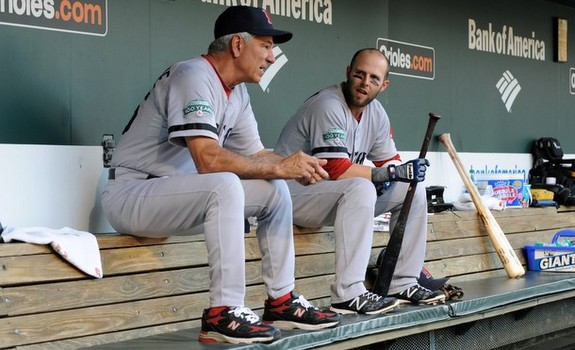 This is going to be a much different Yankees-Red Sox series than we're used to seeing, at least in terms of its impact on the standings. We're still going to have to sit through four-hour games and all the FOX/ESPN stuff, but in terms on actual impact, there is little to be gained or lost this weekend. The Yankees are far out in front of the rest of the AL East pack, the Red Sox way back.
What Have They Done Lately?
Other than a revolt against manager Bobby Valentine, the Sox are coming off a series-salvaging win over the Orioles yesterday. They lost two of three in Baltimore and ten of their last 15 games overall. At 58-61 with a +36 run differential, Boston is 13 games back of New York in the division race.
Offense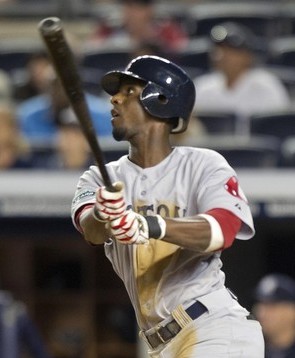 The Red Sox can still score runs despite their underwhelming season, averaging 4.9 runs per game with a team 101 wRC+. The Yankees are catching a bit of a break this weekend because David Ortiz (165 wRC+) is still out with his Achilles injury. That alone will save the Yankees like, six runs this weekend. He just kills them. Will Middlebrooks (121 wRC+), Daniel Nava (113 wRC+), and Ryan Sweeney (78 wRC+) are also on the DL.
Among the players that are healthy, you still have the very dangerous Adrian Gonzalez (117 wRC+), Cody Ross (126 wRC+), and Dustin Pedroia (102 wRC+). Carl Crawford (114 wRC+) is hitting well despite his imminent Tommy John surgery, though Jacoby Ellsbury (91 wRC+) has yet to really get it going since returning from his shoulder injury. The rest of the offense is filled out by the likes of Scott Podsednik (144 wRC+ in limited time), Jarrod Saltalamacchia (95 wRC+), Mike Aviles (77 wRC+), Nick Punto (60 wRC+), Ryan Lavarnway (-8 wRC+ in limited time), and Danny Valencia (-57 wRC+ in limited time). The always annoying Pedro Ciriaco (121 wRC+) will be, in fact, annoying. Because they're carrying 13 pitchers, the Sox only have a three-man bench.
Pitching Matchups
Friday: RHP Phil Hughes vs. LHP Franklin Morales
The Yankees have seen Morales a number of times this season, both as a starter and as a reliever. The 26-year-old southpaw has pitched to a 3.29 ERA (3.83 FIP) in 68.1 innings this season, with an excellent strikeout rate (9.22 K/9 and 24.6 K%) to go along with decent walk (3.56 BB/9 and 9.5 BB%) and ground ball (40.3%) numbers. Morales legitimately sits in the mid-90s with both his two and four-seamer, backing them up with a low-80s changeup and a mid-70s curveball. He has a rather significant platoon split — righties have gotten to him for a .317 wOBA, lefties just .218 — so it's a good time to stack dem righties.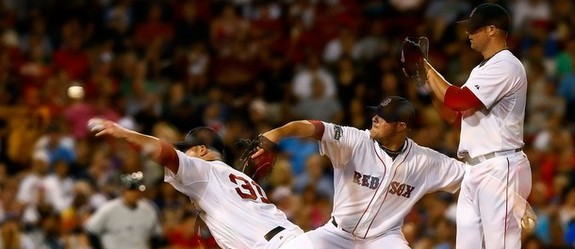 Saturday: RHP David Phelps vs. LHP Jon Lester
It's been a very difficult year for Lester (5.20 ERA and 3.91 FIP), though he is coming off a one-run, six-inning, 12-strikeout performance against the Indians. His strikeout (7.90 K/9 and 20.5 K%) and ground ball (47.3%) percentages are his lowest since becoming a full-time starter five years ago, though his walk rate (2.69 BB/9 and 7.0 BB%) is his best ever. Lester, 28, is mostly low-90s with the four-seamer and sinker these days, and he tends to fall in love with his upper-80s cutter at times. That's been blamed for his struggles this season, but whether it's actually true is another thing. A mid-80s changeup and mid-70s curveball are his offspeed weapons of choice. The Yankees and their fans have seen an awful lot of Lester through the years, both the good and bad versions.
Sunday: RHP Hiroki Kuroda vs. RHP Josh Beckett
The other half of Boston's disappointing frontline starter duo, the 32-year-old Beckett has posted a 5.19 ERA (4.14 FIP) in 20 starts this year while missing time with back and thumb issues. His strikeout rate (6.53 K/9 and 17.0 K%) is a career-low and his ground ball rate (40.8%) continues to trend downward from his first few years in Boston. Beckett still does limit walks well (2.60 BB/9 and 17.0 BB%), so he does have that going for him. Thanks to a rather noticeable drop-off in velocity, he now sits in the upper-80s/low-90s with his two-seamer, four-seamer, and cutter. His upper-80s changeup doesn't have much separation from his fastball these days, which is why it's been one of his least effective offerings. Beckett's mid-70s curveball is still a knockout pitch, but he hasn't done a good job of getting ahead in the count so he could put hitters away with it. Like Lester, we've seen everything this guy has to offer through the years.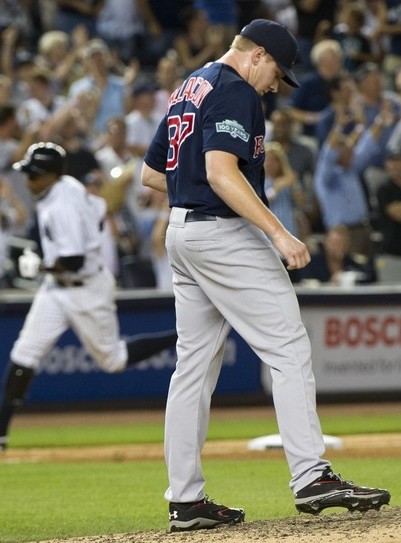 Bullpen Status
The Sox are carrying 13 pitchers but only seven of them are relievers because they're currently rolling with a six-man rotation. Clay Buchholz threw eight innings yesterday, so closer and former Yankee Al Aceves (3.93 FIP) was the only pitcher used out of the bullpen. He only threw 15 pitches as well, so for all intents and purposes, Bobby V.'s relief corps is as fresh as can be.
Vicente Padilla (3.56 FIP) is currently on the DL, so there will be no Mark Teixeira-induced fireworks this weekend. For shame. Scott Atchison (2.77 FIP) and Rich Hill (3.02 FIP) are also the shelf at the moment. The setup onus belongs to the recently activated Andrew Bailey (0.1 IP so far) and the left-handed Andrew Miller (3.23 FIP). Craig Breslow (3.54 FIP) gives them another solid matchup lefty. The rest of the Boston bullpen is filled out by former Yankee Mark Melancon (5.60 FIP), former Rockie Clayton Mortensen (4.30 FIP), and former Alex Rodriguez punching bag Junichi Tazawa (2.50 FIP). Overall, the Red Sox's bullpen has pitched to a 3.35 ERA (3.85 FIP) this season.
The Yankees are in decent but not great bullpen shape after yesterday's late-inning debacle. Both David Robertson and Rafael Soriano are well-rested, and Derek Lowe should be good to go now four days removed from his 44-pitch, four-inning save. Everyone else is a little taxed though. Check out our Bullpen Workload page for the full details and Over The Monster for the best independent Red Sox coverage around.