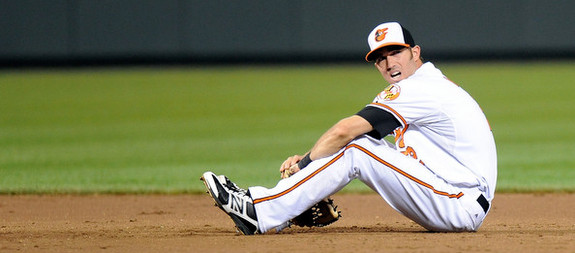 You know this as well as I: these next ten games are just enormous in the grand scheme of things. The division lead has been whittled down to just three, and wouldn't you know it? The team chasing the Yankees is coming to town for exactly three games starting tonight. What a coincidence. These are the most meaningful games the Orioles have played in about 15 years (no joke), so you can expect them to come out playing hard. Hopefully the Yankees put this ugly stretch of play behind them during the off-day yesterday, because things are about to real interesting. Here's the lineup…
SS Derek Jeter
1B Nick Swisher
2B Robinson Cano
CF Curtis Granderson
3B Eric Chavez
LF Raul Ibanez
C  Russell Martin
RF Ichiro Suzuki
DH Jayson Nix
RHP Hiroki Kuroda
The weather in New York is great, so tonight's game will start on time at 7:05pm ET. You can watch this one on YES locally and MLB Network nationally. Enjoy.
September Call-up News: Via Erik Boland, the Yankees are expected to recall C Frankie Cervelli, IF Eduardo Nunez, OF Chris Dickerson, RHP Cory Wade, RHP Adam Warren, and LHP Justin Thomas when rosters expand tomorrow. Didn't expect that many guys on Day One, but hooray. Dickerson will require a 40-man roster move, but the rest are all good.
* At least until tomorrow.