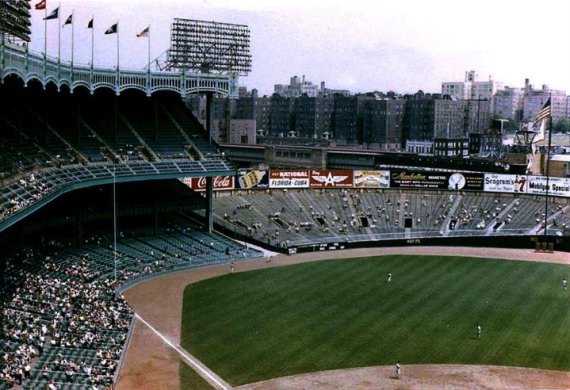 Last weekend I had the privilege of attending the Yanks-Sox game with a couple of first-timers. Not only had they never been to the current Yankee Stadium, but they'd never been to any Yankee Stadium. They were quite curious about the various aspects of the new park, and how it all looked at the old park. It made me nostalgic for the Stadium across the street, of course. That's the park I grew up with. But it also got me thinking about the old Yankee Stadium.
It's hard to imagine any park looking quite like the one in which the Yankees played before the 1970s renovations. The dimensions were, by the modern standard, incomprehensible. Imagine you're Alex Rodriguez and you hit one right on the sweet spot. It soars out to left-center and lands 390 feet from the plate — but is in the field of play.
(Or, better yet, imagine his 500th home run. That also would have been in the field of play, thanks to a 461-foot fence in center.)
True, the Yankees typically pound their homers to right. Back in the day the Stadium still had that short porch — it was actually a little shorter down the line, though it was a bit deeper in right-center — so it would have still played to the Yankees' primary strength. But it's hard to imagine the Yankees hitting many of their homers anywhere near right field.
Of course, there were righties who hit for power at Yankee Stadium. Joe DiMaggio led the league in home runs in 1937 while playing more than half of his game at Yankee Stadium. He hit 27 of his 46 homers on the road, sure, but that's still 19 at home. He also produced a near .300 ISO at home, and an overall 1.061 OPS. Apparently that cavernous right field didn't hold him back a bit.
(I haven't seen the stat anywhere, and I'm sure he went opposite field plenty, but I have to wonder how many of DiMaggio's homers were inside the parkers.)
A park so oddly shaped could certainly benefit a team. We've already seen the Yankees amass players who can park pitches over the right field porch. Imagine a lineup that balances those players with ones that can poke the ball into that enormous right-center field gap. In-his-prime Ichiro, for example, would have been great for that kind of gap hitting.
Modern field technology would make such a park even more attractive. While I wouldn't want to remove the monuments from center field, there wouldn't be any career-changing sprinklers in the outfield. Basically we'd have the old-time layout with modern technology. I'd be game for that.
Unfortunately, there doesn't seem to be room in today's game for a park as oddly shaped as the old Yankee Stadium. Which is a shame. Sure, it might be difficult to lure pull-heavy right handed power hitters, but it's not as though the Yankees attract, or even seek, many of them anyway. (A-Rod, for example, had superb opposite-field power). I'd love to see modern teams play in a Stadium like that.