The Yankees just got swept by the White Sox in a three-game set in Chicago for the first time in 21 years, dropping their AL East lead to three games. That's the smallest lead they've had in 52 games, since June 25th. Coincidentally enough, their opponent that day was the same Indians team they'll face tomorrow in Cleveland. The Bombers are off today, so here are a few scattered thoughts for the morning…
1. The Yankees have way too any platoon players right now. The Brett Gardner and Alex Rodriguez injuries play a huge part in that, but so has Robinson Cano's inability to hit left-handers this year (71 wRC+). He's been a lefty masher his entire career up to this point. Hopefully it's just a one-year blip, but the point still stands: all of these platoon guys really limit flexibility. If the Yankees let the switch-hitting Nick Swisher walk after the season and don't replace him with someone capable of hitting both lefties and righties, it's going to stand out like a sore thumb. Using two players to approximate the production of one is no way to build half a lineup.
Late Add: This came across my Twitter feed and I thought it was appropriate to mention here…
Chavez has had the platoon advantage in 88.9% of his PA. Ibanez in 86.4%. 4th- and 6th-highest rates, respectively. Yankees win platooning.

— Ben Lindbergh (@ben_lindbergh) August 23, 2012
2. Speaking of Cano, I think the Yankees are much better off batting him cleanup and Mark Teixeira third with A-Rod out. Derek Jeter and Swisher have been a dynamite one-two punch for the last two weeks, but Robbie goes up their hacking and is prone to the bat at-bat, especially during this recent slump. Teixeira is far more patient and will continue to let the pitcher work himself into trouble if that's what he's trying to do. If and when Cano starts hitting again, they can bump him back up. Right now though, Tex is the more dangerous hitter and they should stack their best hitters together atop the lineup.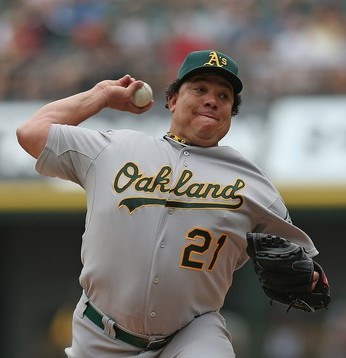 3. So how about this Bartolo Colon stuff? It hasn't been a great week for the "shoulda kept Colon! shoulda kept Melky Cabrera!" crowd. Do you think the Yankees knew something was up and that's why they decided to re-sign Freddy Garcia instead of Bart? I think it has more to do with his second half collapse myself, but you never know. I guess you can't be surprised that a guy who underwent an experimental stem cell procedure to revive his career would be willing to take some less than legal drugs as well.
4. Joe and I were talking about this a bit yesterday, but I have absolutely no idea who the Yankees are going to call up in September, especially on the pitching side of things. The only non-MLB, non-DL pitchers on the 40-man roster right now are Dellin Betances, Adam Warren, Justin Thomas, and Cory Wade. That's it. Even the non-40-man players in Triple-A like Manny Delcarmen and Ryota Igarashi are unappealing. The Yankees opened the season with a ton of pitching depth in Triple-A, and five months later it has completely vanished.
5. When we first learned about the club's intention to get under the $189M luxury tax threshold in 2014, we knew that was going to require some cheap production from young players. CC Sabathia was supposed to be joined in the rotation by Ivan Nova, Michael Pineda, and Manny Banuelos, and now all three are injured following Nova's shoulder problem. Hopefully it's not serious like the injuries that cost Pineda the entire season and Banuelos most of it, but Ivan wasn't exactly pitching well before he got hurt anyway. They're going to have to go back to the drawing board for this whole 2014 payroll plan, because the pitching aspect has blown up already.