Six questions and five answers today, so we've got a good mailbag this week. Remember to use the Submit A Tip box to send us questions throughout the week.

Vinny and many others ask: If the Angels are serious about not picking up Dan Haren's option, should the Yankees be all over that?
Earlier this week there was a report indicating that the Angels plan to decline Haren's (and Ervin Santana's) club option for next season and instead pursue a monster extension with Zach Greinke. Haren, 32, is nearing the end of his worst full season as a big leaguer, pitching to a 4.32 ERA (4.30 FIP) in 29 starts and 170.2 innings. He'll fail to make 33 starts or crack 210 innings for the first time since 2004, when he was with the Cardinals. Blame the lower back stiffness that led to his first career DL stint.
Based on Twitter these last few days, fans of every single team want their club to pursue Haren if the Angels do indeed decline his $15.5M option. Haren is from Southern California and has made it no secret that he prefers playing on the West Coast, so right away the Yankees are at a disadvantage. It's also worth noting that his strikeout rate is in the middle of a three-year decline, and his fastball velocity has been heading in the wrong direction for years now. That second link is particularly scary. The back issue scares me as well, especially if the Halos do cut him loose. It's the whole "what do they know that we don't?" thing. Haren has been a great pitcher for a long time, and that alone makes him worth looking into. There are a number of red flags however, so any team interested in signing him will have to really do their homework.
Travis asks: Is it safe to assume that if we only carry three starters on the post season roster, Phil Hughes and Ivan Nova will have a role on the team out of the bullpen? I'm also assuming the three starters go to CC, Hirok!, and Dandy Andy.
The new playoff system and schedule really discourages the use of three-man rotations, since everyone would have to pitch on three days' rest after Games One, Two, and Three to get away with it. CC Sabathia can do that (assuming the Yankees actually get into the postseason), but I'm not sure Hiroki Kuroda or Andy Pettitte could. I expect the Yankees to use four starters throughout the postseason, and right now the number four guy is clearly Hughes. Nova pitched himself out of the job these last two months or so.
Now does that mean Nova would automatically go to the bullpen? I don't think that's a given. Assuming the Yankees only carry eleven pitchers into the postseason (they could get away with ten, but I doubt it happens), four will be the starters and four other spots are accounted for: Rafael Soriano, David Robertson, Joba Chamberlain, and Boone Logan. That leaves three spots, one of which I assume will go to Clay Rapada. The candidates for the final two spots would be Nova, David Phelps, Cody Eppley, and I guess Derek Lowe (veteran presents!). Phelps seems like a given in this situation, then you've got your pick of the other three. I guess that decisions comes down to who throws the best the rest of the way, but frankly I would rather see the Yankees carry an extra position player in that situation, especially if Mark Teixeira's calf remains an issue.
Steve asks: Are the Yankees more likely to go with a iffy Brett Gardner or Chris Dickerson on the playoff roster? Can they fit both?
Ben asks: Don't you think Chris Dickerson needs to figure into the Yankees big league plans in 2013? At least as a 4th outfielder? This guy is a great fielder and base runner and had a useful bat. Much rather have him over another Andruw Jones-type. What say you?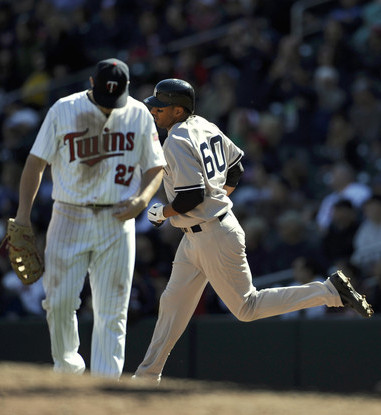 Might as well lump these two together. If the Yankees do make the playoffs and use an 11-man pitching staff, they'll have room for an extra bench player. That spot tends to go to a speedy pinch-runner type (think Freddy Guzman in 2009), a job for which both Gardner and Dickerson are qualified. Gardner is the better player, but he also is physically unable to hit right now. I have a hard time thinking the Yankees will carry someone on the postseason roster that can't even swing the bat in case of an emergency. Maybe that changes and Brett is cleared to take his hacks at some point in the next six days, but that doesn't seem likely based on everything we heard for the last four months.
As for next year, Dickerson's situation depends largely on what happens with Nick Swisher. If they let him walk, then the outfield need will be greater and they should hold onto him. If they bring Swisher back, having a left-handed outfielder on the bench doesn't make a ton of sense. I'm probably the biggest Chris Dickerson fan you'll find, but he is just a platoon player at the plate. More of a high-end fourth outfielder than an everyday corner guy on a contender. As much as I would like him to see him stick with the club going forward, Dickerson isn't a great fit for the roster right now.
Shaun asks: Hey Mike, do you know who would have home field if the Yankees and Rangers tied for the best record? Thanks.
The Yankees are currently two games back of Texas for the best record in the AL, and New York would get the nod as the top team in the circuit if they tie because they won the season series 4-3. They won't play a tiebreaker game or anything like that, that only happens when the division title or a playoff spot in general is on the line. So yeah, the only thing the Yankees would have to do to secure home field advantage in both the ALDS and ALCS would be to finish with the same record as the Rangers, nothing more.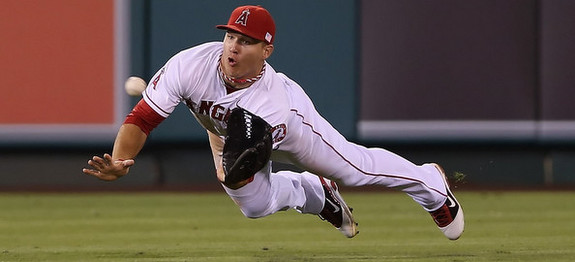 Steven asks: Mike, not sure if you're aware, but Mike Trout is good at baseball. I was wondering, hypothetically speaking of course, if the Angels were to make him available, what sort of haul would he bring? Do you see his value getting any higher than it is right now? And, finally, what sort of package would the Yankees have to piece together to get these hypothetical talks started?
I don't think any player in baseball has as much trade value as Trout. You're talking about a just-turned-21 kid who has already shown he can play at a superstar level. He hits homers, steals bases, hits for average, gets on-base, and plays great defense at a premium position. Plus he remains under the team control for five more seasons, the next two at the league minimum. It's impossible to top that, and I don't think he could possibly increase his trade stock unless he agrees to like, a ten-year contract worth $25M or something ridiculous.
There's no way for the Yankees to acquire Trout even if he was available. What do you start the package with, four years of CC Sabathia and one year of Robinson Cano while offering to pick up the bulk of the money? I wouldn't take that for Trout. Offer me Mason Williams, Gary Sanchez, Tyler Austin, and a guaranteed to be healthy Michael Pineda and I still would say no if I were the Angels. If the Giants come calling and put both Buster Posey and Madison Bumgarner on the table, then yeah that catches my attention. The Yankees don't have anything to get a trade done, I just don't see how it would be possible. I don't think Trout can replicate this season (or even improve on it) year after year, but he's going to be great for a long-time. At his age and with that much cost-control remaining, he's the single most valuable asset in the game.