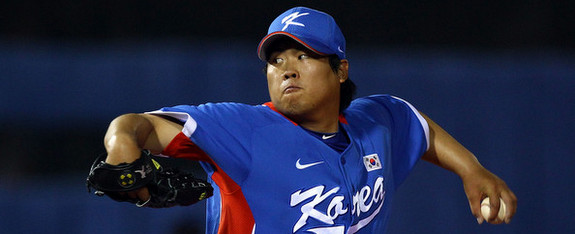 Looking for an off the beaten path pitching option this offseason? Well here you go. The Hanwha Eagles of the Korea Baseball Organization will post star left-hander Hyun-Jin Ryu this offseason according to a report by Yonhap. The 25-year-old just completed his seventh season in the league and thus became eligible to be posted. He would have to wait a few more years to qualify for international free agency.
Ryu, who is represented by Scott Boras, has been one of the league's most dominant pitchers since making his debut as a teenager. He first garnered attention by helping South Korea to Olympic gold in 2008 and a second place finish in the 2009 World Baseball Classic. Baseball America (subs. req'd) ranked him as the fifth best prospect in the tournament, one spot ahead of Yoenis Cespedes. "Ryu has four average to above-average pitches, (including) a 86-93 mph fastball with late life that he can add and subtract from when needed, a slow curve (75 mph), a tighter slider and a changeup," wrote the publication. "Ryu's biggest asset is his feel for pitching. Scouts have said that he would be a first-round pick if he was in the U.S."
I have no idea what kind of posting fee and contract would be required to sign Ryu, but a highly doubt we're talking about a Yu Darvish type of package here. That was a (very) special case. Baseball America says Ryu has drawn a bunch of David Wells comparisons because he's a four-pitch lefty with command and has a history of pitching well in important games (especially internationally), plus his personality is a little wacky and he's kinda fat. The competition in KBO is inferior to NPB in Japan, so the transition would obviously be a concern. Here's some recent video.
Every team needs pitching and the Yankees especially covet left-handers considering their ballpark, so it stands to reason that they would at least kick the tires on Ryu. I wouldn't expect him to come over to MLB and be an ace-caliber pitcher, but given the scouting report and his track record, perhaps he can be another Wei-Yin Chen. League-average southpaws who are years away from their 30th birthday are incredibly valuable. Chen was a true free agent who signed a three-year pact for under $12M, so tack a posting fee on top of that — remember, posting frees do not count towards the luxury tax — and maybe Ryu is a $20-25M investment. I'm just spit-balling here, I have little feel for this market in general.