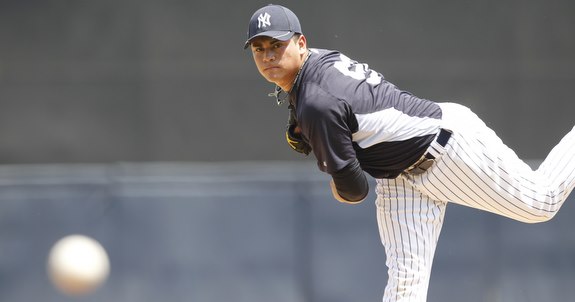 In addition to agreeing to re-sign Hiroki Kuroda, the Yankees made a series of roster moves today. Let's recap…
Six added to 40-man roster
The Yankees added six minor leaguers to the 40-man roster: LHP Manny Banuelos, RHP Brett Marshall, LHP Nik Turley, OF Ramon Flores, RHP Jose Ramirez, and LHP Francisco Rondon. Midnight tonight is the deadline to set the 40-man for next month's Rule 5 Draft, and all six guys would have been eligible had they not been protected.
Banuelos will miss pretty much all of next season due to Tommy John surgery, so the club is losing a pre-arbitration year of team control. That really bites. The annual lolwut addition is Rondon, a 24-year-old southpaw who had a good but not great year at three levels in 2012 (3.93 ERA and 10.1 K/9 with 5.3 BB/9 in 71 relief innings). The Yankees now have five (!) lefty specialists on the 40-man. Marshall, Turley, and Flores were no-brainer adds and some team could have hid Ramirez's big arm in long relief next season.
Mickey Storey claimed off waivers from Houston
The Yankees have claimed 26-year-old right-hander Mickey Storey off waivers from the Astros. He had a phenomenal season in Triple-A this year and made his big league debut in the second half: 3.86 ERA (2.80 FIP) with 10.09 K/9 (26.8 K%) and 2.97 BB/9 (7.9 BB%) in 30.1 relief innings. He also missed a few games after taking a line drive off the face.
Despite the gaudy peripherals, Storey isn't a power pitcher. He's a four-pitch reliever in the Cory Wade mold, throwing an upper-80s four-seamer, a mid-80s cutter, an upper-70s slider, and a mid-70s curveball. The curve is his bread and butter. I believe he has two minor league options remaining, but don't hold me to that. That stuff is hard to verify. Here's some video.
Yankees re-sign David Herndon
According to agent Josh Kusnick, the Yankees have re-signed David Herndon to a split contract. He had elected free agency after the team outrighted him off the 40-man roster and I assume it's a minor league deal. The 27-year-old reliever will received $750k in the big leagues ($50k in incentives) and $180k while in the minors. Herndon is coming off Tommy John surgery and won't be ready until June. The Yankees claimed him off waivers from the Blue Jays earlier this month.
* * *
After all of today's moves, the 40-man roster is at 39. The Yankees will be able to make one selection in the Rule 5 Draft unless they remove more players from the 40-man between now and midnight. Catcher Eli Whiteside is the obvious candidate to be removed, but one empty spot is plenty. If Herndon's contract is a big league deal, the 40-man will be full and the Yankees won't be able to make any picks in the Rule 5 Draft.