If you haven't headed over to our Depth Chart page in a while, you might not have noticed that as of right now, the Yankees currently sport a five-man pitching rotation of…
CC Sabathia
Phil Hughes
Ivan Nova
David Phelps
Adam Warren
If you're optimistic, you can say Michael Pineda will take Warren's spot sometime in June. If not, then I don't know what to tell you. Either way, that's not a championship-caliber rotation. The Yankees have some work to do this winter, and for the most part I think the pitching plan involves waiting for Hiroki Kuroda and Andy Pettitte to declare their love of pinstripes and sign nice little one-year deals to rejoin the team in 2013. That would be ideal.
What if that doesn't happen though? It doesn't take much effort to envision a scenario in which Kuroda decides to return to Japan and Pettitte decides to stay home with the wife and kids. The Yankees would really be in a bad spot if that happened because … well … look at that rotation above. Luckily this free agent class offers some solid rotation options, so the Yankees would have plenty of alternatives if things don't go according to plan. Some of those options are better fits than others, however.
Zack Greinke
The undisputed best pitcher on the market, Greinke is probably looking at a contract worth $120M+ across five or six years. Matt Cain type of money. Fair or not, the Yankees are concerned about how the 29-year-old would fit in New York though. Greinke met with Brian Cashman face-to-face during the 2010 Winter Meetings in an effort to convince him that he wanted to pitch in the Big Apple, but no dice. Cashman wasn't having any of it. There isn't a team in baseball that couldn't use a pitcher of this caliber in their rotation, but the combination of asking price and other concerns make Greinke almost a non-option for the Yankees.
Dan Haren
There isn't a person alive who doesn't want their team to take a one-year flier on Haren this offseason. He's been an ace-caliber pitcher for the last half-decade or so and he's still relatively young (turned 32 in September), which is all you could ask for from a free agent. That said, there are major red flags here. Haren has battled back trouble through the years and they caused him to hit the DL for the first time in his career this season, plus his fastball velocity has been declining for years.
The Angels were trying to trade Haren before having to make a decision about his option last Friday, but ultimately they came up with nothing and had to decline the net $12M deal ($15.5M option with a $3.5M buyout). The combination of the Cubs pulling out of the Haren-for-Carlos Marmol trade talks and the fact that no other club made a viable trade offer makes me think his medicals are looking pretty grim. You also have to look at it this way: if Haren is looking for a one-year, "re-establish my value" contract, why would he come to New York? A fly ball heavy pitcher in a small stadium in the AL East is no way to rebuild value. The Yankees should look into him because of his track record, but I don't see Haren as a slam dunk no-brainer they should go all out to sign. Lots of risk here.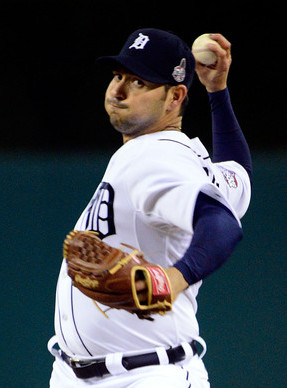 Anibal Sanchez
I'm a pretty big Anibal Sanchez fan and I consider him the best non-Greinke free agent pitching option this winter. He offers the best combination of youth (28), performance (3.70 ERA and 3.40 FIP since 2010), and durability (major shoulder surgery in 2008, but 195+ innings in each of the last three years). Sanchez made a brief cameo in the AL this season following his trade to the Tigers and he handled himself well, plus he impressed in his three postseason starts. Not the sexiest name but a rock solid pitcher. There doesn't seem to be a consensus about an appropriate contract, but it wouldn't surprise me if a team gets an aggressive and offers the A.J. Burnett/John Lackey contract (five years and $82.5M). I highly doubt the Yankees would offer that much, but Sanchez would be my first target if Pettitte and Kuroda decline to come back.
Edwin Jackson
Keith Law said it best this weekend: "It's time to accept that this is almost certainly what Jackson is going to be. He looks like an ace, holding mid-90s velocity or better for 100 pitches, but just turned in another season of good-not-great performance, this time entirely in the National League." There's nothing wrong with that at all, especially at age 29 and with his track record of durability (180+ innings in five straight years). I'm just not expecting Jackson to get any better even though he's yet to hit 30. He would be my number two target behind Sanchez if Kuroda and Pettitte don't come back, number three if Haren's back checks out okay.
Kyle Lohse & Ryan Dempster
Lohse is going to get a significant contract this winter, maybe the biggest behind Greinke, but I wouldn't touch either him or Dempster unless they're willing to come real cheap. They're two guys who have had most (all?) of their success in the NL and don't operate with much margin for error. It's also worth noting that Lohse received a qualifying offer from the Cardinals and would require draft pick compensation. Solid pitchers for sure, but not guys I would consider impact additions for the Yankees.

Jeremy Guthrie, Brandon McCarthy & Shaun Marcum
All three have their warts, but all three have some kind of track record of success in the AL. Guthrie is probably the safest bet while McCarthy is both the riskiest (very long injury history) and has the highest upside. Marcum's kind of the in the middle. I prefer any of those three to Lohse and Dempster and would consider them solid additions on one-year contracts. Anything more than that is really pushing it.
Because he doesn't really fit anywhere else, I'm going to mention Carlos Villanueva here. I'm a big fan (perhaps too big), but I like him best as a sixth starter/swingman. I wouldn't want the Yankees to sign him with the idea of him making 30 starts and throwing 200 innings. I can't see how anyone could expect him to do that in 2013.
Francisco Liriano, Joe Blanton, Joe Saunders, Scott Feldman & Roberto Hernandez
I wouldn't trust any of these guys with a starting spot, at least not right out of the chute in Spring Training. To be honest, Liriano is the only one who is remotely intriguing to me. He's still on the right side of 30 and has a year of ace-caliber performance in the not-too-distant past to his credit (2010). I consider guys like Jeff Francis, Erik Bedard, Scott Baker, Kevin Correia, Dustin Moseley, and Jason Marquis to be minor league contract only options for the Yankees. This is the bottom of the pitching barrel right here, but thankfully there are plenty of other options out there.