If there's one thing the Yankees do consistently well, it's mine the scrap heap for useful players. They hit the jackpot with Bartolo Colon, Freddy Garcia, Eric Chavez, et al a year ago, but in 2012 the contributions were a little more subtle. The Bombers added a pair of funky, side-winding relievers during Spring Training, both of whom would up spending the majority of the season on the active roster and contributing more than expected.

Cody Eppley
The Yankees claimed Eppley off waivers from the Rangers in early-April, and pretty much the only reason why fans may have recognized his name was because he served up this grand slam to Frankie Cervelli a year ago. The 27-year-old was a nondescript relief prospect, but New York needed to replenish depth after dealing George Kontos for Chris Stewart. It was a typical end-of-camp transaction.
Eppley started the year in Triple-A and was recalled for the first time after Brett Gardner was placed on the DL with his elbow injury. That move was temporary — 13-man pitching staffs are far from ideal, but the Yankees needed bullpen help at the time — as he was sent down roughly a week later. Eppley was recalled for good in early-May, after Mariano Rivera blew out his knee. It was hardly the way the Yankees wanted to give the low-slot right-hander a chance, but that's the way the cookie crumbled.
After being used primarily as a low-leverage arm in blowout situations, Eppley eventually climbed the bullpen totem pole and saw his fair share of important innings during the summer. He threw 46 innings across 59 appearances for New York this year, missing more bats than I expected (6.26 K/9 and 16.5%) while generating a ton of ground balls (60.3%). As you'd expect given his arm slot, Eppley was death on righties, holding them to a .262 wOBA with a 61.9% ground ball rate.
Although he was left off the ALDS roster, Eppley took Eduardo Nunez's ALCS roster spot (Nunez was later re-added when Derek Jeter got hurt) and threw 3.2 scoreless innings against the Tigers while appearing in all four games. He also had a 27-appearance (20.1 innings) stretch from mid-May through mid-July in which he pitched to a 1.77 ERA (3.34 FIP). By no means did Eppley save the bullpen or anything like that, but he produced more than expected and helped the Yankees a bunch after Rivera went down.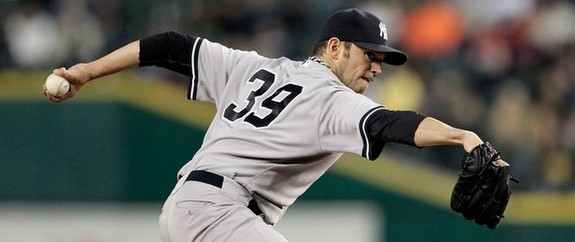 Clay Rapada
The Yankees have wasted a ton of money in their never-ending pursuit of left-handed relief, yet they stumbled across a solid southpaw option early in Spring Training. The Orioles had released the 31-year-old Rapada right before the start of camp and that's when the Bombers pounced, inking him to a minor league contract. He pitched well during the Grapefruit League schedule and won the second lefty reliever job after Cesar Cabral fractured his elbow.
Rapada stayed on the big league roster all season, appearing in 70 games but throwing only 38.1 innings in true LOOGY form. He pitched to a 2.82 ERA (3.20 FIP) overall, but we can't judge him by his overall results. Rapada was on the roster for one reason and one reason only, and that was to neutralize the other club's left-handed hitters. He excelled in that role, holding same-side hitters to a .238 wOBA with a 28.7% strikeout rate and a 44.9% strikeout rate thanks to his funky side-arm delivery. Only five lefty relievers were more effective against same-side hitters in terms of wOBA against this year (min. 100 lefties faced).
Rapada retired five of six lefties faced in the postseason, with a walk to Prince Fielder being the lone exception. He set a new (and ultimately irrelevant) franchise record this year by facing exactly one batter in eight consecutive appearances, breaking Mike Myers' old record of seven straight. After all the money given to Damaso Marte and Pedro Feliciano, it was Rapada who gave the Yankees the type of reliable left-handed relief they've been searching for, and he did it while earning close to the league minimum.