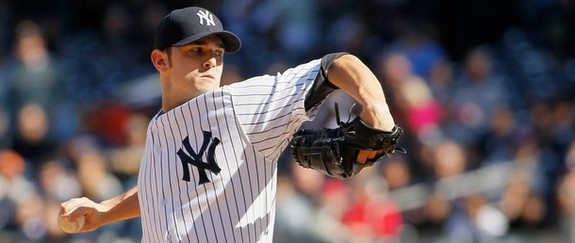 Last season was David Robertson's coming out party. The right-hander emerged as one of baseball's most dominant setup men, usurping Rafael Soriano as the eighth inning guy while pitching to a 1.08 ERA (1.84 FIP) in a career-high 66.2 innings. His follow up in 2012 didn't go as smoothly, but the end result was the same. Robertson was again one of baseball's most dominant setup men.
The 27-year-old opened the season in pretty much the only way he knew how: with a Houdini act on Opening Day. Joe Girardi handed him the ball with a one-run lead in the eighth inning against the Rays, and Tampa had men on the corners with no outs in the span of eleven pitches thanks to a walk and a single. Robertson then struck out Stephen Vogt (four pitches), Jose Molina (five pitches), and Matt Joyce (five pitches) to escape the jam and end the inning. Pretty much par for the Houdini course.
Through his first dozen appearances, Robertson had allowed zero runs with 21 strikeouts against just three walks in 12 innings. In five appearances from April 20th through May 4th, he struck out 12 of 17 batters faced including eight in a row at one point. That's when Mariano Rivera got hurt. The club's long-time closer blew out his knee on the Kansas City warning track on May 5th, and Robertson was the obvious replacement in the ninth inning. He nailed down his first save three days later but blew the save next night, allowing a three-run homer to Joyce. Two days later he wiggled out of Boone Logan's ninth inning jam to preserve the four-run lead, and that was it. We wouldn't see him for more than a month.
Robertson had strained his left oblique and needed to spend time on the DL. The injury cost him more than a month, as he didn't return until June 15th after a handful of minor league rehab appearances. Soriano had seized the closer's job during his absence, so Robertson came back as the setup man and was eased back into things. Girardi didn't use him in back-to-back days at first and didn't bring him into the game in the middle of an inning even though he had some chances. It raised some questions about whether Robertson was actually fully healthy, but he was pitching fine and striking a ton of guys out so it wasn't a huge concern.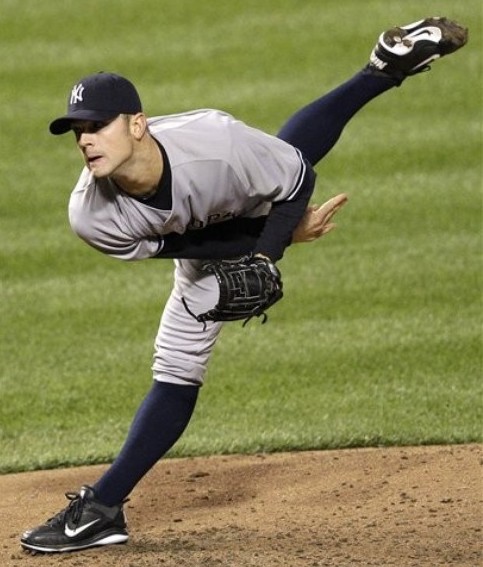 In 26 first half appearances, Robertson struck out 40 and allowed just seven earned runs in 24.2 innings. He walked a dozen, but that's nothing unusual for him. The second half opened with seven straight scoreless appearances and just one run allowed in his first eleven outings. Robertson melted down in an early-August game against the Tigers (three runs in one inning), but the Yankees held on to win anyway so it didn't hurt anything but his ERA. Another ten scoreless innings followed as he carried a 2.18 ERA into September.
Outside of the blow save against the Rays, Robertson's most infamous blowup of the season came on September 6th against the Orioles, the first game of the important four-game series in Camden Yards. The Yankees had just scored five runs in the top of the eighth to tie the game at six, but Robertson surrendered a solo homer to Adam Jones to leadoff the bottom half, and then two batters later Mark Reynolds took him deep for a two-run shot. Three batters faced, three hits allowed, two homers, three runs. The Yankees went on to lose the game and Robertson's ERA climbed by more than half-a-run.
Robertson allowed two runs in two-thirds of an inning in a win against the Blue Jays later in the month but that was pretty much it. He followed up his strong but injury-shortened first half with a 2.75 ERA (2.49 FIP) in 36 second half innings. Girardi leaned on his setup man heavily down the stretch, as Robertson made four sets of back-to-back-to-back appearances in the team's final 35 games of the season after Girardi never once asked him to work three consecutive days in the first four years of his career. He was also the team's best reliever in the postseason, allowing just one run on three hits and no walks while striking out seven in 6.1 innings. Despite missing all that time with the oblique issue, Robertson still threw 60.2 innings across 65 appearances during the 2012 regular season.
At the end of the year, the right-hander owned a 2.67 ERA (2.48 FIP) with his usual sky-high strikeout rate (12.02 K/9 and 32.7 K%). He did allow a career-high-tying five homers one year after allowing just one, which was a bit of a problem. The good news is that he also posted a (by far) career-low walk rate, just 2.82 BB/9 and 7.7 BB%. He came into the season with a career 4.72 BB/9 and 12.2 BB%, and even last year it was 4.73 BB/9 and 12.9 BB%. The cool part is that nearly all of the walk improvement came in the second half …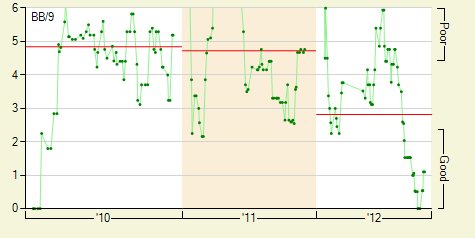 In those 36 second half innings, Robertson walked just seven batters. From July 21st through the end of the season, a span of 36 appearances and 33 innings, he walked just five batters. From August 11th through September 24th, a span of 22 appearances and 82 batters faced, he walked zero batters. That seems impossible, but it's true. He closed the season out with 81 strikeouts against just 19 walks, setting a new career-high (by far) with a 4.26 K/BB.
Robertson wasn't as great as he was a year ago, but no pitcher, not even Mariano Rivera, sustains a near-1.00 ERA. He did have two really memorable meltdowns and at times he stopped throwing his curveball for no apparent reason, but it never really cost him effectiveness. Robertson hurt the Yankees the most when he wasn't on the mound due to the oblique injury, but otherwise he was again a fantastic setup man and one of the five or six best non-closing relievers in the game.