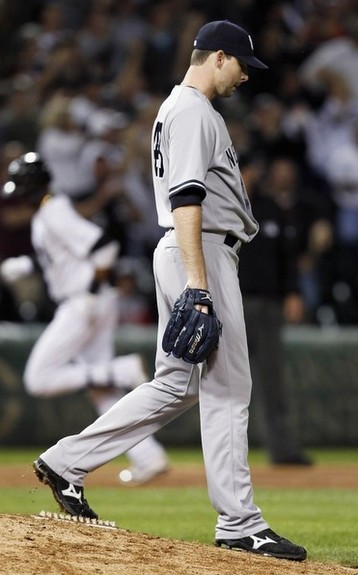 For the first month of the season, Boone Logan was one of the team's two best relievers. The Yankees didn't miss a beat when Mariano Rivera blew out his knee because Rafael Soriano stepped right into the closer's role, but it was Logan who assumed a big chunk of the setup work when Rivera got hurt and David Robertson strained his oblique. He allowed just eight runs in 28 first half innings while striking out 37. He was dominant.
The second half of the season, really starting at the beginning of July, was a different story though. Logan appeared in 40 of the team's first 79 games and seemed to tire out just prior to the All-Star break, when he allowed five runs in four appearances (2.2 innings). He got some much-needed time off during the All-Star break and also for about a week after that because the Angels and Blue Jays had right-handed heavy lineups at the time. Logan took a 3.43 ERA into mid-August but that ballooned to 4.07 in the span of three outings, two of which featured multiple runs allowed.
During his final 24 appearances and 16 innings of the season, Logan allowed eight runs and ten walks. In addition to those eight runs, seven of the 26 runners he inherited came around to score, including four of seven in the final week of the season. Opponents tagged him for a .274/.378/.468 batting line during those 24 appearances, but because the Yankees were stuck in tight division race, Joe Girardi had to keep giving him the ball. Before Joba Chamberlain settled down in mid-September, Logan was the de factor seventh inning guy who faced both lefties and righties. He doesn't fit well in that role.
All told, Boone pitched to a 5.00 ERA (4.62 FIP) with 17 walks in 27 innings spread across 41 appearances after the calendar flipped to July. Even worse, left-handed batters hit .263/.333/.439 during the time after he held them to a .203/.315/.312 line during the season's first three months. He appeared to be really laboring at times under the career-high workload (55.1 innings in a league-leading 80 appearances), though the fatigue didn't show up in his fastball velocity. It showed up in his ability to throw strikes …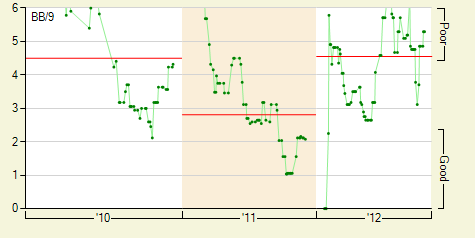 … and in his slider, which seemed to flatten out far too often down the stretch. At least anecdotally, anyway. Logan was one of Girardi's very best relievers in the first half and that really was just a continuation of his second half from last year, when he started to curb the walks and his strikeout rate climbed through the roof. The fade down the stretch really hurt the team as they tried to fend off the Orioles, though it doesn't sting as much because the Yankees still won the division. His end-of-season stats (3.74 ERA, 3.67 FIP, 11.06 K/9, 4.55 BB/9) look fine, but the way he got there wasn't ideal.