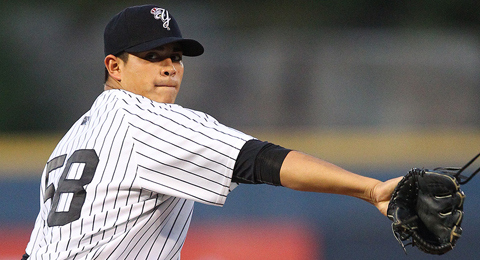 Two years ago, the Yankees enjoyed a brilliant season by the farm system in which almost everything went right and nothing went wrong. Jesus Montero took a step forward to become a star prospect, Manny Banuelos dazzled, Gary Sanchez debuted, the college arm trio of Adam Warren, David Phelps, and D.J. Mitchell excelled, and even the enigmatic Dellin Betances and Andrew Brackman had strong seasons. As a result, the team's farm system ranked fifth and ninth in baseball by Baseball America and Keith Law, respectively.
Last season was more of a normal year in the minors, with the usual number of breakouts and breakdowns, injuries and surprises. After the season, the team's system was ranked tenth and 13th by Law and Baseball America, respectively. Those rankings were released after the Yankees traded Montero as well, who was easily their best prospect. They had a high-end of a middle of the road system, if that makes sense. This year though, things down on the farm were definitely far from normal. An awful lot more went wrong than right.
Injuries
When Baseball America published their list of the team's top ten prospects earlier this month, five (!) of the top eight prospects were players who missed significant time with injury this year. Top prospect Mason Williams dislocated his shoulder diving for a ball and had season-ending surgery in early-August. Number two prospect Slade Heathcott didn't appear in his first game until mid-June because he was recovering from his second left shoulder surgery in as many years. Number seven prospect Angelo Gumbs tore his left elbow ligament on a swing and was done in late-June.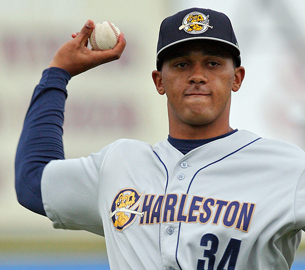 The two most significant minor league injuries came on the pitching side. Preseason top prospect Manny Banuelos missed a few starts in April with a sore back, then landed on the DL with a bone bruise in his elbow in mid-May. That kept him on the sidelines for the rest of the year, and early last month he finally went under the knife and had Tommy John surgery. He's expected to miss all of 2013. Preseason number two pitching prospect Jose Campos, part of the Montero trade, came down with elbow inflammation and didn't pitch after late-April. Last we heard, the club was "hopeful" he'll be ready in time for Spring Training. The duo combined for eleven starts this year, six by Banuelos in Triple-A and five by Campos in Low-A.
Lesser prospects like Austin Romine (back), Zoilo Almonte (hamstring), Abe Almonte (hamstring), Corban Joseph (shoulder), David Adams (neck), Zach Arneson (shoulder), Jeremy Bleich (shoulder), Dan Camarena (shoulder), Dan Burawa (ribs), Greg Bird (back), Jordan Cote (shoulder), and Matt Tracy (hamstring) all missed time with injury this year. The team's two Rule 5 Draft picks — righty Brad Meyers (shoulder) and lefty Cesar Cabral (elbow) — missed the entire season with injury. Meyers has already been returned to the Nationals while Cabral will get another look in Spring Training. The injury problem got so bad that first round pick Ty Hensley was found to have an "abnormality" in his pitching shoulder prior to signing. It's not even a real injury, something in his shoulder just isn't the way it's supposed to be. It hasn't stopped him from pitching yet though, so fingers crossed.
Underperformance
If you were one of the lucky Yankees farmhands who didn't get hurt this summer, there's a pretty good chance you didn't play up to expectations. Betances, my preseason number three prospect, pitched to a 6.44 ERA with nearly as many walks (99) as strikeouts (124) in 131.1 innings. He pitched so poorly that he had to be demoted from Triple-A to Double-A. Preseason number seven prospect Dante Bichette Jr., last year's first rounder, followed up his Rookie Level Gulf Coast League MVP effort by hitting .248/.322/.331 with three (!) homers in 522 plate appearances for Low-A Charleston. Those are just the big names.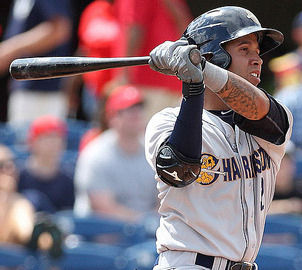 Warren made his big league debut with a disastrous start against the White Sox, but otherwise spent most of the year in Triple-A and pitched almost exactly as he had a year ago. Repeating a level and not improving is underperformance in my book, especially for a guy who spent four years at a major college program. Ravel Santana returned from his brutal ankle injury to hit just .216/.304/.289 with 68 strikeouts in 247 plate appearances for Short Season Staten Island. Former first rounder Cito Culver (.215/.321/.283) continued to look like the overdraft he was labeled way back on draft day.
Of the top ten players on my Preseason Top 30 Prospects List, only Sanchez managed to avoid the injury bug and live up to expectations. The other nine either got hurt or underperformed. Add in the spending restrictions implemented by the new Collective Bargaining Agreement that limited the team's ability to import high-end talent, and the Yankees' farm system took a massive hit this year. With the 2014 payroll plan looming, the lack of progress from the team's top prospects may be crippling in a few years.
* * *
Of course, it wasn't all bad down on the farm this year. Tyler Austin hit a combined .322/.400/.559 across four levels and emerged as one of the game's best pure hitting prospects. Williams was excellent before hurting his shoulder and Heathcott starred after returning from his injury, plus Sanchez and Ramon Flores continued to progress as well. Mark Montgomery appears to be the team's next great homegrown reliever, Cuban veteran Ronnie Mustelier came out of nowhere to hit his way into the big league conversation, and lower-ceiling arms like Chase Whitley and Brett Marshall are now on the cusp of the big leagues.
Barring trades and all that usual offseason stuff, the Yankees still boast four surefire top 100 prospects in Williams, Heathcott, Sanchez, and Austin. We can quibble about the exact order but it doesn't really matter, they are four of the 100 best — really the 75-80 best — prospective big leaguers in the game. There are a ton of question marks after that though, and the club lacks impact talent at the upper levels of the farm system. When the various organizational rankings come out in the spring, the Yankees will probably rank somewhere in the 15-20 range among all farm systems, buoyed by the four top 100 guys. There isn't much impact beyond those four though.