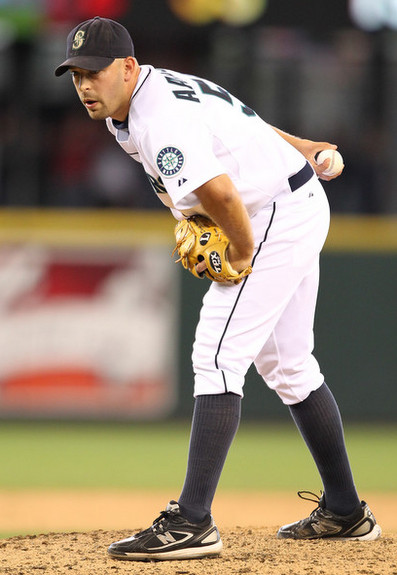 The Yankees will have familiar faces holding down important bullpen roles this season. Mariano Rivera is slated to close for the 17th consecutive season while David Robertson and Joba Chamberlain handle the primary setup duties. Boone Logan, entering his fourth season with the Yankees, will be the primary left-hander. Second lefty Clay Rapada and likely swingman David Phelps were with the club last year. The last spot is going to a relatively new face, or at least as new as a face can be when the player is entering his second year with the team.
David Aardsma, the 31-year-old former Mariners closer, joined the Yankees last spring on a bargain one-year contract worth just $500k. The deal included a $500k club option for a second season, which the team exercised back in November. Incentives could put another $1.5M in his pocket, but that's still a super low-risk contract. Aardsma was rehabbing from Tommy John surgery when he signed the deal and was not expected to return until midseason. A setback pushed his return back further, and ultimately he was only able to appear in one game in late-September.
"I felt good, but I wasn't fully back into pitching mode," said Aardsma to Dan Martin about his one-inning outing against the Blue Jays. "It feels good to be getting ready for a real Spring Training for once."
It's easy to forget that Aardsma is coming back from not just one injury, but two. He had surgery to repair a torn labrum in his left hip in January 2011, and it was during his rehab from that procedure that he blew out his elbow and needed the reconstruction. Prior to his one-inning cameo in September, he had not appeared in a big league game since September 2010. That's an awful lot of rust to shake off this spring.
Before the injuries hit, Aardsma was a very good but not great reliever with Seattle. His save total — 69-for-78 from 2009-2010 — was impressive, but otherwise he pitched to a 2.44 ERA (3.44 FIP) with 9.6 K/9 (25.9 K%) and 4.39 BB/9 (11.9%) in 121 innings during his two healthy seasons with the Mariners. Prior to that he'd pitched to a 5.29 ERA (4.90 FIP) in 144.2 innings with the Giants, Cubs, White Sox, and Red Sox from 2004-2008.
Strikeouts have always been Aardsma's thing, evidenced by his career 9.08 K/9 and 23.0 K%. Hitters have swung and missed at his pitches approximately 11.4% of the time during the PitchFX era according to Brooks Baseball, which is comfortably above-average. Walks and fly balls are also this thing, unfortunately. Aardsma's career walk rate (5.06 BB/9 and 12.8 BB%) is scary, though it was a bit better with Seattle. His career 35.2% ground ball rate is very low, but it has helped him maintain a low BABIP  — .244 with Seattle and .287 career — since fly balls are easily converted into outs. They also make him a bit homer prone (career 0.95 HR/9 and 8.8% HR/FB), which is not ideal in Yankee Stadium.
Aardsma is a three-pitch reliever, sitting in the 92-96 mph range with his fastball and backing it up with low-to-mid-80s splitters and sliders. He threw all three pitches during his one-appearance cameo in September according to PitchFX, and all three showed up at their pre-injury velocity (or thereabouts). The slider is for righties and the split for lefties, so he hasn't shown a big platoon split — .243 wOBA with a 25.4 K% against righties and .283 and 26.4% against lefties while with the Mariners, respectively. His career split is tiny.
Coming off two lost years, we really have no idea what to expect from Aardsma in 2013. The right-hander told Martin that he's already thrown four bullpen sessions leading up to Spring Training and hasn't had any problems with the hip or elbow, which is great. Being healthy is the important first step. Having swing-and-miss stuff is a solid foundation, though the walks — I foresee a lot of "effectively wild" statements in the coming weeks and months — and fly balls are a concern. For a guy slated to start the season in a low-to-mid-leverage middle relief role, they aren't they end of the world. A concern, but not a dealbreaker.
In essence, Aardsma will be taking over the Cory Wade role. The were both fly ball and homer prone right-handers without long track records of success, but the similarities stop there. I'm skeptical that Aardsma can replicate Wade's success — at least Wade's success before he completely imploded in late-May last summer — and that will be worth watching early in the season. If he's missing bats and keeping the walk rate somewhat reasonable, he should be fine. If not, the Yankees will probably wind up testing that Triple-A bullpen depth before long.