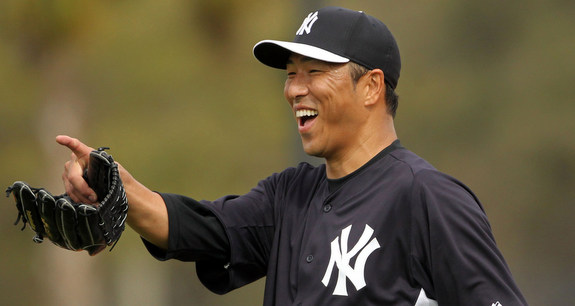 The Yankees reportedly operated with a very straight-forward approach this winter, tackling one priority at a time without deviating from their set path. It's a very odd way for a baseball team to proceed with the offseason, but so be it. The top priority on New York's winter agenda was the pitching staff, specifically re-signing their own veteran arms. They checked the first item off the list in mid-November, when Hiroki Kuroda turned down more lucrative offers to return to the club on a one-year, $15M deal.
"It was a good decision, but it was hard," said Kuroda to Bryan Hoch about re-signing with the Yankees. "There were options that I had. There were offers from other teams, but I ended up making the decision to stay with the Yankees … I'm in that stage where I want to play for a team that I really love to play for, and hopefully when I retire, I'll have time with my family."
Kuroda, who turned 38 earlier this month, acknowledged the team's veteran-laden clubhouse was "really appealing" and swayed his decision, saying "especially with the fact that there are players like (Andy Pettitte) and (Mariano Rivera), who are older than me, and who I can look up to … I absorb a lot from them."
It's not the first time we've heard about a player signing with the Yankees because of their veteran clubhouse, which in some ways is a market inefficiency the team is exploiting. Guys like Derek Jeter, CC Sabathia, Pettitte, and Rivera are very well-respected veterans who other veterans want to play alongside. If that helps the Yankees sign these players to address a need on favorable contract terms, great. I'm not sure any other club can pull that off.
As we learned last summer, Kuroda is pretty much a perfect fit for the Yankees. He's tough and savvy on the mound, and about as reliable a pitcher as you'll find. He also comes off as a total pro, taking the blame for losses and crediting his teammates for wins. It's easy and fun to root for someone like that, and it helped Kuroda fit right in as soon as he put on the pinstripes. "You know if a guy is cut out of the same mold as you are," said Pettitte to Hoch. "We are."
Because of the hit the offense took this winter, the Yankees are going to have to rely on their pitching staff more than any other point in the last ten years or so, specifically the veterans Sabathia, Kuroda, and Pettitte. Phil Hughes is already having back trouble and who knows what Ivan Nova and David Phelps can contribute, so it's those three veterans Joe Girardi & Co. will lean on. Kuroda is coming off a career-high 35 starts and 235.2 innings (including playoffs), and it's fair to worry about his ability to hold up at that age.
"You're always a little bit concerned as they put a little bit of age on themselves, but right now he looks good to us," said Girardi to Hoch. Kuroda ran into a wall of fatigue in early-September last year, so much so that he stopped throwing his regular between-starts bullpen sessions. He told Hoch that he's adjusted his offseason training program in an effort to stay fresher late in the season and is working closely with strength and conditioning coach Dana Cavalea. Whether it actually works remains to be seen.
Pettitte has always given off this vibe that no matter how much the odds are stacked against him, he'll figure out a way to get the job done. He's human and doesn't always come through, but he's built up enough good will throughout the years and earned everyone's confidence. Kuroda gives off a similar vibe, at least to me, which is why I'm confident he'll overcome that workload to again be a very effective starter for the Yankees in 2013. It's possible he won't, but it definitely would surprise me.