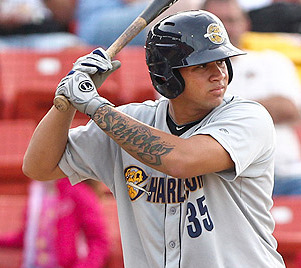 The Yankees relied on the international market to build their farm system for decades. The ability to spend freely gave them a natural advantage because they had more money than everyone else, plus the global appeal of the Yankees brand practically sold itself. The team used the international market to produce scores of big leaguers and trade chips over the years.
The new Collective Bargaining Agreement, implemented last winter, changed that. Teams were given a $2.9M spending pool to spend internationally last summer, with rather harsh bonuses for exceeding that amount. The Rays became the first team to exceed the pool and get hit with penalties according to Ben Badler, so they won't be allowed to sign any players for more than $250k this year. Clearly, MLB has achieved its goal of keeping big spenders like the Rays in check.
Anyway, the Yankees spent almost their entire $2.9M pool on three 16-year-olds — Venezuelan catcher Luis Torrens ($1.3M), Venezuelan outfielder Alex Palma ($800k), and Dominican shortstop Yancarlos Baez ($650k) — last July 2nd, the first day of the international signing period. You can read more about those three players right here. There's a good chance Torrens will make his stateside debut with the Rookie Level Gulf Coast League affiliate this summer. Palma might as well.
The Yankees spent their last bit of pool money on 16-year-old Nicaraguan left-hander Corby McCoy, who signed for $150k. The team also used a $50k exemption — each club gets six — to sign 17-year-old Nicaraguan lefty Luis Garcia. McCoy is the better prospect, but he's a pure projection guy at 6-foot-3 and 170 lbs. His fastball sits anywhere from the mid-80s to low-90s, and his breaking ball is very much a work in progress. Garcia's another big guy — listed at 6-foot-4 and 185 lbs. — with mid-80s heat.
New York was able to do quite a bit of damage before the spending restrictions kicked in on July 2nd. The largest bonus they agreed to hand out went to 18-year-old Cuban left-hander Omar Luis Rodriguez. He signed for $4M, but back in December we heard the contract was still pending a visa and not yet official. Listed at 5-foot-11 and 205 lbs., Rodriguez has a five-pitch mix — 88-92 mph fastball and mid-70s curveball, plus a cutter, slider, and changeup — and throws plenty of strikes. He stands out for his poise on the mound and has a strong track record in international play.
Ben Badler (subs. req'd) says the Yankees signed two other Cubans as well. One was outfielder Adonis Garcia ($400k), who spent time with Double-A Trenton last year. You can read more about him right here. The other was 27-year-old outfielder Yeral Sanchez, whose $400k bonus did not count towards the spending pool because of his age. Badler says he "has a chiseled 6-foot-1 frame with an aggressive approach and solid power … is around an average runner with an arm that's average to a tick above-average that should play in right field."
Prior to July 2nd, the Yankees also signed 23-year-old Dominican right-hander Manolo Reyes ($600k) and 17-year-old Dominican shortstop Jorge Mateo ($250k) according to Badler. Reyes had previously signed with the Braves, but his contract was terminated and he was suspended for a year because of issues with his paperwork. He has a huge arm though, running his fastball into the mid-90s and touching 99. His breaking ball and splitter are inconsistent but have shown potential. Reyes is awaiting a visa before his contract can become official, so he hasn't been able to pitch in official games and is very raw for his age.
Mateo is listed at 6-foot-0 and 185 lbs. He earns high grades for his speed and athleticism, which give him a chance to be an above-average defender at shortstop according to Badler. Mateo is a right-hander hitter with something resembling a plan at the plate, but he's still learning how to handle breaking balls. Badler says his "athleticism would make him an exciting prospect if his bat develops" while noting that some actually preferred him over Baez.
Dominican lefty Carlos Diaz, 17, signed for $100k last March, then got hit with a 50-game suspension after testing positive for a banned substance. He is listed at 6-foot-2 and 170 lbs., and Badler says he has "an unconventional low three-quarters arm angle (that) gives him good armside life on his fastball, which parks in the high-80s and reaches 90-91." His slider and overall control need work.
The Yankees used two of their other exemptions to sign 19-year-old Dominican right-hander Simon DeLaRosa ($50k) and 16-year-old Venezuelan shortstop Thairo Estrada ($49k). DeLaRosa pitches in the low-to-mid-90s with a promising curveball while Estrada has a line drive swing and fast-twitch athleticism. Badler calls both guys potential sleepers.
Starting this year the pool values will be scaled so that teams with bad records can spend more while teams with good records get to spend less. The Yankees finished with the third best record in baseball last season and are expected to have just $1.5-1.7M to spend internationally this year, which is nothing. Those six $50k exemptions are going to be important, they're going to have to dig up some hidden gems with them.